Emmanuel Macron becomes President of France in inauguration at Élysée Palace
France's new President takes charge of a nation that is set to become the EU's only member with nuclear weapons and a permanent seat on the UN Security Council once Brexit happens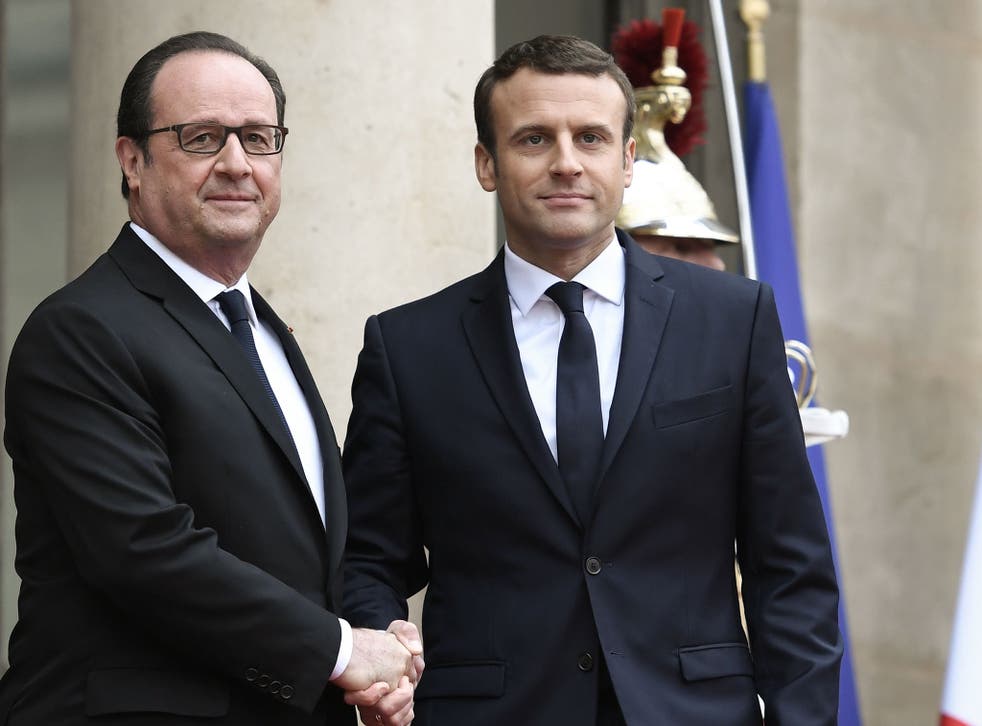 France's Emmanuel Macron arrived for his inauguration ceremony at the Élysée presidential palace in Paris this morning ready to fully embark on his mission to shake up the world of French politics.
His predecessor, François Hollande, welcomed him in the courtyard, shaking hands in front of hundreds of journalists.
The two were meeting in the President's office before Mr Hollande's departure, taking a last few minutes to discuss the most sensitive issues facing France, including the country's nuclear codes.
Mr Macron, France's youngest leader since Napoleon, takes charge of a nation that, when Britain leaves the European Union in 2019, will become the EU's only member with nuclear weapons and a permanent seat on the UN Security Council.
He made a speech at the Élysée reception hall in front of about 300 guests, officials and family members, including his wife Brigitte Macron.
Outside the Élysée, a few dozen supporters waved French tricolour and European blue flags at the arrival of the new President.
Following the ceremony and military honours at the Élysée Palace, Mr Macron went to the Tomb of the Unknown Soldier, at the Arc de Triomphe at the top of the Champs-Élysées Avenue, a tradition followed by all heads of states in France's modern history.
The new President has already appointed Alexis Kohler as secretary general of the Élysée Palace, the most powerful role among presidential staff, while career diplomat Philippe Etienne was named as his top foreign policy advisor.
Mr Kohler, a 44-year old graduate of France's elite ENA administrative school, was Mr Macron's chief of staff when the incoming President was economy minister and has worked for the Treasury.
He will be Mr Macron's right-hand man, the top official in the Élysée administration and a key political advisor who is typically the main contact point for ministries, parties, unions and business leaders and plays an important role in crafting policies.
Mr Etienne, a 61-year old former ambassador well known both in Brussels and Berlin, was appointed to be the incoming president's diplomatic advisor, Mr Macron's staff said. Also an ENA graduate, his nomination was immediately saluted in the EU capital.
The appointments were announced ahead of Mr Macron's inauguration ceremony.
The President will name a prime minister on Monday and the new government will be announced on Tuesday, a source said.
Reuters
Join our new commenting forum
Join thought-provoking conversations, follow other Independent readers and see their replies