An Englishman's home is his chateau: Potential bargains for Brits as bottom falls out of French second home market
A second home in the country is a luxury the French can no longer afford - cue an invasion of British bargain hunters?
An Englishman's home is his chateau: Potential bargains for Brits as bottom falls out of French second home market

Show all 4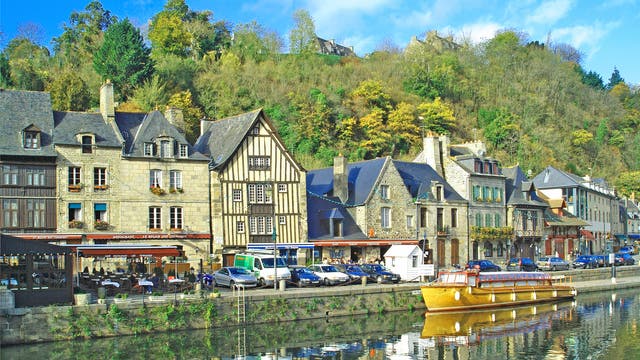 If it is your dream to own a country house in Normandy or a cottage near the sea in Brittany, your moment may have come; the bottom has fallen out of the market for second homes in France, according to a study.
The price of property in some beautiful rural areas – such as Creuse and Périgord in the south west or Morvan in northern Burgundy – has fallen by up to half in the last five years.
Even luxurious villas by the sea on the Mediterranean or Atlantic coasts are going relatively cheaply, according to a survey by French property lawyers. They speak of an "unprecedented crisis" in the sale of second homes in France, provoked, partly by the global economic slowdown and partly by a change in the French law on capital gains tax and residential taxes.
But there is also another, possibly even more significant, sociological explanation, they say. The French have fallen out of love with their second homes and "le weekend" in the country.
Jean Dugor, president of the Breton notaries and author of the report, says that "the days are disappearing when several generations of a family would gather in the country home for a holiday or weekend".
The high divorce rate, the reluctance of teenage children to leave their computers or friends in town and the cost of maintenance are all factors, he says, in undermining the market for the estimated 3,000,000 second homes in France.
"Women are working more…and marriages are less stable than they were," Mr Dugor said. "It used to be that the wife and children would open the shutters on 1 July and the house was alive for at least two months." Now, he says, families prefer to explore a new holiday haunt each summer rather than "root themselves in one place for 30 years".
The slump in country house sales began with the financial crisis in 2008. It has been intensified, the report says, by a bewildering series of constantly-changing proposals to increase capital gains and residential taxes on second homes in France. Although the impact of these taxes has now been somewhat softened, many British and other foreign would-be buyers have been scared away.
Benoît Verdet, of the Emile Garcie estate agency in the French Basque country, said: "Foreigners are now only 30 per cent of our buyers, compared to 60 per cent before 2008. The remaining buyers are mostly older people wanting somewhere to retire."
The fall in prices of holiday homes has been felt in all but the most chic areas, such as the Côte d'Azur, where Russian money keeps the market buoyant. The collapse has been especially acute in pretty, inland areas of France, such as Creuse, a green and hilly departement in the country's south west, which is particularly popular with British visitors.
A rapid survey of homes for sale in Creuse found dozens of possible bargains including one village house, admittedly rather tumble-down, on offer for €13,000 (£11,000).
Parts of the upper end of the market are also suffering. A huge villa overlooking the Gulf of Morbihan in southern Brittany was recently sold for €700,000 (£596,000) – a 30 per cent discount on the original asking price. At Cap Ferret, a trendy Atlantic peninsula west of Bordeaux, "only 50 second homes have been sold in the last 12 months," said Mr Dugor. "That's derisory."
In many country areas, the number of transactions for second homes has halved. "Only the market for properties well below €200,000 is showing any sign of life," Pierre Bazaille, president of the national institute of property notaries, told Le Monde.
In villages on the beautiful Morvan plateau in northern Burgundy, smart houses once worth €250,000-300,000 (£213,000-£255,000) are selling for €160,000 (£136,000). Much the same is reported in Perigord and the Lot – two areas of the south west favoured by British visitors and buyers.
However, some chic areas are resisting the trend, according to Le Monde: Deauville on the Calvados coast in Normandy, Biarritz on the Basque coast and the Vendée area, just south of the Loire.
Though that still leaves plenty of France on sale at knock-down prices.
Rise to the occasions: Three French bargains
€175,000 Le Castellet, near Bandol in the Var, on the Mediterranean coast
A three-bedroom villa with swimming pool, terrace and wonderful mountain and sea views, 15 minutes' drive from the Mediterranean. Recently reduced in price.
€77,000 Allaire, in Morbihan in Brittany
A pretty house in a pretty village in inland Brittany, not far from the coast. Only two bedrooms but extensive outbuildings, ripe for conversion. Stands in 1,000 square metres of land.
€27,000 Croze, in Creuse in south-western France
A nicely converted old three-bedroom house with a small garden in a pretty village in one of the most beautiful, and empty, départements in France.
Join our new commenting forum
Join thought-provoking conversations, follow other Independent readers and see their replies