EU deal: How David Cameron's marathon efforts in Brussels finally paid off
Powered by pizza, Haribo and coffee, the Prime Minister eventually secured the UK's 'special status' in the Union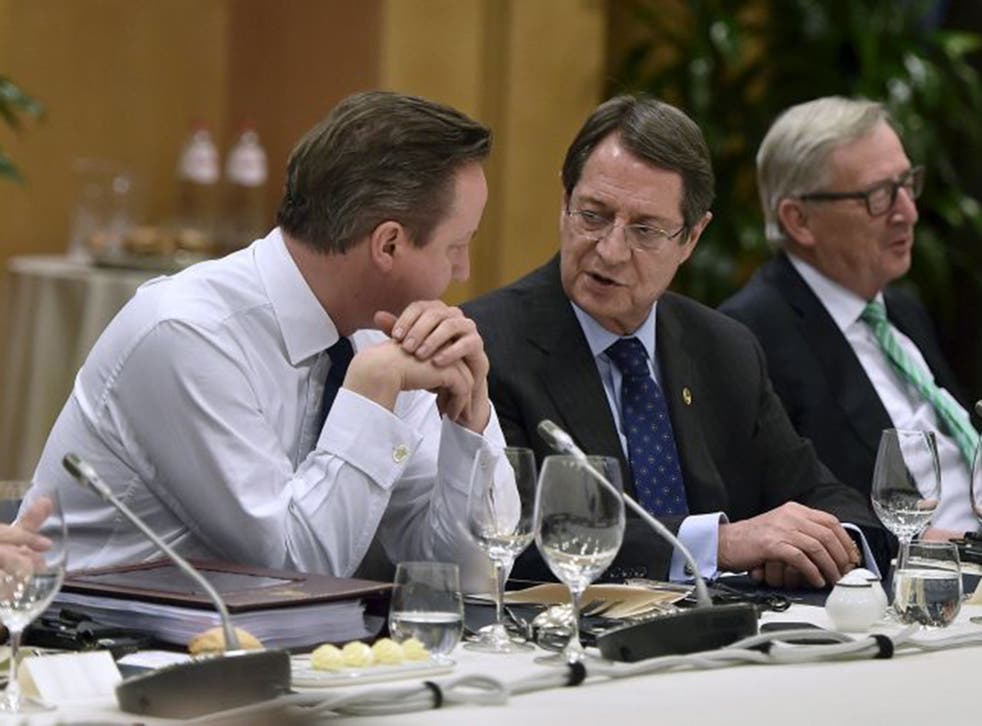 By 4pm on Friday, David Cameron was finally starting to fade. Twenty-five hours of talks had failed to wear down the hardline bloc of east European leaders working "in a pack" to stop the Prime Minister taking away child benefit from immigrant families.
Retreating to the UK's drab, air-conditioned conference room deep in the heart of Brussels' Justus Lipsius building, the Prime Minister's entourage fell silent to let him rest.
Mr Cameron had hoped to be back in Britain by this point, addressing the nation from outside No 10, but had been taken aback by the Polish-led resistance to his plans.
He had made progress on three of his four "baskets" of demands, but was still some distance from agreeing a deal to reduce child benefit and impose an emergency brake on European Union migrants' access to tax credits. Aides ordered pepperoni pizza from a nearby takeaway, resigning themselves to another late-night round of talks with no end in sight. Until then, the Prime Minister had sustained himself on a diet of Haribo sweets, wine gums and coffee, after an early morning breakfast of scrambled eggs at the British residence.
Outside, delegations from the awkward squad of countries opposed to his plans began to emerge – filtering into the giant press pit in the middle of the building to brief against the British demands. The Polish head of the European Council, Donald Tusk, arranged a fresh round of meetings between Mr Cameron and the leaders refusing to back down.
A working breakfast to resolve the dispute – scheduled for 10am – had already been put back six times. At 5.30pm, news flashed on to big screens around the conference hall that the "English breakfast" would be an "English dinner" and would go ahead at 8pm with a final draft deal. Britain's place in Europe was resting on whether or not 34,000 children of east European migrants could carry on receiving full child benefit, at a cost of £25m a year to the taxpayer – about 0.2 per cent of Britain's £11bn annual payment to the EU.
British demands for the EU to become more "competitive" had been agreed early on, and the Belgian government had been appeased over its concerns about the rejection of "ever closer union". The UK would get a special opt-out – while every other EU country was still expected to move towards deeper integration.
François Hollande had also been paid off after kicking up a fuss about Mr Cameron's demand for special protection for the City of London. The French president was given assurances Britain would not be able to veto eurozone integration. But the Polish-led group of four east European countries – also the Czech Republic, Hungary and Slovakia –were still digging in their heels.
In the opening discussions on Thursday, Mr Cameron called for an "emergency brake", allowing him to reduce in-work benefits for EU migrants, to last 13 years –with an initial period of seven years which could be twice extended for three years.
Downing Street always knew this would be knocked down and were happy as long as it did not fall below seven years. "We had done quite a lot of work in the run up, building up support for our proposal. The Commission and the Council were on board but we decided to bid high to start with," a senior source said.
A couple of hours before the dinner, Mr Tusk agreed to put forward a compromise proposal for one seven-year brake, but it was still unclear whether the Poles would agree to it, having originally demanded that it be limited to five years. In face-to-face talks the Polish PM Beata Szydlo had refused to compromise either on the brake or on cuts to child benefit. Weary No 10 aides said the "V4" group's hardline approach was in contrast to what they had indicated in private beforehand.
The Poles had agreed to the principle of indexing child benefit based on each country's living standards, but were not prepared to allow a cut for anyone already getting the payment. Mr Cameron said this was unacceptable because it would mean full child benefit still being sent abroad in 2031.
Mr Tusk suggested a "transitional period" during which migrant workers could carry on claiming child benefit until 2020. In private meetings with Mr Tusk, the PM had made clear he would not be prepared to accept a transition period lasting any longer. When the deal was put on the table over a dinner of veal fillet and passion fruit bavarois, the east Europeans gave way, sparking a series of relieved tweets from European leaders that the "drama" was over.
As journalists began streaming upstairs to wait for Mr Cameron's 11pm press conference, a group of diplomats assembled in the downstairs press bar. Led by Jonathan Faull, the British director general of the European Commission – Jean-Claude Juncker's chief negotiator – they clinked glasses to celebrate. Asked whether or not the deal would be supported in Britain, Mr Faul seemed unsure, saying: "It shows Europe listened and responded. I hope people in Britain understand that." That, of course, remains to be seen.
Join our new commenting forum
Join thought-provoking conversations, follow other Independent readers and see their replies