EU hands Ukraine extended deadline for Yulia Tymoshenko release in last-ditch effort to secure her release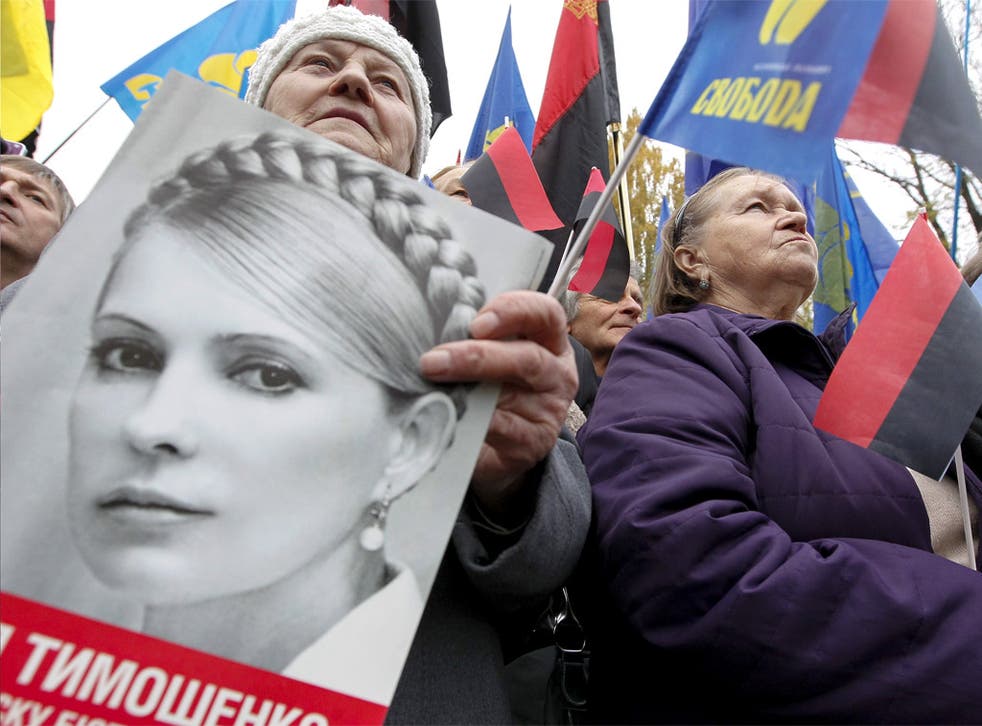 The European Union has given Ukrainian authorities a further month to free ex-Prime Minister Yulia Tymoshenko in a last-ditch effort to secure her release before a crucial political summit in late November.
Former European Parliament President Pat Cox and former Polish President Aleksander Kwaśniewski were on Tuesday expected to present a final report on their mission to address the issue of "selective justice" in Ukraine, but requested more time to secure a Presidential pardon for Ms Tymoshenko before doing so.
European leaders describe Ms Tymoshenko's seven-year sentence in 2011 for abuse of office as "politically-motivated" and have repeatedly demanded her release ahead of the Vilnius summit, where Ukraine is expected to take a momentous step away from the influence of Russia and towards the West by signing an Association Agreement with the EU.
Rights groups have said Ms Tymoshenko's ministerial role in a gas deal with Russia should not have been considered a criminal offence.
Yet the Ukrainian authorities appear determined to keep Tymoshenko behind bars. Justice Minister Olena Lukash told Interfax news agency on Tuesday that the President has no "legal basis" to pardon Ms Tymoshenko.
Mr Cox and Mr Kwaśniewski subsequently made a clear statement to the EU's Conference of Presidents that Ukraine has so far failed to fulfil commitments made to the EU on the issue:
"In our opinion, these conditions, especially as regards Yulia Tymoshenko, still remain to be fulfilled. After 16 months and 22 missions, we conclude at this point in time that further work is required to ensure compliance."
Mr Cox and Mr Kwaśniewski's request for more time came despite an apparent breakthrough earlier this month when Ms Tymoshenko agreed that she would accept a pardon on grounds of ill-health, rather than hold out for her conviction to be overturned. Ms Tymoshenko is currently undergoing treatment in a prison hospital for a back problem, and requires surgery.
She said in a statement "for the sake of a successful Vilnius [summit] and successful Ukraine, for the sake of a historic and crucial, agreement with the EU, I am ready to accept this proposal" – leaving the ball firmly in the court of President Viktor Yanukovych.
The Cox and Kwaśniewski report, now due just days before the summit begins on 28 November, will heavily influence the EU's decision on whether to sign a ground-breaking political and trade agreement with Ukraine. Rights groups have expressed concerns that the EU may dilute its demands for reforms in Ukraine, and for Ms Tymoshenko's release, in order to sign the deal at Vilnius.
The EU-Ukraine Association agreement would guarantee Ukraine free trade access to European markets in exchange for democratic and human rights reform. It would see Europe embrace the former Soviet Republic and move the country out from the overbearing shadow of neighbouring Russia, currently its largest trading partner.
Russian President Vladimir Putin has sought to block the agreement by threatening "dire consequences" for Ukrainian goods in Russia should Ukraine sign the Association Agreement. The two countries also continue to bicker over Russian gas prices the Ukrainian government say have been inflated as a result of their pro-European stance.
Despite the difficulties, key European and Ukrainian officials remain optimistic that the agreement will be signed, and a deal brokered which would see Ms Tymoshenko released to Germany on "humanitarian grounds".
Speaking earlier on Tuesday, the EU's Enlargement Commissioner, Stefan Fuele, said:
"I think we are not far away from that… I definitely expect that to have happened before the Vilnius summit."
Last week Ukraine's current Prime Minister, Mykola Azarov, told The Independent: "we are extremely close to resolving this matter."
Yet some analysts believe Kiev is simply delaying Ms Tymoshenko's release in order to distract European attention from other areas in which it has fallen short of the reform commitments made to the EU.
Tetyana Mazur, Director of Amnesty International's Ukraine office, told The Independent:
"Tymoshenko's case is just the tip of a human rights iceberg – the rule of law is undermined daily here. If the EU does sign this agreement, they must make very clear the areas where Ukraine falls short of meeting its human rights obligations, and what they expect to be done about that."
Join our new commenting forum
Join thought-provoking conversations, follow other Independent readers and see their replies