EU leaders struggle to agree on 1,500-strong border force to manage refugee crisis
The proposed rapid action force could potentially override national governments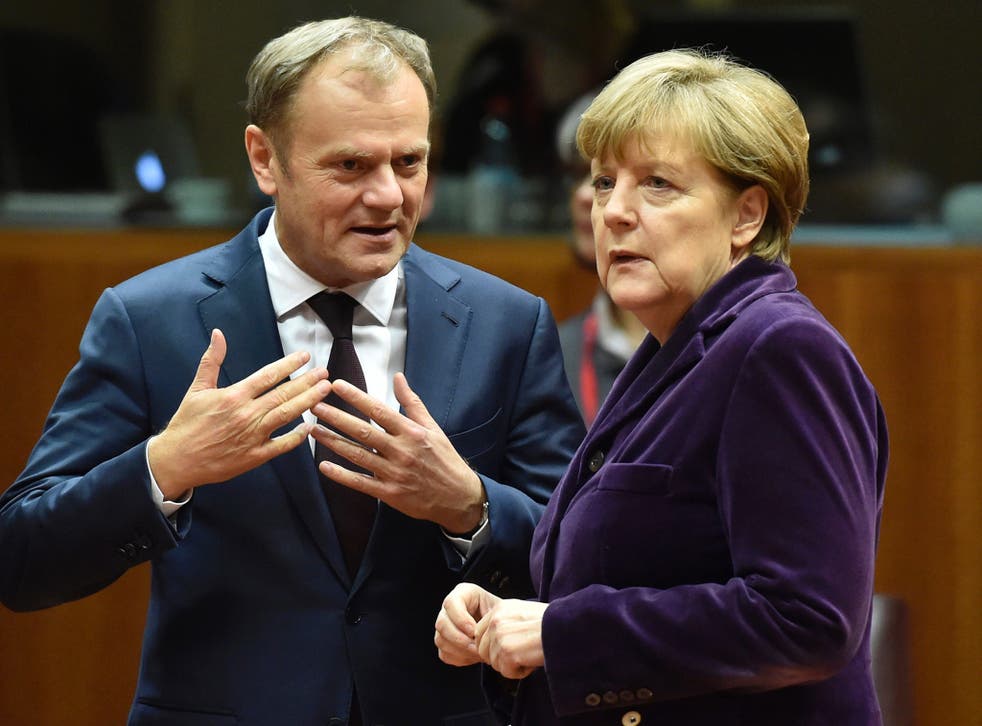 European Union leaders meeting in Brussels have struggled to agree controversial plans to create a new 1,500-strong rapid reaction force aimed at protecting borders and controlling migration.
The proposed border guard would be sent to countries unable to secure their frontiers, potentially overriding national governments, but they have met fierce resistance from key EU leaders.
Hundreds of thousands of refugees have arrived unchecked on Greek and Italian shores this year, triggering a crisis across the EU, and threatening the passport-free Schengen zone. While leaders insist that asylum seekers should be registered and fingerprinted, they have baulked at the European Commission's suggestions that a special EU guard should take up the task.
European Council President Donald Tusk, chairing the two-day summit in Brussels, admitted that the plan is a "most controversial idea" but insisted that the 26-member Schengen area needed to strengthen its outside perimeter. "Border protection is and should be in the first place the domain of national states," he said. "But Europe cannot remain vulnerable when Schengen states are not able to effectively protect their borders. If we reject the Commission's proposal, we will have to find another, but I'm afraid, an equally painful solution."
The plans for a European Border and Coast Guard would nearly treble EU spending on frontier defence, and replace Frontex, the EU agency with limited powers to intervene in crises. Although the plan is backed by France and Germany, the two countries that usually drive initiatives through the EU, Italy, Greece, Poland and Croatia say they would infringe their constitutional rights to their own security. German Chancellor Angela Merkel said she didn't expect a decision during the Brussels meeting, but she hoped the leaders would edge closer to backing the border agency.
Mrs Merkel was also optimistic that Turkey would play its part in helping to stem the number of illegal migrants entering the EU in the wake of the €3 billion October deal to prevent Turkish-based refugees from heading to Europe. Speaking after a meeting with Turkish Prime Minister Ahmet Davutoglu and nine other EU leaders just before the summit, she said that talks with Ankara would focus on how to "strongly and significantly reduce" illegal migration as well as a mechanism for legal migration through voluntary quotas.
Refugee crisis - in pictures

Show all 27
The leaders are meeting just one month after the Paris attacks that left 130 people dead, with some of those involved known to have travelled back from Syria, amongst refugees. The summit also takes place amid a surge in political populism that has linked the migration crisis to terrorism, suggesting that the Schengen passport-free system has jeopardised European security.
The International Organization for Migration (IOM) says more than 920,000 people have entered the EU so far this year, many escaping the war in Syria. Some 770,000 migrants have landed in Greece alone, most of them arriving from Turkey.
Jacob Kirkegaard, a senior fellow at the Peterson Institute in Washington, said a European border control agency was urgently needed, but he doubted it would ever have the manpower, equipment, or institutional capacity to secure external EU frontiers. "Imagining the EBCG as some sort of invading army that swoops in to take over Europe's border control is a recipe for failure," he said.
Planned Refugee Center in Flames After Suspected Arson Attack
Amnesty international, meanwhile, has warned that the protection of the EU's external borders must not come at the expense of refugees' rights. "Ensuring access to asylum is an obligation, not an option." said Iverna McGowan, Acting Director of Amnesty International's European Institutions Office.
Join our new commenting forum
Join thought-provoking conversations, follow other Independent readers and see their replies