New life in Limassol: If you can't launder Russian money, then launder the Russian
Rich Russians are flocking to Cyprus to become – not Russian. Foreigners can become citizens here in less than six months in exchange for investing two million euros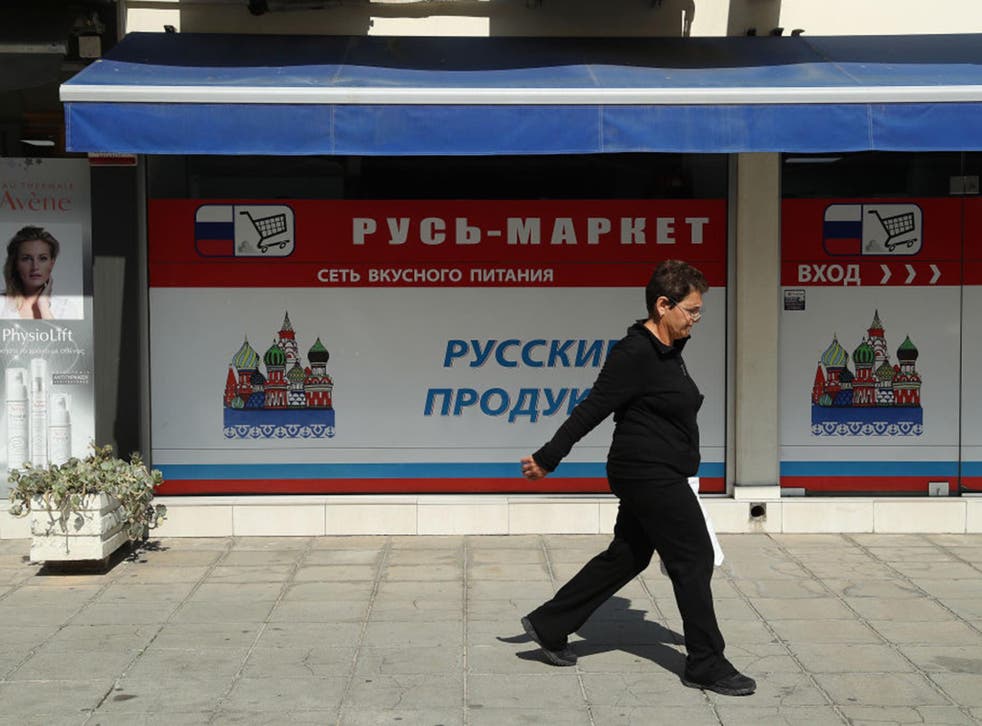 In Limassol, on the southern coast of Cyprus, shop signs in Cyrillic outnumber those in Greek. Yachts emblazoned with Russian monikers fill berths in a newly built marina. And just past the office of radio station Russkaya Volna, restaurants lining the boardwalk serve pelmeni with, of course, vodka.
This Moscow-on-the-Mediterranean has blossomed as Russians and their money flock to the tiny European outpost to become, in a sense, not Russian. Long known as a hub for offshore Russian finance – and more recently as a focus of investigations into Russian links to President Donald Trump's entourage – Cyprus has enabled a more sophisticated way to camouflage those funds.
If you can't launder a Russian's cash, the saying goes, launder the Russian himself.
The wave began after the government streamlined its money-for-passports program to help Cyprus recover from the 2013 collapse of its banking system and an ensuing recession. Now foreigners can become citizens in less than six months in exchange for investing at least €2m (£1.7m) in Cyprus property or €2.5m in government bonds or companies.
Since then, the nation has issued about 2,000 passports, Finance Minister Harris Georgiades said in an interview in Nicosia last month. About half have gone to Russians, according to PricewaterhouseCoopers and other consultants who guide clients through the process. The impact has been profound, sparking about €4bn of foreign investment last year — equivalent to almost a quarter of the island's annual economic output.
One newly-minted Cypriot detailed how it works, chatting last month over a dinner of barely touched sushi, hamburger and local white wine at a restaurant overlooking the Limassol marina. A former Moscow telecommunications executive who spends time on and off the island, he spoke on condition of anonymity – because hiding his identity was the whole point of what he'd done.
The first step was getting his assets out of Russia and into a shell company in the Netherlands, something he'd accomplished a few years ago. Then he shopped around for a second citizenship. He looked into Malta and some other countries but settled on Cyprus because, he said, it was the easiest and quickest.
It worked like a charm. In August, he bought two villas in Limassol for a combined €5m. In December, he received his passport.
While the world's wealthy have abundant choices for passports and residency permits – from old standbys in the Caribbean to EU rivals such as Malta – Cyprus is the fastest, the consultants say. The nation's EU membership also makes its passport a golden ticket. The burgundy-red booklet allows travel to 147 countries, including the UK and Japan, without getting a visa in advance. That's a globetrotter's dream compared with Russia's 105, a figure taken from an index compiled by Montreal-based Arton Capital, which advises clients seeking passports.
A US program offering residency rights in exchange for investment is under renewed scrutiny after press reports that companies associated with White House adviser and Trump son-in-law Jared Kushner have been pitching it to Chinese investors.
The sale of EU citizenship has raised concern among anti-corruption advocates, who say the practice opens gaping gateways into the 28-nation bloc.
"That's a back door," said Miklos Ligeti, legal director of Transparency International Hungary, which has published research on alleged abuses in a Hungarian program that exchanges residency for bond investments. Russians and others who obtain Cyprus passports, but don't actually live there, are unfairly buying EU access, he said. "Giving residency permits to rich people just because they are rich is against the principle of equal opportunity."
The European Parliament passed a nonbinding resolution in 2014 that declared: "EU citizenship should never become a tradable commodity." During the debate at the Strasbourg-based legislature, Romania's Sebastian Bodu protested that European passports would give visa-free travel to cash-rich Chinese and Russians. Any "gangster or oligarch will be able to do this unhindered if he has a bank account," he said. "This seems to me to be rather outrageous and unfair."
In the case of Cyprus, there are signs he was right. One reason Russians have loaded up on passports is that Cypriot citizenship helps them avoid the prying eyes of their government and pay lower taxes. It also may make it easier to move money, because banks see them as benign locals rather than potentially suspicious foreigners.
Some Russians further cultivate the I'm-a-local impression by hiring sham employees for the investment vehicles they set up on the island, making it look as if they have a physical presence there, according to an American accountant who lives in Limassol. She says she serves as an employee for dozens of such entities.
"The biggest reason for Russian businessmen moving their money to Cyprus or other offshore places is the fear of losing it," said Svetlana Ledyaeva, an assistant professor of economics at Aalto University in Finland, who has written about Russian offshore investment. "Russia is unstable politically, and a rich Russian can see all his money confiscated and himself put in jail one morning."
The Russian who got his passport after buying two villas is now transferring his Dutch company to Cyprus to take advantage of a deal that came with his new citizenship: tax-exempt investment income for 17 years. Normally, that wouldn't have been enough to avoid paying taxes to Russia, where President Vladimir Putin started taxing offshore profits and wealth in 2015. But because he claims tax residency in Cyprus, local authorities don't have to report his investment earnings to Moscow.
Did that mean this rich Russian had actually moved to Cyprus? Not exactly, he smiled. While tax residency requires spending 183 days a year in Cyprus, it's hard to enforce that requirement. EU citizens simply flash their passports on arrival and departure, waved through without a stamp. Nobody really knows when he's there or for how long.
At the Finance Ministry in Nicosia, the passport program and tax breaks are seen as a success, helping pull Cyprus from a three-year recession. "They're now delivering results," Georgiades said. The economy expanded 1.7 per cent in 2015 and 2.8 per cent last year, making it among the fastest-growing in the euro area.
Real estate purchases by passport seekers have put a floor under property prices, which normally would have cratered as banks cleaned up crisis-era mortgages through foreclosures. The number of Russian tourists is up 65 per cent since before the crisis, government statistics show, helping hotels, restaurants and retail stores.
"Companies are making money," John Hourican, chief executive officer of Bank of Cyprus Holdings, said in an interview in Nicosia, adding that 90 per cent of the corporate loans the bank has restructured continue to perform.
Russian investments in Cyprus in the first nine months of last year were up more than 50 per cent from all of 2015, according to Russia's central bank. That means more deposits in local banks and cheaper funding for them.
Things could have turned out worse for Cyprus and for rich Russians forced to contribute to the bailout of the island's banks. When the banks collapsed under the weight of bad investments, including Greek government bonds, the EU mandated that depositors at the two largest lenders chip in to cover almost half of the $20 billion bailout. Because deposits below €100,000 were protected, the worst hit were Russian businessmen who'd moved their money to the island to keep it safe from an unpredictable government's reach.
While everybody expected Russian money to flee, it didn't. Christos Vasiliou, head of advisory services at KPMG in Cyprus, said Russian tourists and money continued to flow into the country because it remains the best among offshore locations.
"Russians don't have a lot of other options," he said. "So they're giving it another try."
The resurgence of Russian money in Cyprus has become important on the world stage because it keeps popping up in news about links between Trump's team and Russia.
Former campaign manager Paul Manafort used Cypriot bank accounts to receive money from Russian tycoon Oleg Deripaska and Ukrainian clients, according to court records and former executives at the bank where the accounts were kept. Manafort and Deripaska have said the accounts were opened for legitimate business transactions.
Commerce Secretary Wilbur Ross invested in Bank of Cyprus after the bailout, becoming vice-chairman of the island's largest lender for a time. The bank's biggest individual investor: Russian billionaire Viktor Vekselberg. Thanks to the inflows of Russian money, Ross's investment, still under water, isn't a total flop.
But Cyprus's passport popularity may become the revival's undoing. Some advisers who help foreigners get citizenship are starting to worry that the swelling number of new Cypriots will cause the EU to pressure the country to make the citizenship process harder. If that happens, Russians looking to hide their riches might have to shop around again for new nationalities.
© Bloomberg
Join our new commenting forum
Join thought-provoking conversations, follow other Independent readers and see their replies