'A dark day for Europe': EU reaches agreement to send refugees back to Turkey despite legal concerns
The deal has been heavily criticised by human rights organisations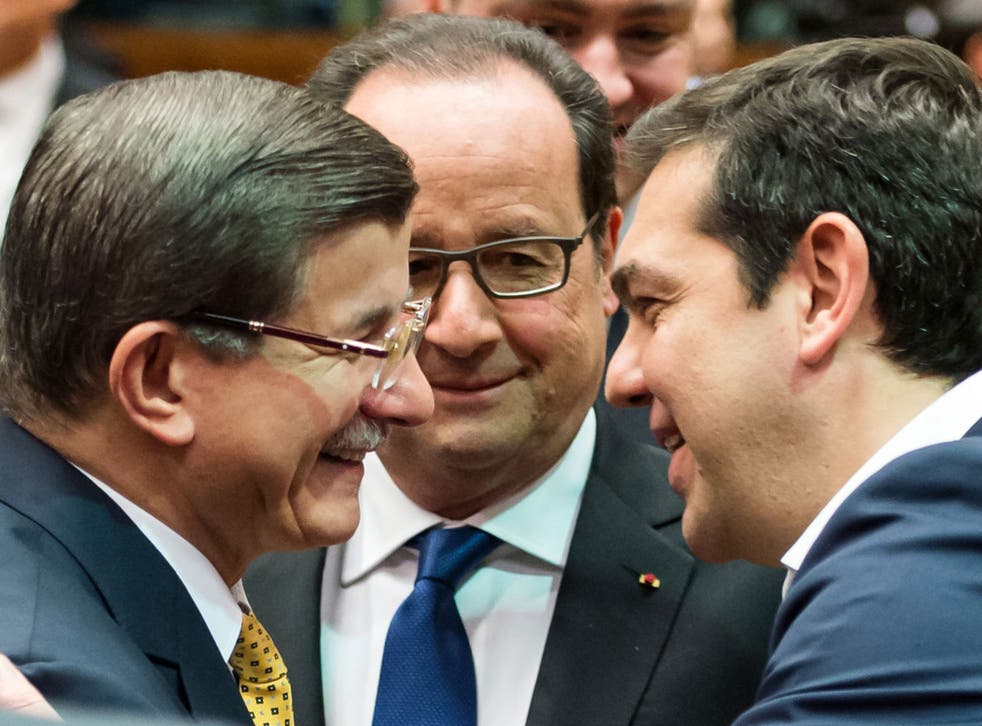 Human rights organisations have hailed a "dark day for Europe" after a controversial deal between Turkey and the European Union aiming to stem the number of refugees fleeing across the Aegean Sea was reached in Brussels.
Donald Tusk, President of the European Council, confirmed the agreement was made unanimously on Friday afternoon.
After less than an hour of discussions, the prime ministers of Finland and the Czech Republic tweeted from inside the European Council negotiations to announce that the 28 leaders had given their approval to the arrangement, which must be signed off by the Turkish Prime Minister before being implemented.
UN says EU-Turkey refugee deal would violate law
Authorities reported a surge in boats being sent towards the island of Lesbos as talks entered their final stages as smuggling traffic appeared to spike ahead of the expected crackdown.
Mustafa Nazmi Sezgin, the governor of Dikili district, told Reuters he knew of around 300 people who had been detained in his district alone and officials in Ankara said the total number detained was around 3,000.
Under the scheme drawn up by Mr Tusk and Ahmet Davutoglu, the Turkish Prime Minister, any migrant arriving in Greece after 20 March would be given a swift individual interview to determine whether they will be allowed to remain or sent back to Turkey.
Responding to heavy criticism from international humanitarian organisations, a spokesperson for European Council President Donald Tusk said that the agreement ensured that any removals would have to be "in full compliance with international and EU law" and that there would be no "collective expulsions".
Refugee crisis - in pictures

Show all 27
The EU has agreed to safely resettle one Syrian refugee from camps in Turkey for each irregular migrant returned to the country, in a move aimed to discourage asylum seekers from paying huge sums to smugglers for treacherous sea crossings.
Turkey will also be sent billions of euros and is pushing for visa liberalisation for its 75 million citizens visiting Europe, as the EU "re-energises" accession talks.
Human Rights Watch condemned the situation as a "new low" and said the proposed conditions put the "very principle of international protection for those fleeing war and persecution at stake".
The plan has also been heavily criticised for singling out Syrian refugees, who make up roughly 40 per cent of arrivals in Europe, over Iraqis, Afghans and other groups needing protection.
Save the Children said that almost 90 per cent of Syrians and 80 per cent of Iraqis have their asylum application granted, making any division on the basis of nationality "arbitrary and illegal".
The UN raised similar concerns, saying "blanket returns" would not be consistent with international or European law.
Amnesty International's UK director, Kate Allen, said: "This is a dark day for the Refugee Convention, a dark day for Europe and a dark day for humanity.
"It's absolutely shameful to see leaders seeking to abandon their legal obligations. Forcing refugees back into the hands of the very smugglers they just came from so they can have another go at exploiting them is obviously madness.
"There's no way anyone should herald this as a solution."
The Overseas Development Institute, which has conducted research on why refugees choose to migrate, warned that the deal is "unlikely to work" to stop the crisis.
Marta Foresti, the think-tank's Director of Governance and Security, said: "Our research shows refugees and migrants do not make the decision to leave their home lightly, are willing to take significant risks and will not be deterred by the policies and restrictions of EU countries.
"Those excluded from the deal will continue to try different, more dangerous routes if the border between Turkey and Greece is shut to them.
"The EU has failed to provide a humane or pragmatic response to the crisis, what is now needed is leadership at the global level."
Additional reporting by agencies
Join our new commenting forum
Join thought-provoking conversations, follow other Independent readers and see their replies