Euro 2016: French media blames Russian 'hardcore hooligans' for clashes with England fans in Marseille
French press says Russian fans armed with iron bars caused running battles in city's old port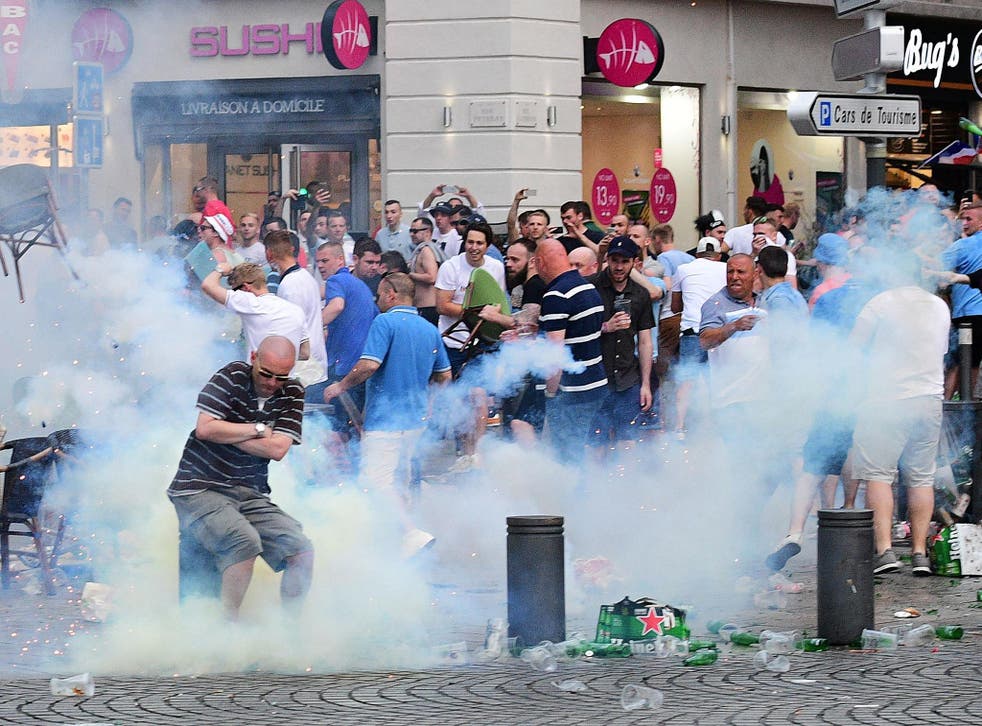 French eye-witness media reports today placed most of the blame for Saturday's violence in Marseille on small, well-organised "commandos" of Russian hooligans.
Having blamed drunken England fans for scuffles on previous days, the French press said that the vicious running battles in the Marseilles old port on Saturday were largely caused by unprovoked attacks by "hardcore" Russian hooligans aged 25 to 35, armed with iron bars.
In a detailed report under the front-page banner headline "La honte" (shame), the daily sports newspaper L'Equipe also placed some of the blame on gangs of local youths.
Russia and England fans clash at Euro 2016 – in pictures

Show all 15
L'Equipe quoted one eye-witness, Nina, describing a four-way pitched battle at one stage between "Russians, English, thugs from the poor districts [of Marseille] and the CRS [riot police].
"Everyone was hitting everyone else," she said. "Cans of beer and lumps of tarmac were flying through the air."
England and Russia fans clash ahead of match
French authoritoies rejected suggestions by England fans and British media that the aggressive tactics of the police were partly to blame. The mayor of Marseille, Jean-Claude Gaudin, praised the "exemplary response" of the police. Without their rapid action, he said, the violence would have been even more acute and prolonged.
Several French eye-witness reports said that Saturday's violence began at the Cours Estienne-D'Orves, a narrow street lined with bars near the Marseille old port. L'Equipe reported: "Thirty Russian hooligans came from nowhere and devastated the bar terraces attacking hundreds of England fans with iron bars, chairs and tables."
The newspaper said that the Russian thugs were well-organsied, "jumping from cars, fighting for 20 to 30 seconds and then driving off".
French authorities said 10 people were still in custody after the riots, including Russia and England fans but also French citizens, one German and one Austrian.
Most are expected to appear in court on Monday. Several, facing more serious charges, will remain in custody.
The Marseille police chief, Laurent Nunez, told a press conferemce on Sunday that the seriously injured England fan was in a "stable condition. He dismissed criticism of the police response, which he said had been "proportionate" and had prevented more serious trouble.
Join our new commenting forum
Join thought-provoking conversations, follow other Independent readers and see their replies