Former Catalan President Jordi Pujol to be stripped of his titles after admitting to more than 30 years of tax fraud
The scandal comes at a time of deep economic hardship for many Spaniards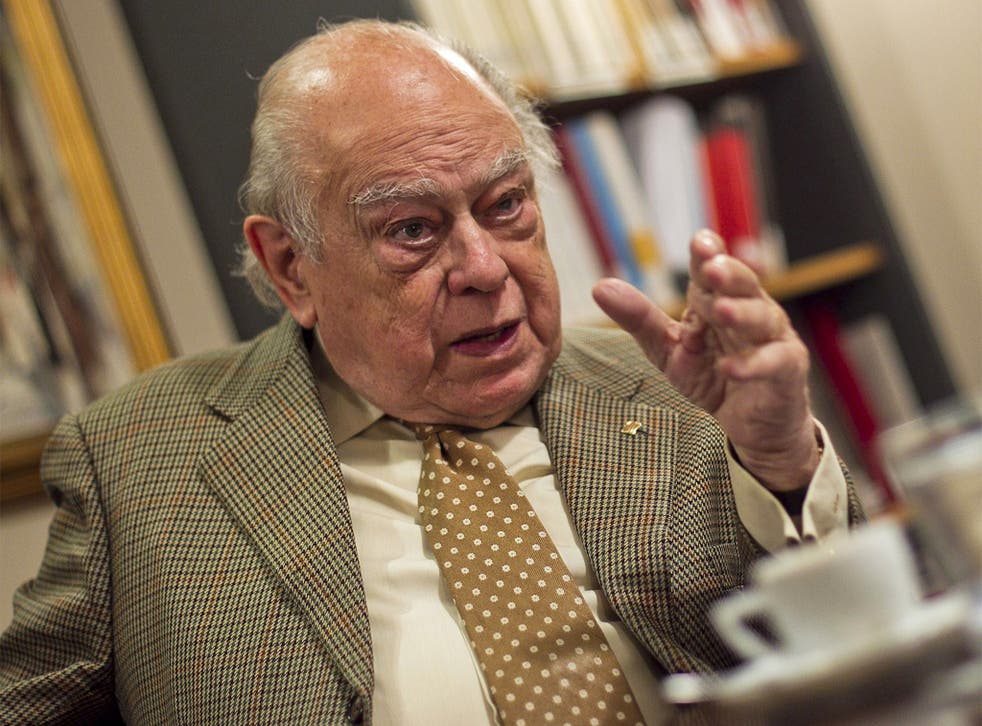 One of the leaders of the Catalonian independence movement has been disgraced after it emerged that he hid a personal fortune from the Spanish taxman for three decades.
Jordi Pujol, the founding party chairman and honorary chairman, will be stripped of party privileges, including his pension and the office paid for by the Catalan nationalist party Convergencia i Unio (CiU).
The scandal, which comes at a time of deep economic hardship for many Spaniards, adds to a crisis of faith in politicians following the emergence of dozens of other corruption scandals in recent years.
The news is also an embarrassment for Artur Mas, current head of the Catalan regional government, who is due to meet Prime Minister Mariano Rajoy on Wednesday for the first time in more than a year. The two men will discuss a deadlock over a non-binding referendum on Catalonia's status within – or beyond – Spain.
Catalonia has clashed with Madrid for scheduling the referendum on nationhood for November 9, raising hackles across the country. Madrid says the referendum is illegal and will not go ahead.
Mas, who announced that Pujol would be stripped of his titles, said the move caused him "great pain... Jordi Pujol has been my political father."
Pujol is a hugely-respected individual who became a figurehead for Catalan nationalism after running the regional government from 1989 to 2003. He got considerable funding for the region during his tenure, in return for the parliamentary support of successive minority Madrid governments on left and right after the end of the Franco dictatorship.
He admitted to concealing large sums of money in secret foreign bank accounts, and to failing to declare the money to tax authorities "over a period of more than 30 years." Media say the amount may run into hundreds of millions of euros, although Pujol has yet to provide a figure.
The 84 year old apologised and said he was willing "to appear before tax authorities, or if needed, judicial authorities," to explain matters, according to a statement released Friday.
Local media said the scandal was made public ahead of the more embarrassing possibility of an investigation being announced by judicial authorities. Many Spaniards expressed their contempt on Saturday, especially because Pujol had for months denied having any money stashed outside Spain.
The revelation comes after questions arose in January last year, when several members of Pujol's family were required by Spain's Fraud Inspection Office to reveal information relating to their financial affairs.
Two of Pujol's sons, both politicians, are also being investigated by judges for corruption and influence-trafficking.
The crackdown down on tax fraud in an attempt to whittle down Spain's public deficit will bring another well-known face to court, it emerged on Monday. Barcelona and Argentina soccer-player, Lionel Messi, is accused of hiding 4.1 million euros from tax authorities.
Meanwhile, the new Spanish king, Felipe VI, has announced measures to ensure Spain's royal palace accounts will be subject to external audits, with the results made public in an apparent bid to clean up the royal family's tarnished image.
A Palace statement, released today, stated that the measures include plans for a new code of good conduct, a ban on immediate royal family members working outside the Palace and greater control of gifts received by the royal family.
Reuters
Join our new commenting forum
Join thought-provoking conversations, follow other Independent readers and see their replies