Paris kosher store assault: Gunman killed as police act swiftly to end siege in central Paris
Police stormed the kosher grocers in eastern Paris to end the siege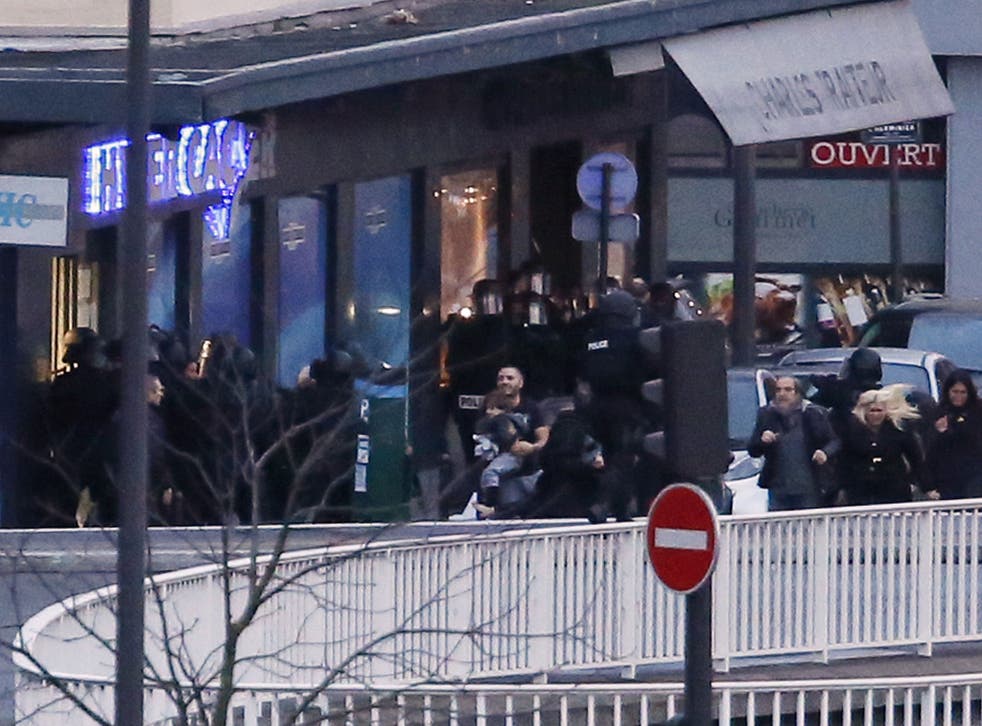 An elite police unit stormed a kosher supermarket in eastern Paris last night and killed a gunman who was holding several hostages, including women and children.
Police found four hostages dead, killed when the gunman opened fire entering the store.
The gunman was identified as Amedy Coulibaly, 32, a former cell-mate and friend of Chérif Kouachi, one of the presumed Charlie Hebdo killers who had died 10 minutes earlier in a hail of bullets with his brother, Saïd, in a siege 25 miles to the north.
At the supermarket at least seven hostages were rescued without injury, including a child; four others were said to have been seriously injured.
The gunman had entered the shop at Porte de Vincennes in the early afternoon. He fired an automatic weapon and shouted: "You know who I am." Several shoppers scrambled out of the shop. At least 11 were trapped or injured.
In pictures: Kosher grocery attack in Paris

Show all 25
As police encircled the building, the gunman warned that he would kill his hostages unless the Kouachi brothers, under siege in a village near Charles de Gaulle airport since early morning, were allowed to go free.
BFMTV, a 24-hour channel, last night broadcast brief telephone conversations that it had conducted during the sieges with first Chérif Kouachi and then with Coulibaly. It appears the men contacted the station to explain their actions.
Coulibaly said at 3pm that he had already killed four people in his attack on the supermarket – suggesting that the final assault by police was relatively successful. He also said that he had worked "in synchronisation" with the Charlie Hebdo killers. He claimed to be working for Isis. Kouachi said that he was "sent by al-Qaeda in Yemen".
The supermarket siege ended in the most dramatic fashion possible. Just after 5pm, four large explosions were heard by journalists waiting behind police lines near the Hyper Cacher store at Porte de Vincennes, part of a chain of kosher shops in Paris. Stun grenades had been fired to cover an assault by members of the Raid police anti-terrorist squad.
Six badly shaken men and women were led from the building amid the smoke from the grenades. Later, it emerged that four shoppers or supermarket staff had been killed and four gravely injured.
The deaths brought the toll of the terrorist attacks since Wednesday to 17 – plus three of the terrorists themselves.
Coulibaly, a French-born man of African origin, is believed to have been responsible for a gun attack in the southern suburbs of Paris on Thursday, the day after the Charlie Hebdo massacre.
At the time, police believed that this may have been a random act of violence or a copy-cat attack after the Charlie Hebdo killings. Yesterday morning they said they had traced a chief suspect who had known links with the younger of the Kouachi brothers. A warrant was issued for Coulibaly and his girlfriend, Hayat Boumedienne, 27, another known associate of Chérif Kouachi. Within hours, Coulibaly had given his deadly reaction.
There were unconfirmed reports last night that Boumedienne had also been involved in the siege, with some even suggesting she had been injured. However, there was no confirmation from the authorities that this was the case.
Scores of shoppers were trapped for hours in other shops near the scene of the siege. Children in neighbouring schools were ordered to stay away from windows. The nearby Boulevard Périphérique, the motorway that encircles Paris, was closed.
Diane, 31, was one of the shoppers in the Hyper Cacher supermarket, hours before the start of the Jewish Sabbath, as the gunman stormed in. "I saw people running," she said. "I ran too. I heard a loud bang. I thought it was road accident. Another second and I would have been trapped inside with the others."
Questions are certain to be asked about the bloody outcome of the Vincennes siege. Officials said the link between the two sieges obliged senior police commanders and politicians to take the agonising decision to cut short negotiations and send in elite forces as night fell.
They said that the French government had been confronted with an unprecedented double siege involving men known to be ruthless killers. President François Hollande is believed to have given his personal seal of approval after senior police and gendarmerie officers recommended a double, co-ordinated assault.
The Interior Minister, Bernard Cazeneuve, who was present at Porte de Vincennes, paid tribute to the "courage, skill and professionalism" of the special police and gendarmerie units which ended the two sieges. "We were faced with dangerous men who were holding hostages in difficult and oppressive conditions," he said.

President Hollande addressed the nation on television last night. He said: "The threats facing France are not finished." He described the gunmen as "fanatics who have nothing to do with the Islamic religion" and the attack on the supermarket as "a terrifying anti-Semitic act".
He warned: "I call on you all to be vigilant, to remain united and remain mobilised. Vigilance is something the state must demonstrate. I ask you to remain united – it's our best weapon. It shows we are determined to fight against anything that can divide us. We must not be divided."
Prime Minister Manuel Valls said the death toll showed there were serious flaws in intelligence-gathering. "There is a clear failing. If 17 people die, this means there were cracks [in intelligence]," he said.
France plans a unity rally tomorrow. Among those who plan to attend are the German Chancellor Angela Merkel, David Cameron and Prime Ministers Matteo Renzi of Italy and Mariano Rajoy of Spain, and European Commission President Jean-Claude Juncker.
The World Jewish Congress president, Ronald Lauder, said: "Jewish life in France is under threat if terror does not stop."
Join our new commenting forum
Join thought-provoking conversations, follow other Independent readers and see their replies