France is drowning in champagne as Britain loses taste for bubbly
Sales fall flat under pressure from cheaper alternatives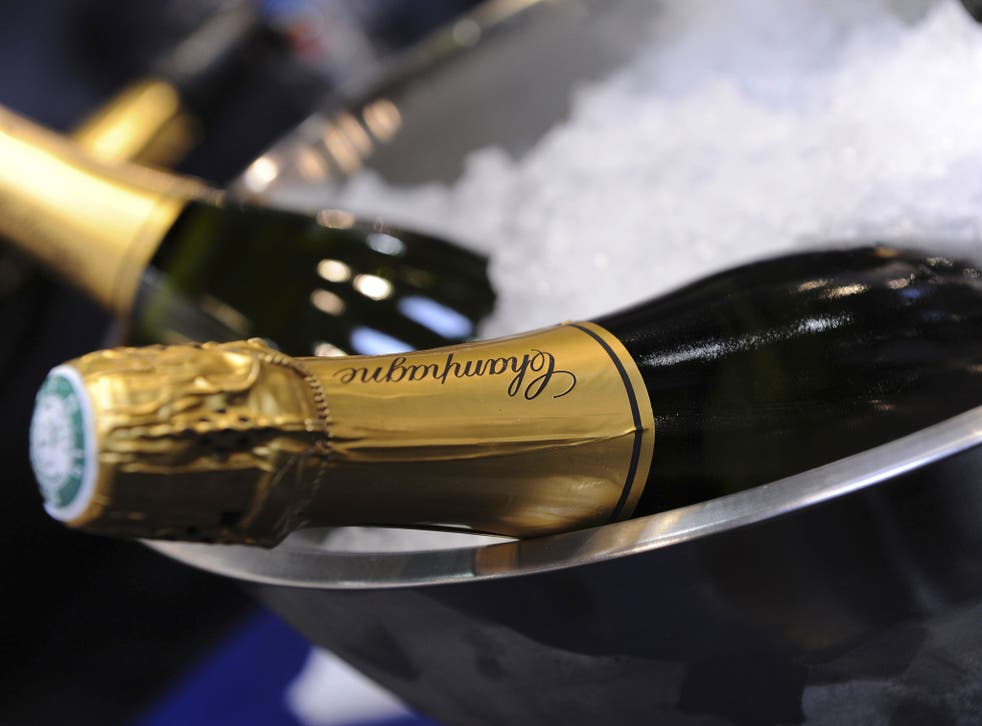 Sales of champagne – especially in Britain, its biggest export market – have slumped for the second year in succession.
The continuing economic crisis in Europe and competition from other fizzy wines, especially Italian prosecco, have deflated champagne sales for the last 12 months. Just over 300,000,000 bottles were sold last year, representing a 4.2 per cent reduction on an already flat 2012 and leaving producers with a swelling surplus which is pushing down prices of cheaper champagne labels in British shops.
If the trend continues into 2014, France's Champagne region may begin to regret its decision to allow the planting, or replanting, of vineyards in 40 new villages in the north-east of the country from 2015. The decision was taken in 2008 when sales were popping.
In 2007 sales set a new a record of 338,700,000 bottles. There were fears that future production would not be able to satisfy the growth in worldwide demand, especially in emerging countries like China, India and Brazil.
That was just before the financial crash of 2008 which has cut demand for the world's favourite celebratory drink by more than 10 per cent. "As soon as you reduce purchasing power, you reduce Champagne sales," says Pascal Férat, president of the champagne wine producers' union.
"Champagne is not something you can give away. When people are down in the dumps, they don't feel like drinking champagne." That may not be the whole story, however. There has been a growing trend in Europe – even in France and especially in Britain – away from champagne and towards other sparkling white wines.
Britain is still the largest single export market for Champagne, consuming more than 6,500,000 litres a year. This year, however, champagne was overtaken in the UK for the first time by prosecco, whose sales have risen by nearly 40 per cent in the year to October.
At the same time champagne sales have been falling. In value terms, Britain drank £900m-worth in 2008, but "only" £599m in 2012. The two drinks are not entirely in the same market. Prosecco sells at around £10 a bottle, almost half the retail cost of the cheapest champagnes. Wine traders say that it has come to be regarded as an "everyday" drink while champagne remains associated with success, celebration and special events.
Professor David Menival, a champagne expert at the NEOMA business school in Reims, says that the French bubbly is stuck in a period of what he calls "non-celebratory consumption". Just over 36,000,000 bottles were shipped from the region in October, 5.2 per cent down on the same month last year, which itself was a poor year.
Sales within France were 4.2 per cent down and within the European Union as whole were 10.1 per cent down. Exports to the rest of the world grew 0.7 per cent, driven by a continuing rise in demand in China and the United States.
"The dependence of champagne on the European markets remains a reality, even if shipments towards more distant countries are developing," he said. "The European economy is still weak, and that leads to tensions for non-essential products such as champagne."
The fall in sales means that champagne houses are carrying the equivalent of almost four years' consumption in stock, compared to the "normal" three years. This, in turn, is encouraging some traders to sell off bottles at relatively low prices this Christmas.
This may be good news for revelers but it worries producers. If champagne begins to compete on price with other sparkling white wines, they fear, the drink's exclusive image and capacity to command a higher prices will be permanently damaged.
Join our new commenting forum
Join thought-provoking conversations, follow other Independent readers and see their replies