France elections: Punished by voters, François Hollande fires his PM and makes a fresh start
New PM Manuel Valls given three missions: to restore the French economy; to improve social justice; and to reduce taxes for ordinary people
John Lichfield
Tuesday 01 April 2014 09:47 Comments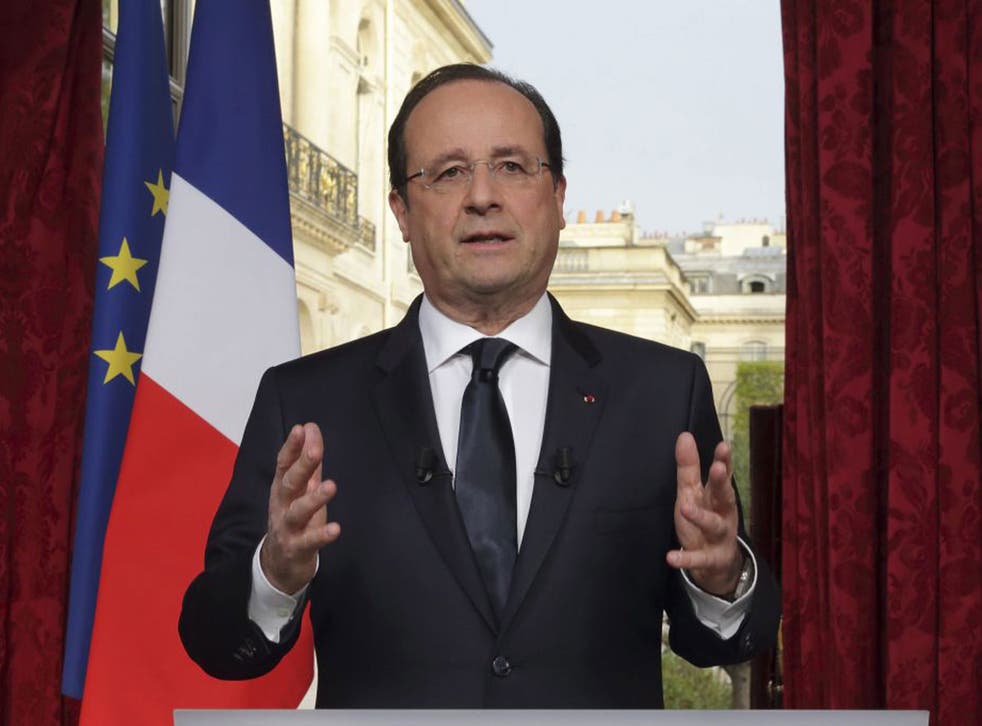 President François Hollande, reeling from calamitous results in local elections, fired his Prime Minister on Sunday night to try to give a fresh start to his failing presidency.
In a live TV broadcast, Mr Hollande announced that he had asked the ambitious, energetic, Spanish-born interior minister, Manuel Valls, 52, to form a new government. He paid tribute to the " courage" and "abnegation" of the deposed Prime Minister, Jean-Marc Ayrault.
The choice is a risky one. Left-wing voters failed to vote in droves on Sunday, partly because they are furious that Mr Hollande made a sharp right turn in economic policy in January. By choosing Mr Valls, from the reformist right wing of the Parti Socialiste, Mr Hollande signalled that there would be no going back.
The President said that he had given Mr Valls three missions: to restore the competitiveness of the French economy; to ensure social justice for poorer citizens; and to reduce taxes for ordinary people by 2017.
Mr Hollande said he had "heard the message" of the voters and " accepted entire responsibility" for the "slow pace of reform" of the Ayrault government. "But my duty is to act in the long-term interest of our great country," he said. "I will not deviate from my course."
The President's Socialist party lost 155 towns in the second round of municipal elections on Sunday, as voters punished him for  two stumbling years in the Elysée Palace and his failure to deliver his promise to halt the rising tide of unemployment.
Most of the lost Socialist towns swung to the centre-right but Marine Le Pen's far-right National Front captured 11 town halls – by far its  biggest ever beach-head in local government.
Mr Valls is regarded as one of the few successes of the outgoing Ayrault government. His plain language and no-nonsense approach to crime and immigration has impressed centrist voters but annoyed many people on the left of the Socialist party. His youthful manner, tough image and ambition have led some French political commentators to describe him as a "Nicolas Sarkozy" of the left.
The remainder of the Valls government will be named today. President Hollande's former partner, and the mother of his four children, Ségolène Royal, is tipped to return to national government. Bertrand Delanoë, who has stepped down after 13 successful years as Mayor of Paris, is also expected to be given a big ministry.
The sacrificial firing of the Prime Minister by the President is a long tradition in the French Fifth Republic (post 1958). It gives the President a chance, in theory, to wipe the slate clean and start again. 
But Mr Hollande made it clear on Sunday night that he plans to push ahead with plans to make €50bn in budget cuts this year and his proposal to lighten the payroll tax burden on employers to create jobs. Details will be announced in the next two weeks.
As the dust settled yesterday after the second round of municipal elections on Sunday, Mr Hollande's party found itself ejected from power in 150 cities and towns. The centre-right Union pour un Mouvement Populaire (UMP) was the clear winner nationwide, but the National Front – anti-EU, anti-immigration, anti-free trade and pro-Russia – consolidated its first-round breakthrough and took control of 11 towns. The previous high-water mark for NF control of town halls was, briefly, four in the late 1990s. 
There were some consolation prizes for Mr Hollande's Socialists, including the comfortable victory of Mr Delanoë's deputy, Anne Hidalgo, 53, in Paris.
Register for free to continue reading
Registration is a free and easy way to support our truly independent journalism
By registering, you will also enjoy limited access to Premium articles, exclusive newsletters, commenting, and virtual events with our leading journalists
Already have an account? sign in
Join our new commenting forum
Join thought-provoking conversations, follow other Independent readers and see their replies