Francis accepts risk of giving up Popemobile to get closer to faithful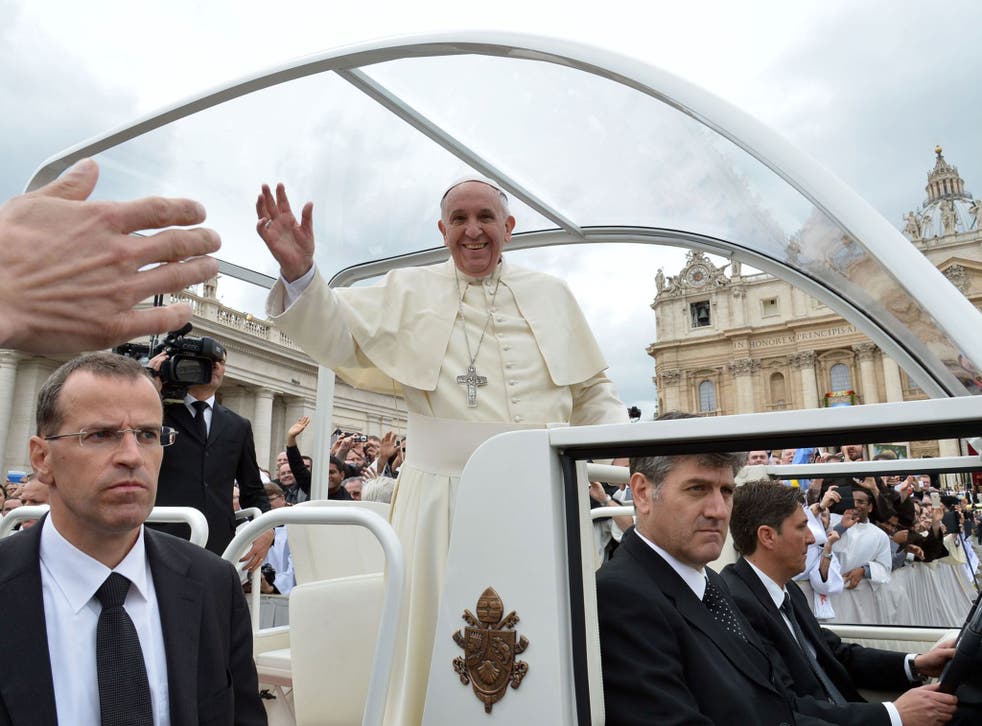 Pope Francis, famous for his populist touch, has also demonstrated a fatalist streak in eschewing use of the bullet-proof Popemobile, designed to protect him from attacks of the type that almost killed Pope John Paul II.
"I know that anything can happen to me, but it's all in God's hands," the Pope told a Spanish newspaper. "I remember that in Brazil, they had prepared a Popemobile closed with glass. But I cannot greet people and tell him that I love them from inside a sardine can, even if it is crystal.
"This is a wall. It is true that something can happen to me but, let's be realistic, at my age I don't have much to lose."
The 77-year-old Argentinian Pontiff's preference for open-topped vehicles is in stark contrast to his predecessor, Benedict XVI, who always rode in the enclosed vehicle – a security measure introduced after the attempted assassination of John Paul II in St Peter's Square in 1981.
Vatican officials were said to have voiced their fears for Pope Francis's safety during last month's trip to the Holy Land, which involved public appearances in Jordan, Jerusalem and Bethlehem.
In pictures: 'The many popes of Pope Francis'

Show all 12
But it was in his ground-breaking and hugely popular week-long stay in Rio de Janeiro last July that Pope Francis first signalled his intention to get closer to the faithful, if necessary at the expense of security. The Pontiff toured a favela and rode in an open-topped white jeep along the sea front of Copacabana beach while visiting the Brazilian city for the week-long World Youth Day festival.
Ahead of the tour the Vatican announced the Pope would be using the same open-topped car he uses when cruising around St. Peter's Square. "It's in continuity with what he does here," the Vatican spokesman Rev Federico Lombardi said then. "He feels good to be in close communication with the environs around him and this car lets him get on and off."
But the Brazilian trip was not without incident. While being driven in a Fiat car from the airport to downtown Rio de Janeiro, the vehicle became pinned between a bus and a crush of well-wishers who were reaching into the car to touch the Pope. Security was stepped up after that incident.
Since the attempted murder of Pope John Paul II by Mehmet Ali Agca, reigning heads of the Catholic Church customarily used the custom-made glass-sided Popemobile when appearing in public.
But even when Francis does agree to use the Popemobile, he has a tendency to alter the schedule. During John Paul II's canonisation ceremony on 27 April this year, the Pontiff ordered the driver of his armoured vehicle to continue beyond St Peter's Square in order to see as many of the faithful as possible.
In an interview with La Vanguardia, Pope Francis once again praised the decision by his predecessor, Benedict, to resign last year rather than die in office, as has been the tradition for centuries. Benedict, 87, now lives in a former convent within the walls of the Vatican City state.
"Benedict made a great gesture. He opened a door, he created an institution, that of eventual emeritus popes," Pope Francis said, suggesting he, too, might one day choose the title of emeritus Pope.
Join our new commenting forum
Join thought-provoking conversations, follow other Independent readers and see their replies