Francois Hollande's popularity rating descends to record low, poll shows
'If the Left does not get its act together it will be atomized and marginalised for 20 years'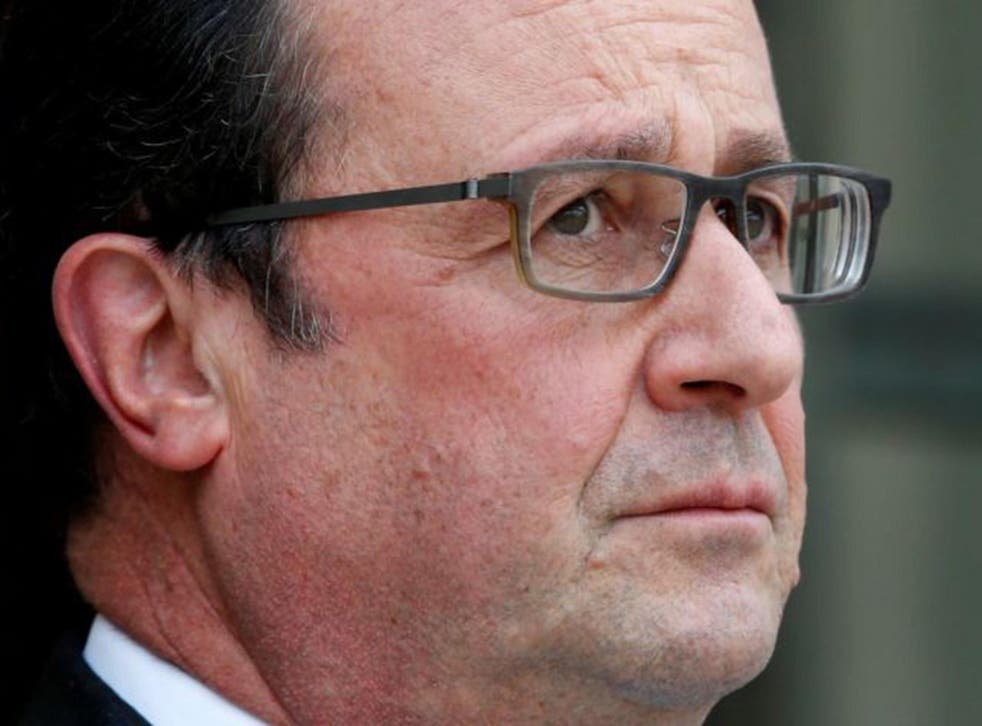 François Hollande's popularity rating has descended to a new low in the most recent round of polling, just days after he told the French public "things are getting better".
According to one poll the socialist President, who is yet to decide whether he will seek another mandate for a second term, will lose an election in 2017 no matter who his opponents are.
It has led one of his party's chiefs to issue a warning that the French left risks being "atomized".
Another survey published on Sunday by Ifop pollsters showed that only 14 per cent of voters have a positive opinion of Mr Hollande, by far the worst rating for a French leader 12 months ahead of a presidential election.
The first poll by TNS-Sofres showed the far-right National Front and the centre-right Les Republicains would get the only two spots available in the election's second round, even if Les Republicains put up a little-known candidate.
When tested against Les Republicains's front-runner, former Prime Minister Alain Juppe, or against ex-President Nicolas Sarkozy, Mr Hollande's predicted score in the first round was five to seven points lower than in a similar poll in December.
Socialist Francois Hollande wins French presidency

Show all 4
To make things worse, the poll showed that candidates from smaller parties, further left, would get more votes all together than Mr Hollande.
Many commentators attribute the President's plummeting popularity rating to his pledge to reduce the unemployment rate, which has remained above 10 per cent since he started his term in 2012. It is also thought that botched anti-terrorism laws have angered left-wing voters.
"If the Left does not get its act together it will be atomized and marginalised for 20 years," Socialist Party leader Jean-Christophe Cambadelis told LCI television.
It comes after the 61-year-old received a modest boost in his popularity rating following the November terrorist atrocities in Paris when 130 people were killed by Isis jihadists.
On Friday Mr Hollande slapped down Emmanuel Macron, his young protégé, over his presidential ambitions. Questioned about speculation that Mr Macron might run for the French presidency next year, Mr Hollande, said: "He knows what he owes me. It is a question of personal and political loyalty."
The President was speaking the week after Mr Macron launched his own political movement and on the day that he appeared in presidential mode with his wife and family in the glossy pages of Paris Match magazine.
Around 28 per cent think the young minister should represent the Socialist Party – compared with 11 per cent for Mr Hollande, France 24 reported.
Additional reporting by Reuters
Join our new commenting forum
Join thought-provoking conversations, follow other Independent readers and see their replies