French Education Minister Najat Vallaud Belkacem faces strikes from the left and 'prejudice' from the right over plans to reform middle schools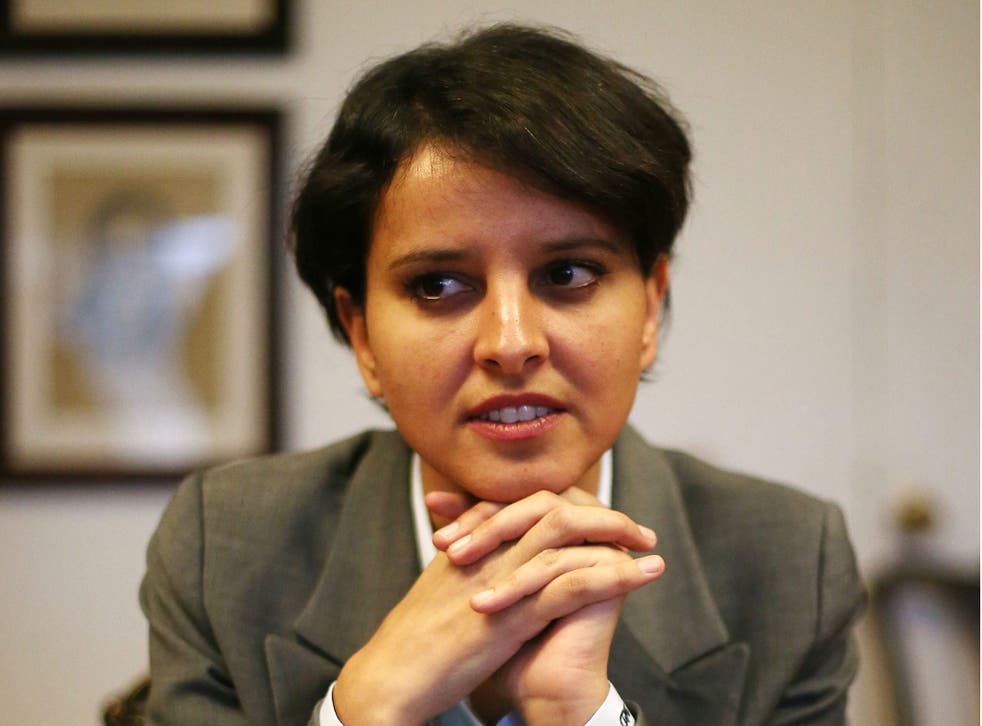 The most rapid route to unpopularity in France is to become Minister for Education.
Najat Vallaud Belkacem, 37, the youngest person and the first woman ever to hold the job, faces the biggest test of her career on Tuesday when teachers strike against her plans to reform the failing collège or middle-school system. Ms Vallaud Belkacem, born in Morocco, is already the target of a vicious campaign of vituperation by the right and far right. The former President, Nicolas Sarkozy, accused her at the weekend of wanting to "destroy everything which makes the genius of France".
In an interview, Ms Vallaud Belkacem accused the right – and implicitly Mr Sarkozy – of "disinformation", "intellectual dishonesty" and "trying to wind up public opinion". Now she faces another assault on her reforms from seven teaching unions which are broadly aligned with the left. They have called on 171,500 collège teachers to strike against her plan to rebuild the school curriculum for 11- to 15-year-olds.
The teachers are furious that Ms Vallaud-Belkacem said many pupils are "bored" by the traditional, rigid pattern of teaching in middle schools. They dislike her plans to introduce more individual coaching and "horizontal topics" which break down boundaries between subjects.
The right and far right have made the reform proposals into an issue of "national identity" and an alleged dumbing down of educational standards. They have seized upon her plans to abolish the optional Latin classes now available for a small number of clever 11-years-olds.
They – and some politicians on the left –also object to plans to abolish "double" language classes, which allow around 15 per cent of students to study German and English from the first year of collège. The reforms would offer two modern languages to all children from the age of 12.
Right-wing politicians also make the emotive – and false – claim that teaching of the history of Islam is to be "made compulsory" and that the history of Christianity is to be "downgraded". In fact, the history of Islam has been compulsory for 11-year-olds in France since 1957. A proposed new history curriculum – not part of the college reforms – would make "the history of medieval Catholicism" optional. Otherwise, Catholicism would remain a core subject in history lessons.
The Prime Minister, Manuel Valls, last week accused Mr Sarkozy and other right-wing politicians of targeting Ms Vallaud-Belkacem and the West Indian-born Justice Minister, Christiane Taubira, because they are from racial minorities.
Education has long been a microcosm of France's aversion to reform. Almost everyone agrees that French schools – and especially middle schools – need change. But specific change is opposed by the teaching unions and by the left or the right, depending on which is in power.
Almost all education ministers in the past 30 years have become deeply unpopular, except for Jack Lang in the late 1990s, who defended the status quo. The largely unspoken questions are of class and race. Many middle-class parents in France, as in Britain, are nostalgic for the time when there were separate "academic" and "practical" options for children after the age of 11.
A "single" collège system and curriculum was imposed in France in the mid-1970s. Some right-wing politicians want to go back to a dual system, which would allow academic and, up to a point, social and racial segregation.
Join our new commenting forum
Join thought-provoking conversations, follow other Independent readers and see their replies