French election: Voters in Front National stronghold turn out in big numbers for Marine Le Pen
A high turnout across the country may not help the Front National, however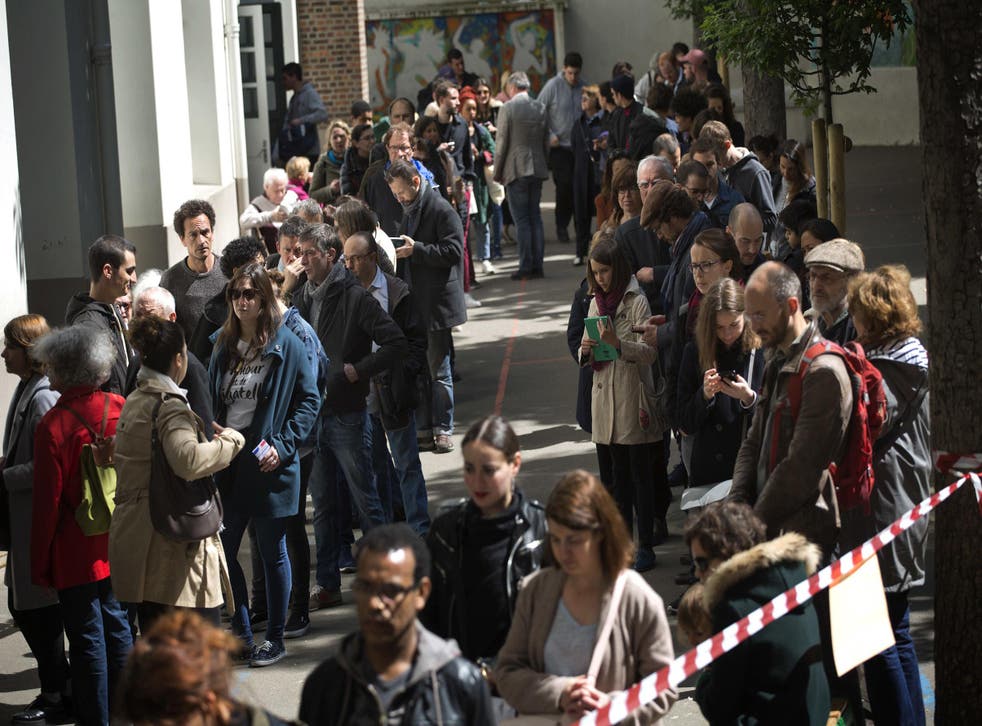 Halfway through the French election, and despite predictions of a low turnout favouring extreme candidates, by mid afternoon the rate of participation was running as high as it was five years ago.
"Very interesting election currently taking place in France," tweeted the US President Donald Trump, who has previously spoken of his admiration for strict anti-immigrant security measures proposed by Front National's Marine Le Pen.
But Ms Le Pen was not the only candidate receiving support among voters in Hénin-Beaumont, the Front National's northern stronghold, where Ms Le Pen went to vote this morning at 11am and avoided a confrontation with Femen activists, topless and wearing masks of Mr Trump's face, who were diverted away by police at the polling station on Rue Jean-Jacques Rousseau. A heightened police presence across the country appears to have worked to restore calm after Thursday's terror attack in Paris, and voters continued to drop their ballots in the urn without being disturbed.
Arlette, 79 and retired, told The Independent she has always lived in Hénin-Beaumont but was considering not voting "after the show the 11 candidates put on during the campaign". But in the end she has turned out, to put a ballot for Marine Le Pen. Robert, another retiree, comes to greet her. He is also going to vote but says he is "sickened", because it is always "the same speech, the same system" offered by the main contenders. To try to change things, he says, he will vote "for a small candidate" - the trade unionist Philippe Poutou.
​Justine, 26, is cashier who has never voted before, but has now decided to give her support to Marine Le Pen. What has pushed her this time is the terrorist threat that hangs over France - "If she can do what she said she would concerning the 'fichés S' (a terrorist threat register) and to control borders, it would be a good thing," she says. Jérémy, 37, also voted Marine Le Pen to "block Macron and Mélenchon".
But even if this city is considered a stronghold of the National Front, of the people interviewed, many said they would turn to the far-left candidate Jean-Luc Mélenchon. Stéphanie Rappasse, 37, and her husband Julien, 47, parents of three children, both voted for the candidate of "La France insoumise", Unbowed France. She is a client manager in social housing, he an archaeologist, and have previously only ever voted for the Socialist party.
This year it was Mélenchon's speeches that convinced them to change their minds. "It is someone who has the merit of speaking on behalf of the workers, the unemployed, the most deprived, without ever discriminating against anyone," they explain. Yvette Tiffore, a 67-year-old retiree who has always lived in Hénin-Beaumont, has also voted Mélenchon.
Only Marie, another retiree of 80, is worried about ​​a second round opposing Marine Le Pen to Mélenchon and still hesitates when going to vote, between Macron and Fillon. But she confesses "I think I'll vote Fillon in the first round and Macron in the second." We won't know until the release of initial results, after 8pm (7pm BST), whether Mary will be able to follow through with her plan.
Join our new commenting forum
Join thought-provoking conversations, follow other Independent readers and see their replies