French prisoner blasts through doors in daring daylight escape
Europe-wide alert issued after 'celebrity' robber and murder suspect takes prison guards hostage after firing a gun and using plastic explosives hidden in a handkerchief to break out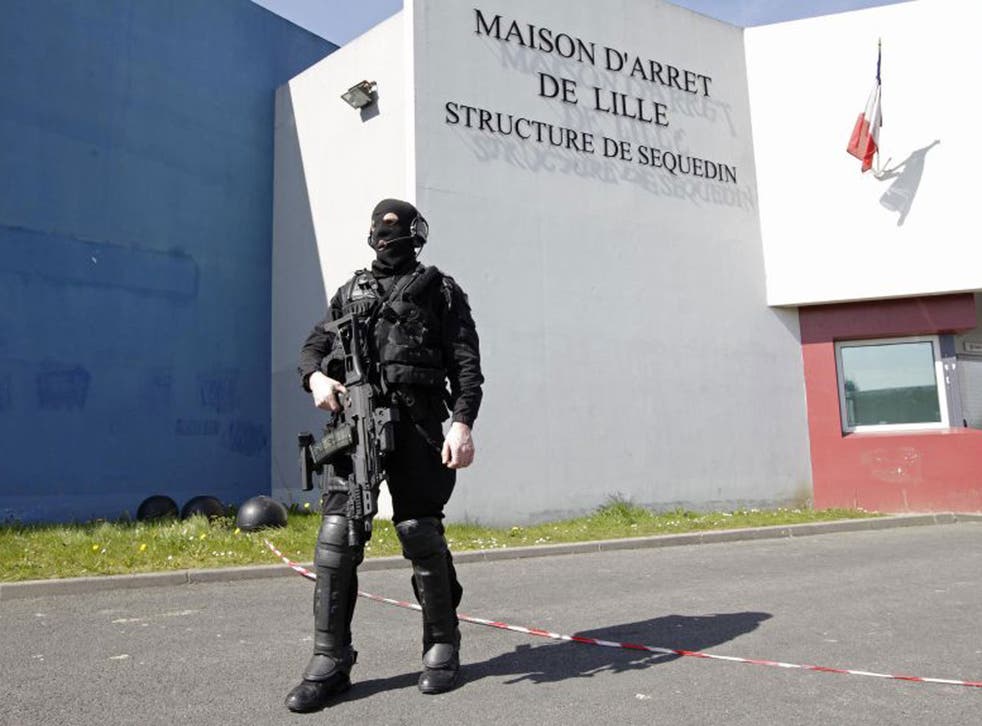 A Europe-wide search is under way tonight for a French "celebrity" armed robber who blew open five security gates and took four hostages to escape from a prison near Lille.
Redoine Faid, 40, known as "The Brain" or "The Writer", will have plenty of material for a sequel to his best-selling autobiography, which was published in 2010.
On Saturday morning, Faid, awaiting trial for armed robbery and the murder of a policewoman, was in the visitor's room at Lille-Sequedin prison. He fired a shot in the air, then produced plastic explosives from a handkerchief, took four prison guards hostage and blasted his way through five gates to reach a car-park.
Releasing three of his hostages, he escaped in a white Peugeot 406 driven by an accomplice. The two men set fire to the first getaway car, released the final hostage and fled in a second car towards the Belgian border ten miles away.
The whole escape took 30 minutes. The final blast was so powerful that it flung debris for 200 feet. One prison officer's union said that its members had faced an "act of warfare".
An eyewitness, a woman who was visiting her imprisoned son, told AFP of the chaos at the scene. "I thought my last hour had come," Rose Lafont said. "Suddenly, everything started blowing up. The walls started shaking, as did the windows and the doors. I was really scared."
In his book, Braqeur (Robber), published three years ago, Faid described his progress from petty delinquency in a troubled suburb of Paris to master-minding armed attacks on security vans. He claimed to have been inspired by the 1995 Hollywood movie Heat, starring Al Pacino and Robert De Niro, but insisted that he had given up his life of crime to settle down with his wife and two children.
Within a few months, though, he was being hunted by police for a failed attack on an armoured security van in which an unarmed policewoman, Aurélie Fouquet, 26, was shot dead. In June 2011, he was arrested by the Lille organised crime squad. Banknotes stolen in another armed attack, near Arras in March that year, were found in his wallet.
The escape of such a high-profile figure – who is described by his lawyer, Jean-Louis Pelletier, as extremely intelligent and well-connected – poses a series of embarrassing questions for the French government, particularly because it is the latest in a series of spectacular prison breaks in France over the past decade.
How could plastic explosives and a gun be smuggled into a prison? How could they be taken by Faid from the cells into the visiting area where he was scheduled to meet his older brother, Abdeslam? Why was so little done by the prison authorities to intervene during the half hour between the moment he fired his gun and his car's escape in the direction of the Belgian border?
Faid had boasted to friends that he intended to break out. He was supposed to be under special surveillance. Mr Pelletier told AFP that he wasn't surprised to learn of his client's escape, but added: "There were no signs that anything was in the works."
He also denied suggestions that Faid's wife had been involved.
Abdeslam Faid, who was not the getaway driver in Saturday's escape, was arrested for questioning yesterday. Investigators believe that he might have played a role in the escape plot but they are convinced that he did not have an opportunity to hand over the gun and explosives on Saturday morning.
Instead they suspect that they were smuggled into the jail by previous visitors – possibly by way of other prisoners. Visitors have to pass through an electronic security gate, but this is said to be designed to detect weapons, not explosives.
Prison officers' unions and right-wing politicians yesterday blamed what they described as the "soft" and "pro-offender" policies of the Socialist Justice Minister, Christiane Taubira. They accused her of blocking their requests to institute systematic searches of prison visitors.
Ms Taubira promised a rigorous investigation into the escape but rejected allegations of softness. She said a European warrant had been issued for Faid's arrest.
Investigators said it was almost certain that he had fled into hiding abroad. That would follow the pattern of a previous escape: after his first robbery, Faid, who is of Algerian extraction, fled to Israel, where he wore a yarmulke and learned Hebrew to blend in.
Join our new commenting forum
Join thought-provoking conversations, follow other Independent readers and see their replies