Gay rights protester stopped by Russian police while posing in Red Square with 'Love is Love' banner
Photograph goes viral as people express shock at clampdown by Moscow authorities on what they call 'gay propaganda'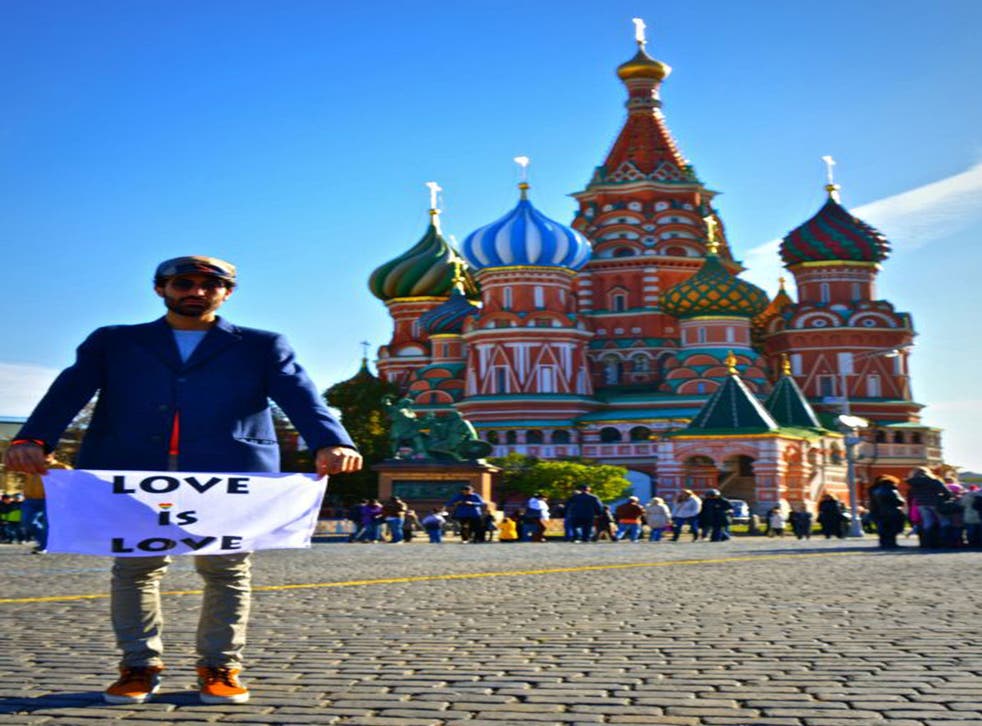 An Italian journalist has achieved unexpected internet fame after he posed for a photograph in front of St Basil's Cathedral holding a banner saying "Love is Love", and was quickly confronted by Russian police.
Enrico Procentese, a photographer and travel blogger, was reporting from Red Square on behalf of Conde Nest Traveller at the end of last month when he paid homage to Oscar-winning actress Tilda Swinton's July protest against the country's anti-gay laws.
Despite the fact that the Italian's poster was only identifiably pro-gay because of a tiny rainbow-coloured heart dotting the "i" of "is", Moscow police officers responded almost instantly, demanding he hand the banner over.
Though Mr Procentese's protest only received muted coverage initially, it has now touched a chord with social media users and been shared thousands of times online after it was picked up by La Repubblica, one of Italy's largest newspapers.
Speaking to Russia's English-language Moscow Times, the journalist said: "Unfortunately, taking the photograph was not easy, since the police immediately stopped me and asked me to give them the flag I was carrying.
The officers made their demands in a torrent of Russian which Procentese did not understand, he said, and spoke no English when he tried to ask for an explanation.
"People are astonished by the fact that the police intervened to confiscate the flag in such a peaceful situation," he said.
It remains unclear exactly what drew the attention of the Russian police, when there are thousands of tourists taking photographs outside the Kremlin every day.
The Moscow Times nonetheless reported that the authorities have had little patience with anyone openly opposing the new law, signed by President Vladimir Putin in June, which banned so-called "gay propaganda".
According to the new legislation, a protest like Mr Procentese's or Ms Swinton's is punishable by 15 days in prison, a fine and deportation from Russia.
The "Love is Love" campaign started in June after US President Barack Obama tweeted a message in support of gay marriage ending in #LoveIsLove. Within minutes the hashtag became the most popular on Twitter.
Procentese said he hoped other people would follow his lead to support gay rights through peaceful means such as posing for a picture on Red Square.
"I believe promoting awareness through messages like 'Love Is Love' is the only way to change this attitude in Russia as well as in other countries of the world," he said.
Join our new commenting forum
Join thought-provoking conversations, follow other Independent readers and see their replies