Geert Wilders labels Turkey's President Erdogan a 'dictator' as he steps back in front of the cameras
Supporters are sceptical of news media that shows a slide in the polls for Wilders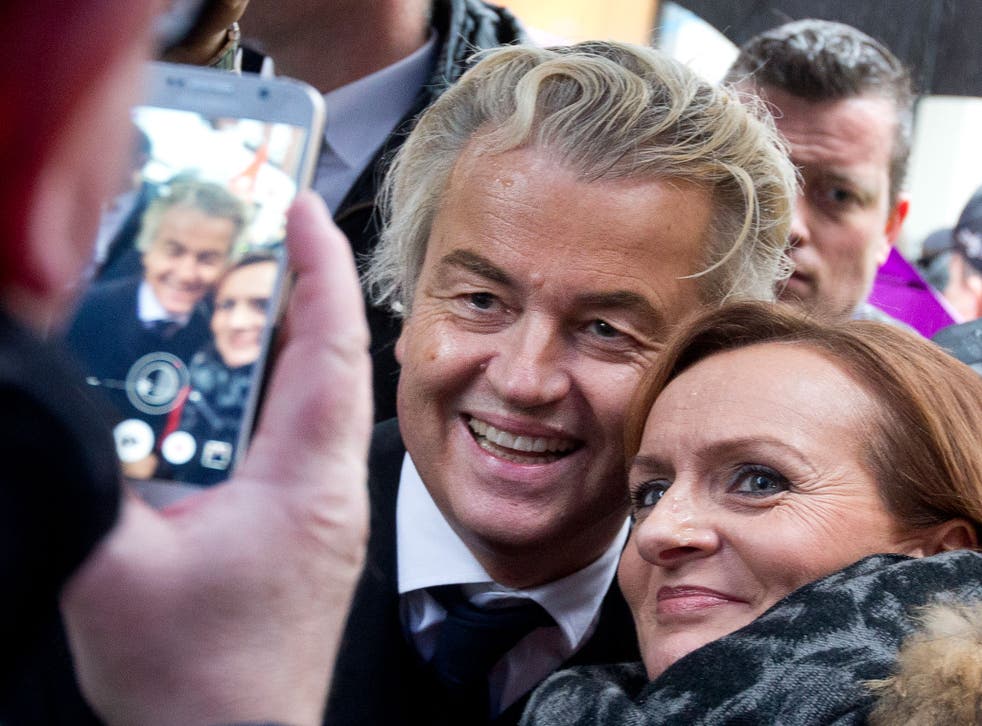 Geert Wilders has appeared back in front of the cameras as he tries to regain lost ground just a week before the Netherlands heads to the polls.
During a protest outside the Turkish Embassy, he branded Turkish President Recep Tayyip Erdogan an "Islamist" and a "dictator".
A few dozen protestors turned out on a rainy day in the Hague to support Wilders. The leader of the Freedom Party (PVV) unfurled a banner saying "Stay away. This is our country" in Turkish and Dutch.
Turkish Minister of Foreign Affairs Mevlut Cavusoglu was planning to campaign in the Netherlands to encourage Dutch-Turkish dual nationals to vote in an April referendum to expand Mr Erdogan's powers.
Wilders seized on the opportunity after his lead in the polls, which he has held for months, evaporated.
"In the name of freedom, we need to say: 'Stay away, you are not welcome, this is our country," the far-right leader told journalists. "Lobbying for a dictator is not allowed on Dutch soil. We wouldn't allow it either for ministers from North Korea or Saudi Arabia and also not for that other dictatorial regime Turkey".
The appearance comes after a surprise visit to the town of Volendam on Friday. After initially suspending his campaign over a security scare, Wilders declared late last week that he would go out and meet supporters again.
World news in pictures

Show all 50
Yet he is still abstaining from almost all political debates and in-depth interviews with the Dutch press. Last Sunday, eight Dutch party leaders debated with each other live on television. Wilders was absent.
Following the debate, Prime Minster Mark Rutte's Liberal VVD party managed to surpass Wilders in the polls. Peilingwijzer's poll of polls now predicts VVD will win 16.4 per cent of the vote, with Wilders' party set to win 14.6 per cent.
The conservative Christian Democrats (CDA) are also winning over PVV voters after the party tacked to the right. Leader Sybrand Buma announced over the weekend that he wants pupils to learn the national anthem – the Wilhelmus – at school and that they should stand up while singing it. The CDA is now predicted to capture 12.1 per cent of votes.
Hanne van Zon, a retired IT worker, was one of the few supporters to brave the rain. The 69-year-old carried an umbrella covered in a Dutch flag and came out to support Wilders because she is worried about Islam. "I hope people who all agree on Facebook actually get off their sofa and vote on 15 March – that will definitely give him a lot of extra votes," she said.
Ms Van Zon isn't sure she believes Wilders is losing voters saying she was sceptical of the news media. "If I see he is falling in the polls, I think, is that really true?"
Yet it was the media that turned this small protest into a campaign event. Reporters outnumbered the few dozen Wilders supporters, several of whom belong to the extreme anti-Islam Pegida movement.
The PPV's one page party platform calls for the closing of all mosques and the banning of the Quran.
With only one week to go until voters head to the polls, the field remains extremely divided. There are 28 parties running and 11 parties are set to capture at least four seats in the 150-seat parliament. Almost all political parties have excluded the possibility of ruling with Wilders' PVV. That will make forming a governing coalition tricky.
The Dutch election is seen as a bellwether for elections in France and Germany later his year. Both countries also have populist anti-immigration politicians who are looking to shake up European politics.
Join our new commenting forum
Join thought-provoking conversations, follow other Independent readers and see their replies