German AfD politician under investigation for sharing picture 'asking Hitler to come back'
Parliamentary candidate shares image with caption: 'Adolf get in touch! Germany needs you!'
Lizzie Dearden
Wednesday 15 February 2017 15:55 Comments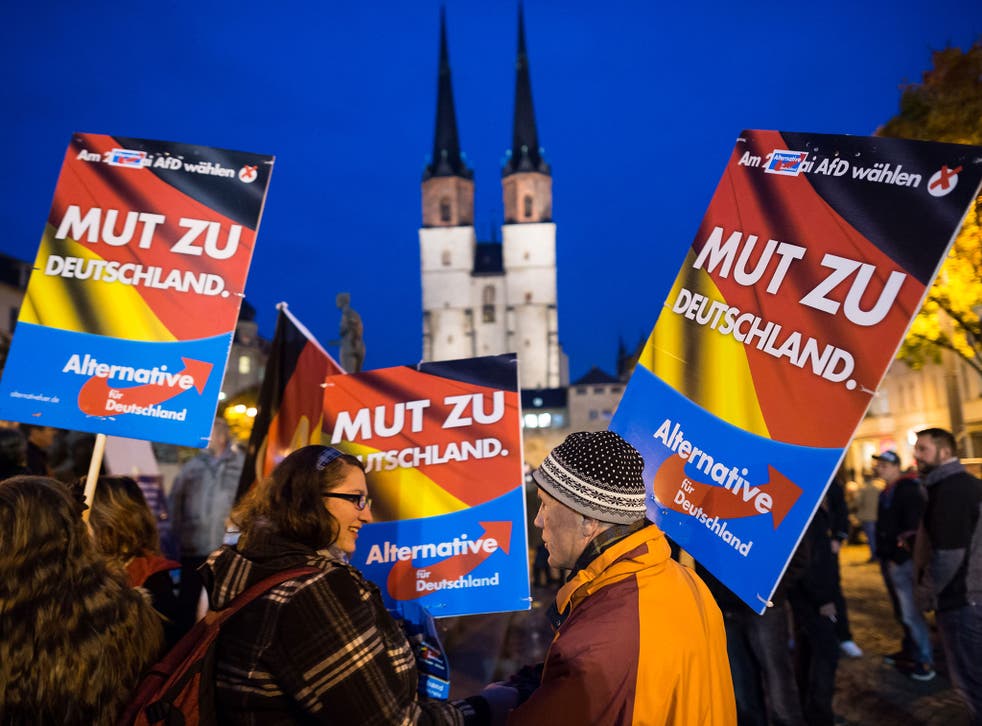 A German politician is under investigation for allegedly circulating a photo of Adolf Hitler and pleading for the Nazi leader's return.
Elena Roon, the Alternative for Germany's (AfD) regional chair and parliamentary candidate in Nuremberg, is accused of sharing the image with fellow members of the populist party in a WhatsApp chat.
"Missed since 1945", the caption reportedly read. "Adolf please get in touch! Germany needs you! The German people!"
Germany's AfD says Islam is not welcome
Another image in the chat, seen by the Münchner Merkur newspaper, showed a cartoon of Hitler thinking: "Islamists… I forgot them!"
Party officials said they were treating the allegations very seriously, forming a panel to investigate Ms Roon, although it was unclear whether she would be removed as an election candidate.
In a statement, she said she didn't want Hitler to return "under any circumstances", admitting she posted the images but insisting she did not condone them.
"I distance myself from right-wing extremism and anti-Semitism," Ms Roon added.
The controversy comes as the AfD moves to expel its leader in the region of Thuringia, after he provoked outrage in Germany for calling the Berlin Holocaust memorial a "monument of shame".
Björn Höcke called on Germans to take a more "positive" attitude towards their history in a speech last month, calling them a "brutally defeated people" who should stop attempts to atone for Nazi crimes.
Party leaders voted by the necessary two-thirds majority to open expulsion proceedings against Mr Höcke on Monday.
Germany reacts to Cologne New Year's Eve attacks

Show all 13
"This is the conclusion of a process that has been going on for some time," Frauke Petry, the party's national co-leader said, accusing her rival of overstepping the mark of what is "democratically tolerable".
"We think that this step was necessary because, in such an important election year, the party must be united."
Mr Höcke said he regretted the leadership's decision but was confident about the proceedings. "I am convinced that I violated neither the statute nor the principles of the party," he added.
The move to expel him is being seen as an attempt at damage control as the AfD campaigns for Germany's national election in September, where it hopes to enter the Bundestag for the first time.
In its short four-year history, the nationalist party has swung right from its original Eurosceptic ambitions to become known for its vehemently anti-immigration stance during the refugee crisis.
Immigration concerns and fears following a string of Isis-inspired terror attacks in Germany have stoked the party's popularity, seeing it make unprecedented gains in last year's local elections.
Critics have highlighted individual AfD members' alleged connections the far-right and xenophobic, Islamophobic and homophobic statements.
Its rise comes as Angela Merkel faces her toughest battle yet to be re-elected as Chancellor for a fourth term amid criticism of her decision to open Germany's borders to refugees in 2015 and security failings.
Additional reporting by agencies
Register for free to continue reading
Registration is a free and easy way to support our truly independent journalism
By registering, you will also enjoy limited access to Premium articles, exclusive newsletters, commenting, and virtual events with our leading journalists
Already have an account? sign in
Register for free to continue reading
Registration is a free and easy way to support our truly independent journalism
By registering, you will also enjoy limited access to Premium articles, exclusive newsletters, commenting, and virtual events with our leading journalists
Already have an account? sign in
Join our new commenting forum
Join thought-provoking conversations, follow other Independent readers and see their replies