German election: Angela Merkel 'will listen to far-right AfD voters' as she wins fourth term
The Chancellor said she would try and solve the problems of AfD voters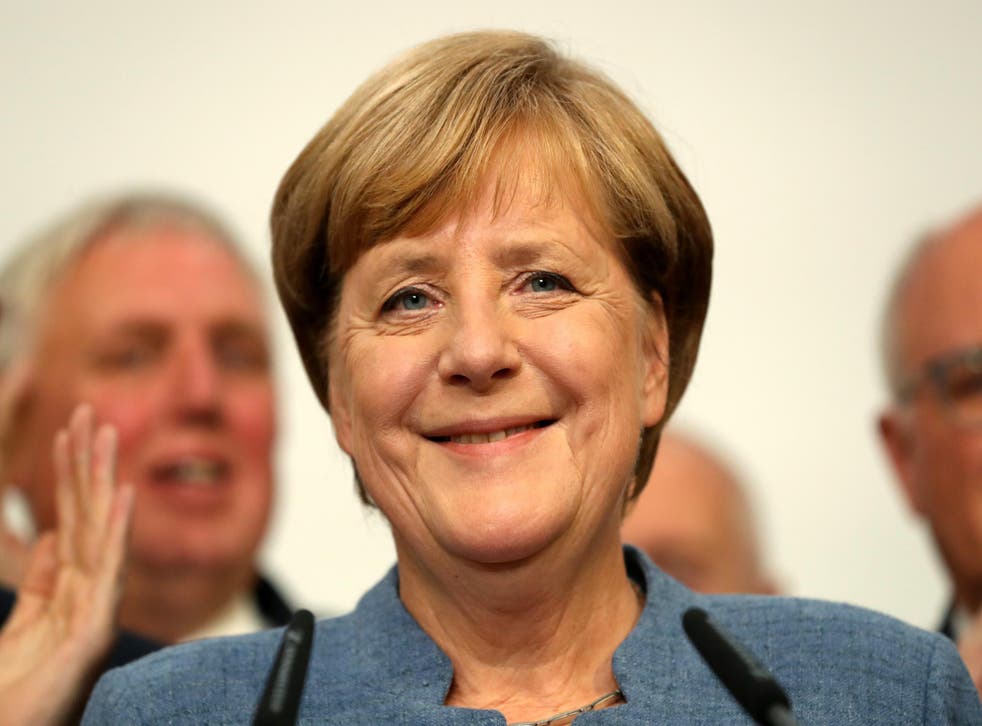 Angela Merkel has pledged to listen to the concerns of people who voted for the far-right AfD party in a bid to win back their support.
In a victory address following initial results that saw her returned for a fourth term as Chancellor, Ms Merkel spoke of "illicit migration" and "internal security" – two areas the AfD has made inroads.
The CDU party leader said she would solve the "problems" – and also address the "fears" – of people who voted voted for the far-right.
The AfD – Alternative for Germany – won around 13 per cent of the vote, according to election-night projections. While Ms Merkel's CDU party won the most votes it was down on 2013 levels.
"We got where we wanted to be, we wanted to be the strongest power. It is down to us to form a government, and against us, no government can be formed," she told CDU supporters assembled an election night party in Berlin.
"After 12 years of being responsible for the government, the result we had today is really not something you can take for granted. Naturally, there's a challenge facing us for the future, and that is that the AfD has made it into parliament.
"We will have to win back those who voted for the AfD by solving their problems, by taking on board their concerns – their fears in some cases – but also by demonstrating good policymaking.
"In recent months we have fought for a Germany that we want to live in well, and now we need to set the course to ensure that in five and ten years' time it's still the case."
Though popular in Germany, Ms Merkel has faced some criticism from the right for her commitment to helping and taking in large numbers of refugees.
German election 2017

Show all 14
At this year's elections, the AfD ran an explicitly anti-Islam campaign, arguing that "Islam is not a part of Germany".
Initial results suggest Ms Merkel's CDU won 32.5 per cent of the vote, while the centre-left SPD crashed to a historically low 20 per cent. The AfD won 13.5 per cent, while the liberal FDP won 10.5 per cent. The Greens won 9.5 per cent and the left-wing Die Linke won 9 per cent.
Join our new commenting forum
Join thought-provoking conversations, follow other Independent readers and see their replies