German satirical magazine in trouble over Papal 'leaks'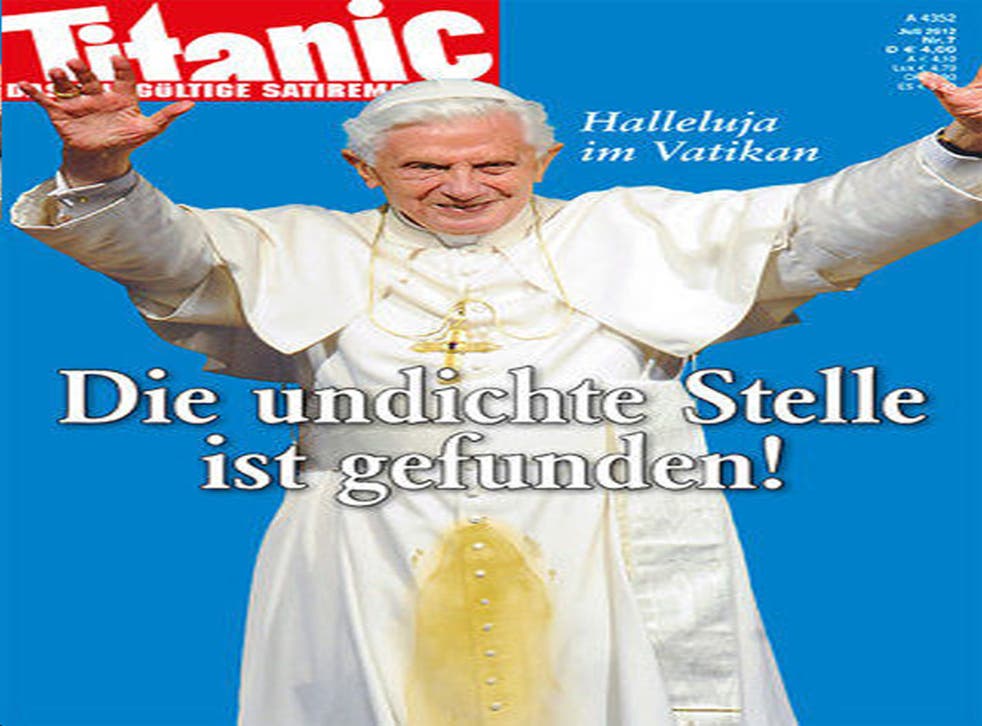 Germany's satirical magazine Titanic was embroiled in a legal row with the offices of Pope Benedict XVI yesterday after it published a photograph of the pontiff wearing a urine-stained cassock with a headline proclaiming that it had finally "sourced" the Vatican leaks.
Even though he is German, the Pope was evidently not amused by the brand of Teutonic humour employed by the magazine.
Germany's Catholic Bishops' Conference confirmed yesterday that the Vatican had taken steps to prosecute the magazine for its front cover, claiming it was illegal and "infringed the Holy Father's rights". Matthias Kopp, the conference's spokesman, complained that Titanic had "overstepped every measure of decency".
The magazine's front page showed an apparently incontinent pope under the headline "Hallelujah in the Vatican: the leak has been sourced". The back cover showed the pontiff from behind with brown stains on his cassock and a caption reading: "Another leak sourced!"
The satire, which referred to the recent Vatican scandal in which private letters to the Pope were leaked to the Italian media, also failed to amuse judges at a court in Hamburg. On Tuesday they issued a temporary injunction banning further distribution of the offending issue.
Yesterday Titanic's website showed its Vatican leaks issue blacked out. A new front cover depicted a stain-free pope clasping two foaming bottles of the popular fizzy drink Fanta. "Titanic banned – Pope overcome with joy!" read a new headline.
Leo Fischer, Titanic's editor, said yesterday that the pontiff had misunderstood the front cover. He said it had merely shown the pope with a cassock stained with fizzy drink spilt at a party celebrating the fact that the Vatican leaks scandal had been solved. "Everyone knows how much the Pope likes Fanta," he said.
Join our new commenting forum
Join thought-provoking conversations, follow other Independent readers and see their replies