German train crash: Probe into Bavaria crash focussing on 'human error by signals controller'
'All possibilities that might have led to this tragedy are being investigated'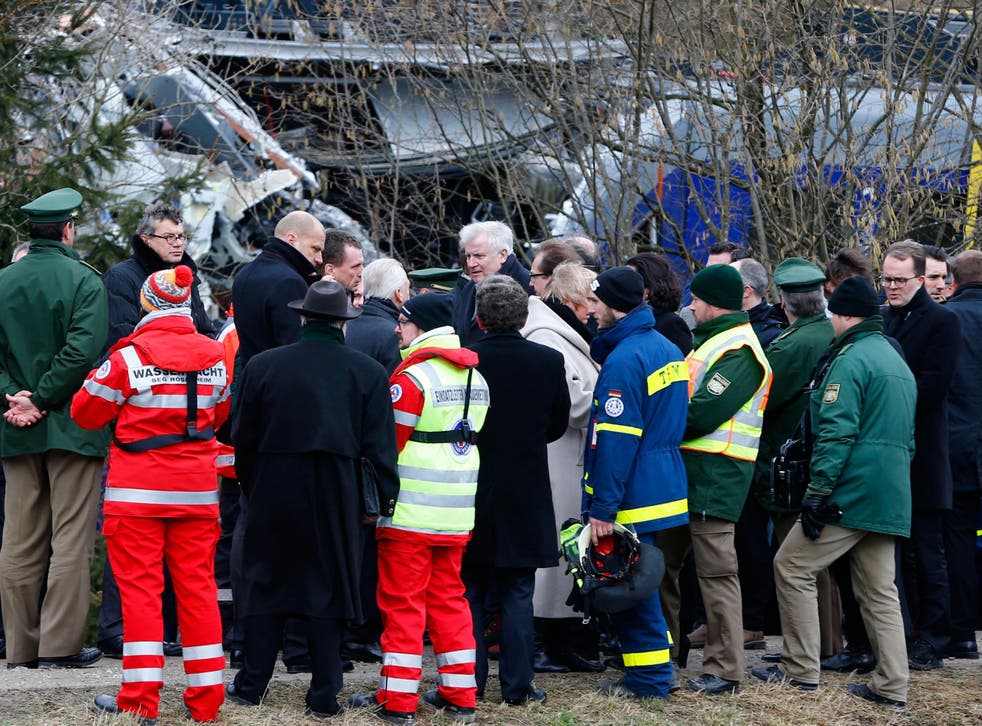 A probe into a train crash in Germany is focussing on whether human error by a signals controller may have caused the catastrophe, a source involved in the investigation told Reuters.
Ten people were killed and 18 seriously injured when two passenger trains collided in Bavaria on Tuesday.
The announcement comes after a police spokesman dismissed an unconfirmed report suggesting an automatic breaking system was switched off to allow one of the trains to make up time as "pure speculation", the BBC reports.
The braking system, which is supposed to operate when a train runs through a red light, was installed after a 2011 disaster at Magdeburg, which killed 10 people.
German rail operator Deutsche Bahn said safety systems on the track where the crash occurred had been checked as recently as last week.
Investigations by authorities trying to determine why multiple safety measures failed, allowing two trains to travel on the same single-line track and sash into each other, in Bad Aibling, Bavaria are on-going.
The German transport ministry said both the government's train accident investigation office and local prosecutors are looking into the cause of the crash.
"All possibilities that might have led to this tragedy are being investigated," said Vera Moosmayer, a spokeswoman for the Transport Ministry.
"They are looking at the black boxes, they are examining what happened on the tracks, they are speaking to the witnesses and the train dispatchers. They are trying to paint a picture of what might have led to the tragedy."
When asked about third-party actions that might have led to the incident, Ms Moosmayer said "the investigation is still on-going."
German transport minister Alexander Dobrindt told German news channel n-tv that one black box has already been examined and that based on this analysis there seem to have been no technical problem, but that investigators have not yet finished their overall evolution.
Around 50 police officers are working on the case, dpa reported.
All victims have been identified and both train drivers are among the dead, the news agency said. The names of the victims have not been released, but all of them were men aged between 24 and 60.
Emergency workers have started removing the wreckage from the head-on train crash. Officials said it was not clear how long the train line between Holzkirchen and Rosenheim would be out of commission.
Additional reporting by Press Association
Join our new commenting forum
Join thought-provoking conversations, follow other Independent readers and see their replies