The great Spain robbery: Pensioners protest as they watch their life savings vanish into the banks' black hole
Pensioners are set to be the biggest losers in the Spanish banking crisis as they see their life savings vanish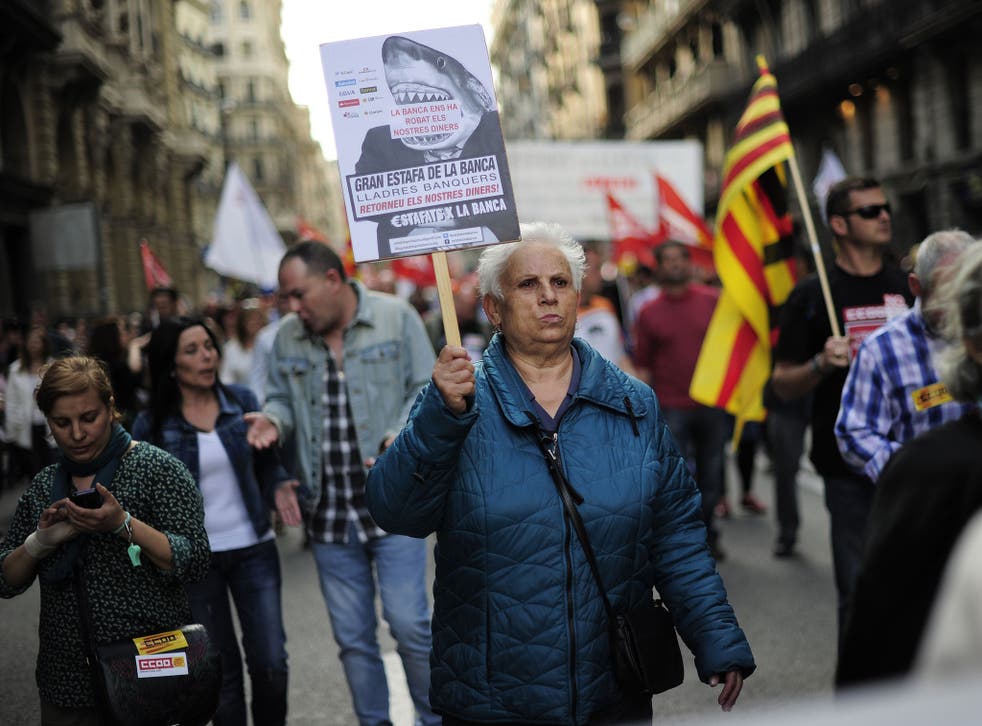 Autumn nights have grown chilly in Madrid, but that will not stop dozens of pensioners gathering this Thursday evening, as they have done for countless Thursday evenings before it, outside the main offices of Bankia in Madrid. The struggling lender, which posted a record €19.2bn (£16.3bn) loss last year, became the ultimate symbol of Spain's financial crisis when it had to be bailed out twice, having wiped out the investments of hundreds of thousands of Spaniards.
The government has shifted Bankia's toxic property assets into a so-called "bad bank", allowing it to crawl back in profit since the first quarter of 2013. But for those who lost their savings, most of whom are pensioners, there has been no let up. "We were deceived again and again, we ended up with something we never wanted, and we want our money back," Matias Vazquez Sanchez, 71, told The Independent at last week's rally at Madrid's Plaza Del Sol.
The pensioners who turn out to protest say they are victims of Spanish banks such as Bankia, which took their savings in the full knowledge that their retirement funds would be plunged into a financial black hole. After Spain's property bubble burst in 2008, the banks sought to balance their books, and around 300,000 families say they were encouraged to convert their savings into complex preference shares that typically pay out a fixed dividend. Rather than being warned of the inherent risks, the protesters say they were reassured that as a financial option, the preference shares could not be safer.
According to the bank consumer association ADICAE, some 80 per cent of those buying preference shares were pensioners, many using their life savings to do so. But in 2012, when Bankia, Spain's fourth largest bank, was nationalised along with three other lenders and bailed out with €42bn in EU rescue loans, those small investors found themselves partly shouldering the banks losses, as stipulated by Brussels' rescue conditions. Thus Spanish pensioners who had collectively bought around €30bn in preference shares saw their investments' real value plummet, and their savings go up in smoke.
"I'm the youngest here – it was mainly senior citizens who have paid the price for this crisis," said Felix Pastor, who is in his late fifties, as he handed out flyers at the Plaza del Sol. "Spain's younger generation have no money anyway, they're all out of work, the 30- and 40- year-olds are all up to their necks in mortgages so they had to go for the only ones with some savings left." In his case, he says, his bank told him he was "a VIP client" when selling him preference shares, because he "had no mortgage". He says he lost €104,000 in Bankia preference shares. "It was all a lie," he said.
The mood at Thursday evening's demonstration was surprisingly good-natured. Earlier that day, at ADICAE's offices in southern Madrid, it was a very different picture. Over a two-hour period, a stream of pensioners sought information about the legal pathways available to them to attempt to recoup their losses –arbitration or the courts.
By July this year, 183,176 separate arbitration requests had been received by Bankia alone. And with legal cases in Spain facing massive delays, many protesters fear they could have to wait too long for a court to hear them.
Time - as Federico Jarque, who is acting on behalf of his 91-year-old father, knows - is not exactly on their side. Mr Jarque's father invested €60,000 in Bankia preference shares. "Imagine how my father feels when they tell him, at his age, that at best he may get some money back in 10 years' time," says Mr Jarque. "He's in an OAP home, he can't use the money he's been saving all his life and we don't know what is going to happen.
"He trusted the bank, and when the manager told him about preference shares he said that it had a bit more interest and that it was completely safe. But it was actually a product that was a complete con, we weren't informed of the real risks, and now we feel completely let down. What really hurts is having to spend even more money to try and get back something that was ours in the first place."
In Spain, banks had been seen as institutions worthy of trust before the crisis, says ADICAE analyst Jezabel Arias. "There has always been a real culture of respect towards bank managers, what they told customers was right for them tended to be blindly believed," she says.
This made some depositors with little financial expertise more vulnerable, she says, adding that the elderly were natural targets for sales of preference shares by cash-strapped savings banks because when the recession struck "they were the ones with the most money".
Some of the banks' sales staff were instructed to tell pensioners that they had sold the same preference shares to their own families, Ms Arias claims. "But when the pensioners came in and started shouting at the managers [saying] they'd been conned, the banks had shifted their staff around to different offices so the new ones could say 'well it wasn't us who was responsible'," she says.
"Some preference shares in themselves are fine, it all depends on which company or bank produces them," said Jorge Soley, senior lecturer of financial management at the IESE Business School in Spain. "The problem is that these preference shares are concentrated in banks which have had to be nationalised, and that meant people had to know where they were putting their money."
"[But] often people tended to buy financial products without knowing what they were buying, and simply because they trusted the entity that was selling them... but often not even the manager of the bank would know exactly what it was." He warns that though the arbitration system appears to be working, some financial institutions may not be able to handle all the compensation awarded.
Ms Arias points out only 24,000 cases involving Bankia have been resolved in investors' favours so far, and says the system is unclear.
As in other parts of the world, many blame the older generations for allowing a culture of financial over-reaching to flourish during their lifetimes, which some say paved the way for the crisis in the first place. But even after such large numbers of pensioners lost their savings, many say they are still being punished – by using what little they have left to support the younger generations of their family, as they struggle against Spain's record unemployment rates.
"At the moment Spanish parents and grandparents are having to try to help their unemployed children with their mortgages, and they can't do so," says Ms Arias.
As for those in charge of Bankia at the time of the sale of the preference shares, Rodrigo Rato, the bank's former chairman and ex-government Minister of Finance continues to loom large in Spain's financial world. He recently became a consultant for another big Spanish bank, Santander.
ADICAE has warned that "new 'toxic' products, equivalent to the preference shares are once more being launched by Spanish financial entities" even now.
Meanwhile, the protests continue. On Thursday evening in Sol the pensioners scored a small victory by briefly forcing the bank to close its doors to customers, although a nearby cashpoint continued to be used as the demonstrators chanted and waved their banners angrily outside.
"A generation of Spain's elderly has been robbed of their right to die in peace," Mr Pastor said. "Instead, they know their children will inherit a real problem."
Join our new commenting forum
Join thought-provoking conversations, follow other Independent readers and see their replies