Greece debt crisis: Alexis Tsipras imposes capital controls with banks to remain shut and markets closed
Banks have no way to replenish fast diminishing deposits after European Central Bank decided not to increase emergency liquidity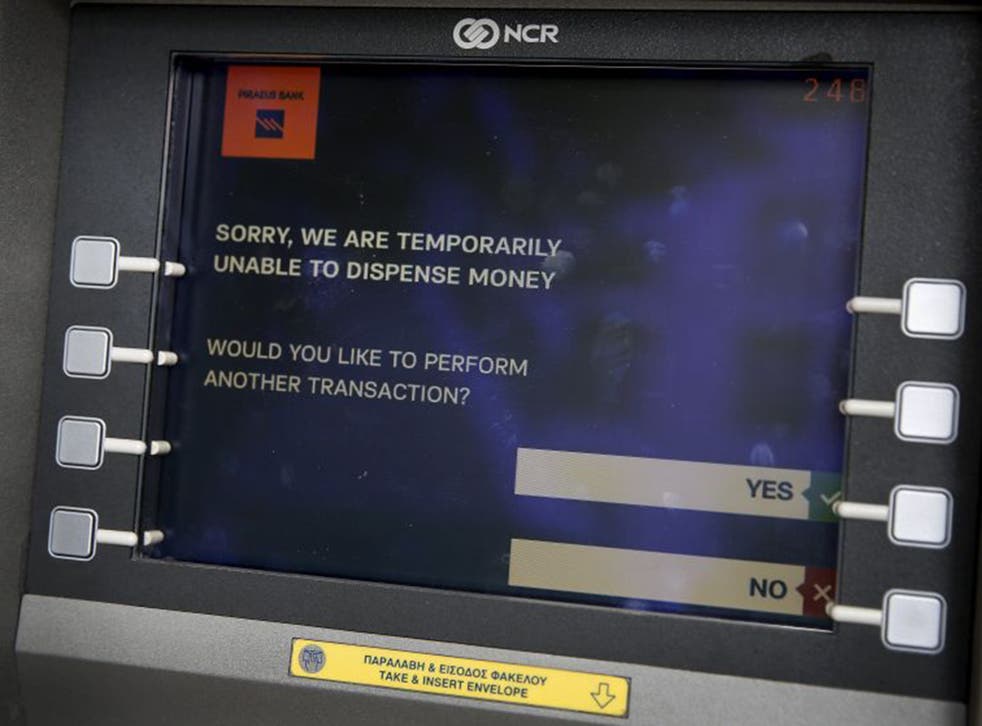 Greece's banks will stay shut on Monday in an effort to prevent customers withdrawing their savings and causing the collapse of the country's already fragile financial system.
A run on the banks was seen as practically inevitable after the dramatic events of the weekend, when Alexis Tsipras, the Greek Prime Minister, shocked and infuriated European negotiators by declaring he would put the latest bailout proposals to a referendum vote. Greeks were lining up outside ATMs again on Sunday after a weekend of frenzied withdrawals.
Until Mr Tsipras's statement in the early hours of Saturday morning, it had been widely expected that the Greek government would accept the terms of the European offer. But in the event, Mr Tsipras opted to turn five years of negotiations on its head and put the bailout to the people, declaring the offer from his country's creditors was "blackmail".
Greece's current financial lifeline ends on Tuesday, with the referendum timed for next Sunday. Eurozone officials at the EU snubbed Mr Tsipras's demand for a delay in the deadline. Some European officials called for renewed efforts by both sides. "We don't know – none of us – the consequences of an exit from the eurozone, either on the political or economic front," said Manuel Valls, the French Prime Minister. "We must do everything so that Greece stays in the eurozone.
"But doing everything, that means respecting Greece and democracy, but it's also about respecting European rules. So Greece needs to come back to the negotiating table."
The European Central Bank has been keeping Greece's banks afloat with emergency funding as people have been withdrawing their cash at a record pace. But on Saturday, while agreeing to continue the lifeline, they refused to increase it.
Without an increase in emergency liquidity, which currently stands at just under €90bn (£64bn), Greece's four major banks could soon run out of cash and be forced to implement capital controls. Those restrictions could keep Greek banks functioning – but they would mean a deepening of the financial crisis and could take Greece a step closer to leaving the euro.
Bank of Greece governor Yannis Stournaras said that the central bank would "take all measures necessary to ensure financial stability". Individual banks in the country have been imposing limits in daily cash transactions for several days.
In pictures: Solidarity protest for Greece in London

Show all 7
The country's banking crisis could deal a fatal blow to this summer's tourism season, with visitors staying away amid fears they may be unable to access money.
Reuters reported that the stock exchange in Athens will also be closed on Monday.
Financial markets were expected to react badly when trading resumes for the first time since Friday's close, with Britain's FTSE-100 Index of leading shares expected to fall 3 per cent and Germany's DAX by 4 per cent, according to the financial spread betting company IG.
However, a Greek departure from the euro is still far from inevitable, analysts said. The man who invented the term "Grexit" – Citigroup economist Ebrahim Rahbari, said: "We expect the referendum to result in a comfortable majority for the Yes camp, and expect no Grexit this year and a lower risk of Grexit in subsequent years."
Mr Rahbari and his team last year put the chances of a Greek exit from the currency at 90 per cent.
Two opinion polls published on Sunday indicated that more Greeks want to stay in the eurozone and make a deal with creditors than want a rupture with the country's European partners.
Join our new commenting forum
Join thought-provoking conversations, follow other Independent readers and see their replies