Greece crisis: World markets tumble after Tsipras closes the banks for a week
The Euro, oil prices and Asian stockmarkets have all slumped after Greek banks are confirmed to remain closed for the week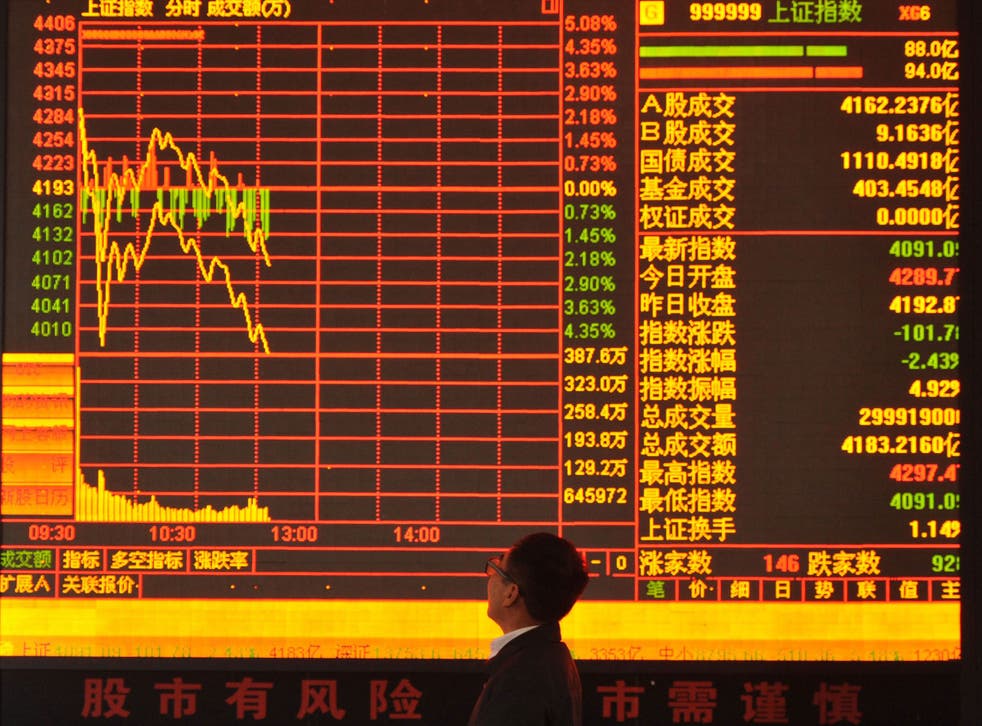 World markets tumbled and the euro slid to an eight-year low against the pound after Greece confirmed it had shut its banks for six days amid its deepening financial crisis.
The decision to shut the banks for six business days was taken after the European Central Bank said it would not extend emergency funding for Greece.
Restrictions are being imposed on cash withdrawals in the country, which will be limited to €60 a day for this period and financial sector officials have confirmed the Athens Stock Exchange will also be shut today.
The moves, which have been put in place to stop the flow of money from Greek banks and encourage the country's creditors to offer concessions before a bailout program expires tomorrow, saw the Asian stock market sink when trading opened this morning.
The Shanghai Composite Index fell by 3.7 per cent despite a surprise weekend interest rate cut from China and Tokyo's Nikkei 225 index shed 2.4 per cent.
Hong Kong's Hang Seng, Sydney's S&P, Seoul's Kospi and India's Sensex all declined by more than 1.5 per cent.
The Euro has also dropped, slipping below the $1.10 mark after Greek Prime Minister, Alexis Tsipras' decision to call a referendum on European and International Monetary Fund proposals in return for bailout funds.
The currency slid down to a low of $1.0997 according to data from Bloomberg and before 6am in Tokyo the euro was down 1.4 per cent at $1.101.
The dollar also declined to 123.15 yen from 123.89 yen.
The rapidly accelerating crisis has sparked questions as to whether Greece may exit the 19-member Eurozone, in a potential move being dubbed Grexit.
"Even if a deal is somehow reached, the ability of Greece to implement agreed reforms is doubtful," said IHS Global Insight economist Rajiv Biswas in a report.
In pictures: Solidarity protest for Greece in London

Show all 7
A Greek withdrawl from the euro could lower Asian economc growth by 0.3 per cent next year due to disruption in trade and financial markets, Biswas said.
Government bonds and equity markets in Italy, Spain, Portugal and Ireland are also expected to come under pressure when the European stock markets open and in the energy market oil prices have declined, dropping 89 cents per barrel on the New York Mercantile Exchange.
Globally, however, economists have said that Greece's brinksmanship with its creditors is unlikely to have as severe an impact as the financial turmoil that ensued after the collapse of Lehman Bros. in September 2008.
"Today, the European banks have shed much of their Greek debt and they have significantly increased their capital," said Mark Zandi, chief economist at Moody's Analytics.
"A Greek default and exit from the euro zone would be devastating to Greece's economy, but no one else's," said Zandi. "So, the Greek standoff will be disconcerting to financial markets, but only temporarily."
The European Central Bank has promised to do as much as to prevent a financial panic. The ECB is committed to buying 60 billion euros a month in bonds to push down interest rates and help euro zone economies.
In the wake of the bank closures Greeks queued to withdraw money from cash machines over the weekend, leaving a many ATMs dry.
Alexis Tsipras, Prime Minister of Greece, has promised that Greek deposits are safe and a decree published early Monday in the official Government Gazette said that the cashpoints would "operate normally again by Monday noon at the latest".
In a televised address on Sunday Tsipras said : "[Rejection] of the Greek government's request for a short extension of the programme was an unprecedented act by European standards, questioning the right of a sovereign people to decide."
He also said he had requested an extension to the bailout, saying "I am awaiting their immediate response to a fundamental request of democracy"
Tsipras has asked the Greek people to retain "dignity" during the financial turmoil in order to "send a message of hope and pride to all Europe."
Additional reporting by Associated Press
Register for free to continue reading
Registration is a free and easy way to support our truly independent journalism
By registering, you will also enjoy limited access to Premium articles, exclusive newsletters, commenting, and virtual events with our leading journalists
Already have an account? sign in
Register for free to continue reading
Registration is a free and easy way to support our truly independent journalism
By registering, you will also enjoy limited access to Premium articles, exclusive newsletters, commenting, and virtual events with our leading journalists
Already have an account? sign in
Join our new commenting forum
Join thought-provoking conversations, follow other Independent readers and see their replies