Greece debt crisis: European Central Bank says it is not increasing emergency credit amid default fears
European Central Bank decision puts further pressure on Greek banks as Greeks queue at cash machines and officials mull capital controls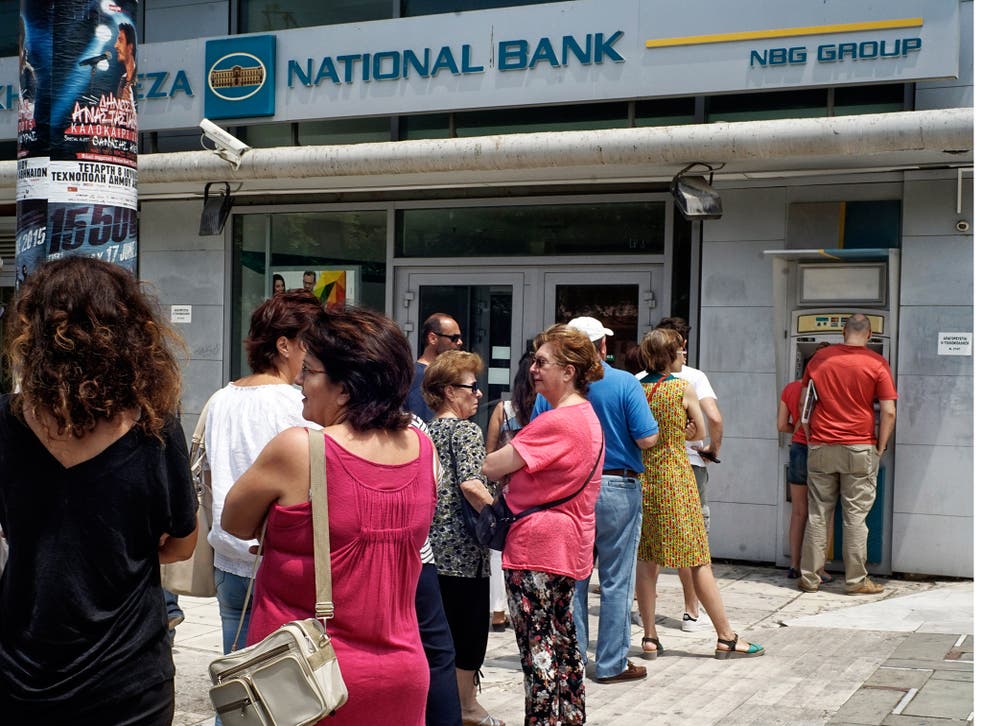 The European Central Bank has refused to increase emergency credit to Greek banks, while Greek officials mull possible capital controls amid rising fears of a Greek debt default.
The ECB decision does not cut off emergency funding to Greece, but the institution will only continue to provide emergency liquidity at its current level, leaving Greece's banks under increasing pressure.
The ECB said it could still reconsider its decision on credit levels.
Mario Draghi, the ECB chief, said: "We continue to work closely with the Bank of Greece and we strongly endorse the commitment of member states in pledging to take action to address the fragilities of euro-area economies."
Yannis Stournaras, the governor of the Bank of Greece, said the bank would "take all measures necessary to ensure financial stability for Greek citizens in these difficult circumstances".
But his words come at the end of a weekend that has seen queues mounting at cash machines around Greece as Greeks seek to withdraw funds. One ATM line in central Athens was a block long on Sunday.
In pictures: Solidarity protest for Greece in London

Show all 7
Even with the ECB lending facility in place Greece must still make a €1.6bn (£1.1bn) payment to the International Monetary Fund (IMF) due on Tuesday.
This looks increasingly unlikely after Alexis Tsipras, Greece's prime minister, announced a referendum on bailout terms proposed by Greece's European creditors, while creditors in turn refused to extend bailout funding up to the proposed referendum date.
The referendum is scheduled for the 7 July. Mr Tsipras believes Greek voters, already struggling under stringent austerity measures imposed by the country's creditors, will vote against the bailout terms.
In an interview on BBC radio Yanis Varoufakis, the Greek finance minister, refused to answer the question of whether his country would make the IMF payment.
"We are owed money by one part of the troika and we owe money to another part of the troika," he said, using the term that refers to the EU, ECB and the IMF.
"Why don't they sort themselves out and transfer money from one pocket ... to the other?"
European officials appeared to suggest a deal with Greece was still possible.
In an interview carried on Europe 1, Le Monde and iTELE, French Prime Minister Manuel Valls said: "A deal is still possible, I invite the Greek government to come back to the negotiation table."
Even so, Eurozone finance ministers are already planning how to dampen the impact of a Greek default and possible exit from the Euro on the othe 18 Euro nations.
"We must do everything we can to fight any conceivable threat of contagion," Wolfgang Schaeuble, the German finance minister, said on Saturday.
"You have to count on Greece getting into acute problems in the coming days because of this decision."
Eurozone finance ministers have expressed disappointment at the Greek decision to hold a referendum on the bailout terms.
Many had felt that, after five months of negotiations, a deal to roll over bailout funding had been close last week, but that Mr Tsipras's televised referendum announcement had brought that to an end.
Reuters quoted one EU official as saying that the Greeks had "messed up" by calling the referendum.
"We did everything possible. They chose to blow up when we were so close to settling this in a way that would allow them to sell it," the official was quoted as saying.
German officials used particularly strong language on Greece.
"The whole thing is just absurd," said Volker Kauder, an ally of German Chancellor Angela Merkel and leader of her conservative party in parliament. He called Tsipras's referendum idea "a trick to hold power".
Germany is the biggest European contributor to the bailout programmes that have kept Greece afloat for the past five years.
In the UK, the British Foreign Office has warned travellers heading to Greece to take enough euros to cover emergencies if Greece runs out of money.
(Additional reporting by agencies)
Join our new commenting forum
Join thought-provoking conversations, follow other Independent readers and see their replies