Greece debt crisis: 'The ministers talk to us about miracles' – why Greeks are cynical ahead of the bailout referendum
Raise the question and people will talk of their own confusion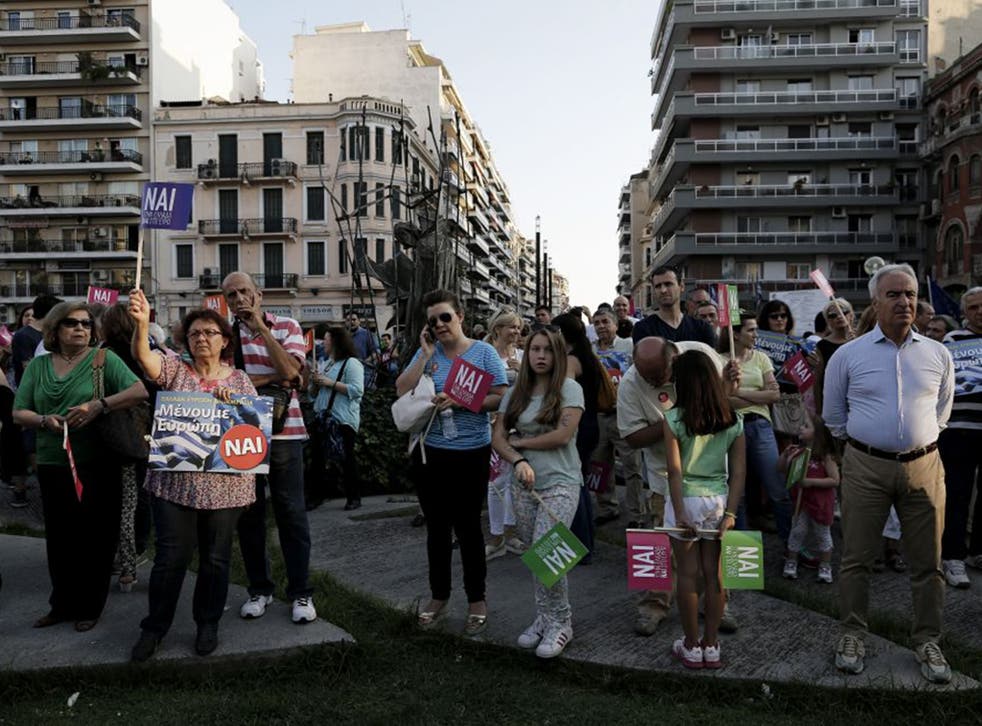 Not a poster. Not a flag. Given its 25 per cent unemployment rate, its ring roads of empty factories – marble steps overgrown with grass, courtyards piled with garbage – this ancient Ottoman city should be more angry than Athens, certainly tinged with a fear of the violence which journalists in the capital talk about. But Thessaloniki is no revolutionary city. Take a walk along the tree-lined avenues and there's only one sentence that comes to mind: there will be no civil war in Greece.
Raise the question and people will talk of their own confusion. I have yet to meet a Greek who has actually read all the European proposals in Sunday's referendum but one who plans to do so made a frank admission. "My mind says Yes but my heart says No," he announced. And he is going to vote No. But of 10 men and women in Thessaloniki's streets, six told me they planned to cast an invalid ballot. And all talked about lies.
Antonious Rigas is an engineer and a librarian and also helps to run an organisation that protects bears, and he compares government ministers to airline pilots who lie. "We were told by one minister that the banks will be open next Tuesday – which is ridiculous," he says. "It's like being on a plane. If the pilot tells you he's lost an engine, you can still be OK. But when he tells you he's lost both engines and is relying on a miracle to save the passengers, then you know something is really wrong. The ministers talk to us about miracles."
Syriza picked up about 35 per cent of the vote here – more or less a national average – but the economic collapse started in Thessaloniki long before the debt crisis. Even the Coca-Cola plant closed down two years ago and moved to Bulgaria and Turkey and its former employees created their own Coca-Cola political group. It doesn't plan to stand for parliament. Indeed, the lines of closed shops and small businesses have become a normal part of Thessaloniki's streets. Even the tourists are staying away – except for the Turks who come to see the house where a certain Mustafa Kemal Ataturk was born.
The mayor of Thessaloniki, Yiannis Boutaris, one of Greece's leading campaigners for a Yes vote, is a personality in his own right – one of his predecessors is in jail – and is even involved in Antonious Rigas' plan to save the local bears. He once spoke of building a massive Holocaust museum in the city to honour the 70,000 Jews who lived here but were murdered by the Nazis. But political parties insisted that the museum – which might have brought many thousands of tourists – should also honour other holocausts; the genocide of the Armenians, for example, and the suffering of the Pontic Greeks whose relatives live north-east of the city and still speak an ancient form of Greek. Then the debt crisis came and the Holocaust museum was forgotten.
Several men and women here suspect that Greece is being punished by the EU to set an example for other European nations of what will happen to them if they offend Germany or France. "It's a warning to Podemos and the Spanish – to let them know what will happen to Spain if it steps out of line," one retired and very elderly man said. He is voting No on Sunday. Stubborn folk, these Greeks, you keep thinking when you hear these sentiments. Greece won't be pushed around.
I didn't find a Greek in Thessaloniki – and this, remember, from people who plan to vote on Sunday – who believed that Syriza will survive the referendum. "They talk like they don't believe in tomorrow – they are already shutting the doors," a woman said in the shade off Venizelos Place, named after another doubtful Greek politician. Eleftherios Venizelos liberated Thessaloniki from the Ottomans in 1912, presided over the huge exodus of Greeks from Asia Minor and thus emerged as the man who lost dozens of Greek towns and cities in what is now Turkey but doubled the population of Greece at the same time.
The city's powerless trade unions, gutted by the years of closures, have even spoken, quietly, of the merits of a Yes vote on Sunday although they might have been influenced by the big Greek media groups who have been giving spectacular coverage to the Yes possibility. The Communists only pick up 4 or 5 per cent of the vote in Thessaloniki, so anyone who believes that Greece's civil war of more than 60 years ago might be refashioned is living in the same dreamworld as members of Syriza.
I did meet one frightened man (a No voter) who fears for his home and his family and the future but who punctuated his conversation with some pretty abusive language about the EU. "Those people have no dignity, the way they speak to us," he said. "Whatever Merkel may think – and she looks very sad, doesn't she? – at least you Europeans now know what a cruel bunch the EU and the IMF are." The same man had gleefully noted that even Der Spiegel claims Ms Merkel has fallen "into the Greek trap".
Antonious Rigas – one of the few happy to give his full name – puts it all down to Greek character. "There are divisions among the Greeks, of course," he says. "But that's always been the case. Look at Agamemnon and Achilles – we are all Greeks!"
Join our new commenting forum
Join thought-provoking conversations, follow other Independent readers and see their replies