Greece debt crisis news: Alexis Tsipras shows his Machiavellian streak in a purge of Syriza rebels
Anti-austerity PM hangs on to power even though Greeks now face even harsher measures than those they voted against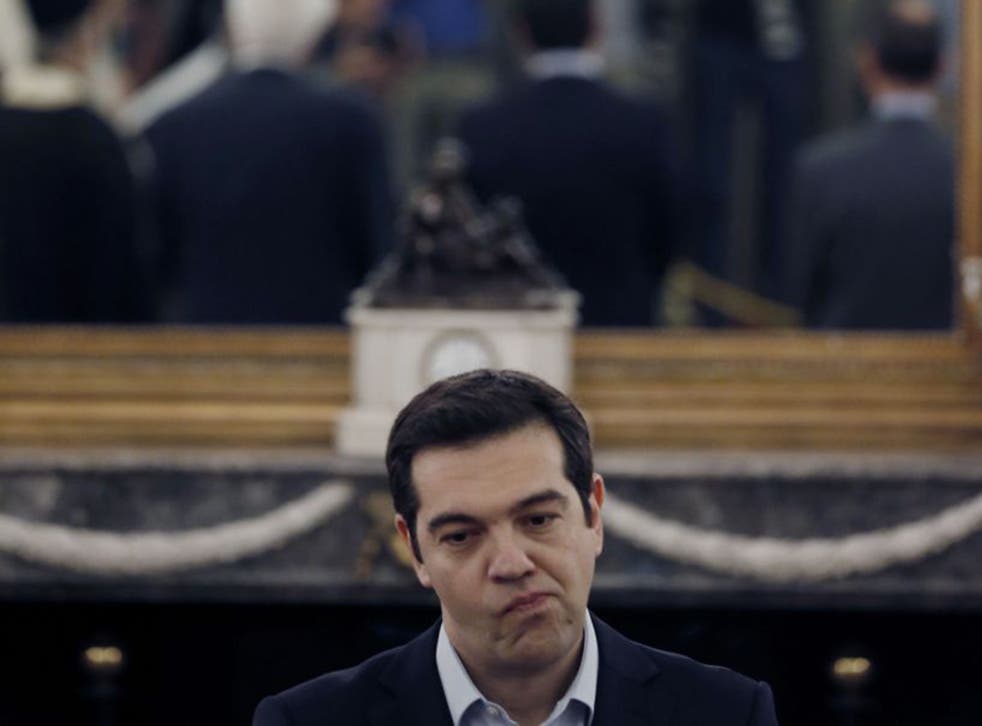 Greece's Prime Minister Alexis Tsipras has shown no mercy in axing left-wing cabinet colleagues in order to implement the austerity measures that saw a quarter of his MPs desert him and violence flare in the streets of Athens.
Only by silencing his critics can he hope to introduce the tax hikes, labour reforms and privatisations which were ordered by the Troika (the European Commission, European Central Bank and International Monetary Fund) but are anathema to most of his party. Among the nine changes, hard-left energy minister Panagiotis Lafazanis was replaced by moderate Panos Skourletis, while Trifon Alexiadis became deputy finance minister after Nadia Valavani's resignation ahead of Wednesday's vote.
For someone hailed by many as Greece's first frank, fearless and forthright leader, Mr Tsipras is showing a remarkably Machiavellian streak. Within the past few days, his pledge to quit in the face of a parliamentary revolt evaporated with the alacrity of earlier promises to protect the country's crippled economy from further austerity measures. Pundits say his resolve comes from a new conviction that a Grexit would be more catastrophic for his country than was previously imagined.
But despite the political and economic chaos, Mr Tsipras remains popular among many Greeks who see him as less corrupt than previous leaders, and prepared to battle for his country. His rhetoric, painting Greece as a small country fighting for survival against merciless international powers, has struck a chord. "I'm proud to be here to fight for the future of my country," he said. "Against us there are great forces. We are a little country battling for our rights. We've managed to give the whole world a lesson in dignity."
Polls suggesting Syriza still has the support of 38 per cent of the public have bolstered Mr Tsipras's resolve, and news that the banks look set to reopen on Monday, thanks to some emergency liquidity, has provided a welcome respite.
But with a rebellion under way in Syriza and new austerity measures – tax hikes in particular – due to hit an economy that has already shrunk by 25 per cent in the past five years, Mr Tsipras knows he has a Herculean task ahead of him.
Former finance minister and darling of the far left Yanis Varoufakis was more damning than ever in his criticism of the bailout deal. "This programme is going to fail whoever undertakes its implementation," he said. Mr Tsipras's response so far has been to tell left-wing critics: "You've not come up with an alternative."
Some on the left who berated the bailout agreement during Wednesday's stormy debate declined to attack Mr Tsipras, and went on to vote for the proposals. But such a large number of defections – 38 of his 149 MPs –robbed Mr Tsipras of his government majority, and many believe a new coalition or even a snap election is now likely.
In pictures: Riots on the streets of Athens as Greek parliament votes on a bailout deal

Show all 20
Mr Tsipras appeared to tell his Syriza MPs, before the vote, that a sizeable rebellion would make his role untenable. "I am the Prime Minister because I have a Parliamentary Group that I depend on," he said. "If I do not have support from the Parliamentary Group, it is difficult for me to be Prime Minister the next day."
Not for the first time, though, he's performed a U-turn and indicated that he will stay on for the time being. After the vote in the early hours of Thursday, instead of quitting, he criticised Syriza MPs who opposed the deal – for acting against "principles of camaraderie and solidarity".
His short-term strategy appears to be to work with the centre-left and centre-right opposition day-to-day – at least for the month it will take to satisfy the demands of Greece's creditors, see the banks reopen, then, possibly, call fresh elections.
The alternative would be to go straight for a national unity coalition government. Mr Tsipras had already said however, that he would step down rather than lead such a government. "I'm not a man for all seasons," he said earlier this week in response to such speculation. "If the executive is to include other parties, I won't be guiding it."
Mr Tsipras's reluctance to enter into a coalition stems from the widespread belief that it was cronyism and corruption in the mainstream parties that helped bring Greece to its knees in the first place.
Some commentators say an EU plot to oust Mr Tsipras and his left-wing party is under way. Stathis Kouvelakis, an academic from King's College London and far-left Syriza member said that Stavros Theodorakis, the leader of the reforming, pro-European To Potami party, was the "EU's and big business's Trojan horse … behaving like a minister-in-waiting, with the leaders of New Democracy and Pasok as constituent parts of a new 'pro-agreement' majority".
But it is not only the far left – and conspiracy theorists – who detect meddling by European powers – in the same way that France, Germany and the European Commission are believed to have played a part in ousting former Italian prime minister Silvio Berlusconi, during Italy's sovereign debt crisis in late 2011. The Greek media talks about a joint opposition "solicited by the EU to unite as a pro-European group" to replace the far-left Syriza.
For his part, Mr Theodorakis said on Friday that a new government was needed because "Syriza is not able to transform into reality all he has promised to creditors".
Everyone knows current proposals are utterly unrealistic. The Greek prime minister will attempt to hang on, hoping that debt relief and/or rescheduling arrives by autumn. But while Mr Tsipras's task is immense, opposition MPs are starting to wonder whether they may have underestimated his skill and resolve.
Register for free to continue reading
Registration is a free and easy way to support our truly independent journalism
By registering, you will also enjoy limited access to Premium articles, exclusive newsletters, commenting, and virtual events with our leading journalists
Already have an account? sign in
Register for free to continue reading
Registration is a free and easy way to support our truly independent journalism
By registering, you will also enjoy limited access to Premium articles, exclusive newsletters, commenting, and virtual events with our leading journalists
Already have an account? sign in
Join our new commenting forum
Join thought-provoking conversations, follow other Independent readers and see their replies