Greece election: Syriza outflanked by hard left as lead melts away ahead of vote
Post-election instability looms with Alexis Tsipras compromised and a neo-Nazi party in third place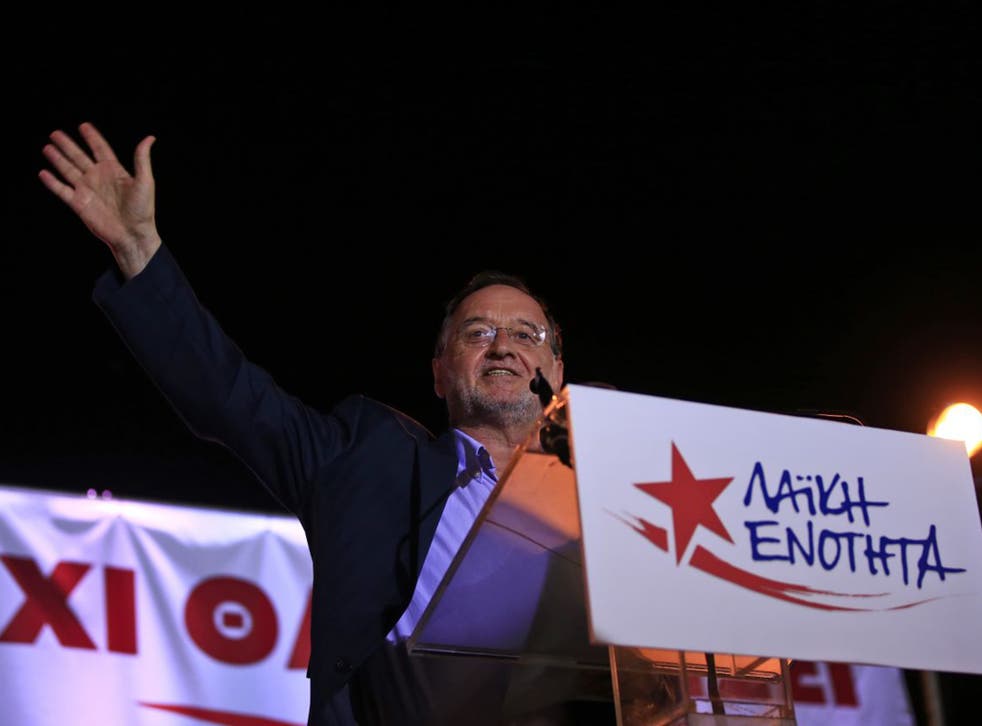 The party led Greece's last government and claims to be on course to form its next one. But with three days remaining before voting in Greece's fifth general election in three years, the life seems to have drained from Syriza, whose radical opposition to austerity once propelled it to power.
Two new polls put it and the right-of-centre New Democracy party within sneezing distance of one another, with less than one percentage point between them. Meanwhile a soporific gathering in a quiet suburban Athens square suggested that Syriza's supporters had lost much of their former fire – perhaps not surprisingly, since the party is now forced to support the austerity it once angrily opposed. Just 30 middle-aged Greeks gently applauded the senior party worker who, seated on a platform, had attempted to rally them while children played noisily just behind.
Syriza worker Niavis Alexandros disputed opposition claims that his hard-left party – toppled in parliament after signing on the dotted line with the hated troika of EU and international financial officials – would struggle to regain power on Sunday. Opponents claim half of Syriza's members have deserted it. "Nonsense!" Mr Alexandros said, though he admitted that in the capital region there had been some defections. "In Attica, between 12 and 14 per cent of party members have quit."
They left Syriza after its leader – the then prime minister – Alexis Tsipras bowed to international pressure to sign the agreement on a third bailout. But all those former supporters and more would come out for the party, Mr Alexandros claimed. "Just wait and see!"
Mr Tsipras and his faction within Syriza have now been outflanked by a hard-left faction that favours "Grexit", or leaving the euro, over austerity – and whose members walked out of Syriza to form their own party – thus triggering the election.
Just 10 minutes' walk away, that anti-euro faction, now reborn as a party in its own right, was staging its own rally. Popular Unity (PU) may be new but its posters, bearing a huge "OXI" (Greek for "No") to austerity, are everywhere and their television commercials are slick.
Around 100 supporters, waving red flags, cheered noisily as Maria Bolari, a former Syriza MP, channelled some of the anger missing from Syriza's own gathering in another city square.
Greece elections 2015: In pictures

Show all 25
Afterwards Ms Bolari told The Independent: "The memorandum agreement that Tsipras signed is completely opposite to the left's political ideas. The left wing of Syriza never believed that the negotiations would succeed. Inside the eurozone, and especially in Greece, we are living with the barbarism of austerity, with wages 40 per cent down and an official unemployment rate of 30 per cent. Certainly there will be difficulties when we leave the euro, but we will have the chance to impose a different way – stopping payment of the debt, nationalising the banks.
"For us a new currency will be an instrument for the working class to protect its rights... Our vision is not nationalism but a new balance between social forces – in the long term, a revolution."
The PU is likely to win only a handful of seats but enough, perhaps, to deprive Syriza of any remaining lead. And other Syriza defectors, especially the younger voters who were once its backbone, have either deserted democratic politics altogether or joined Golden Dawn, the neo-Nazi party that is in third place in the polls even though some of its leaders face trial for murder and other crimes.
Large scale defections to what many see as the most nakedly racist and lawless party in Europe will once again set alarm bells ringing about Greece's direction. "There will be instability after the election," said Ms Bolari, "because there is a great polarisation in the country. As in the years from 2010 to 2013 there will be more big strikes and chaos will return to the streets. When people voted for Syriza last time, it was able to implement its own policies. But if it wins again, it will merely impose the Memorandum's terms – and the people won't take it."
Join our new commenting forum
Join thought-provoking conversations, follow other Independent readers and see their replies