Greek debt crisis: Eurozone ministers fail to agree bailout deal
German finance minister Wolfgang Schäuble had warned that discussions would be 'extraordinarily difficult' ahead of the meeting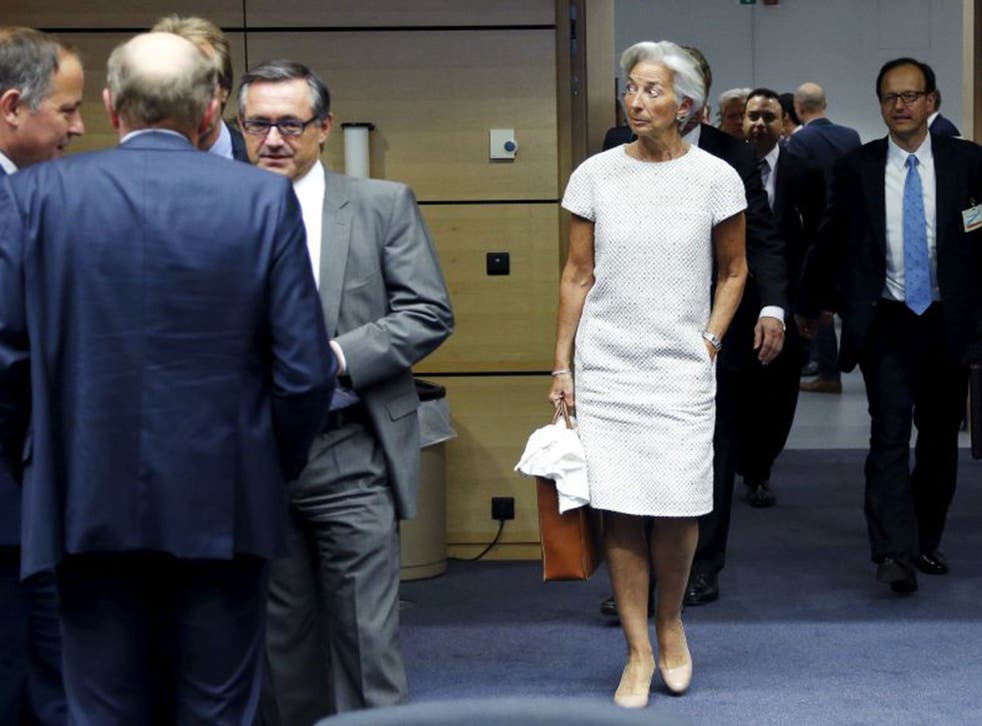 European finance ministers failed to agree on a Greek bailout deal late Saturday after more than nine-hours of negotiations.
With Athens on the brink of bankruptcy, finance ministers meeting in Brussels raised serious question marks over fresh Greek plans to persuade its international creditors it can be trusted to bring in promised reforms they believe are necessary to avoid financial collapse. Talks will resume on Sunday morning.
A positive assessment of new Greek proposals from the European Commission, European Central Bank and International Monetary Fund late on Friday, along with public words of support from France, a key ally of Athens, raised expectations that the Eurogroup would approve the bailout.
However the German finance minister, Wolfgang Schäuble, rapidly dispelled notions that any deal would be straightforward, warning as he entered the emergency meeting that discussions would be "extraordinarily difficult". Germany is Greece's biggest creditor.
Mr Schäuble, who has taken a hard line on Greece, said the Greek government needed to do a lot more than just say it wanted to reform to get the three-year bailout it seeks. "We will definitely not be able to rely on promises," he said before the Brussels talks.
Mr Schäuble put the blame for the current crisis firmly on the Syriza-led government. The "hopeful" situation regarding Greece at the end of last year has been "destroyed by the last months", he said. "We are talking about financing gaps that go beyond anything that we've talked about in the past. The philosophy of all assistance programmes was that you had to implement it step by step in order to get further assistance – and that won't be weakened, rather it will be intensified."
The German newspaper Frankfurter Allgemeine Sonntagszeitung said Mr Schäuble had proposed two alternatives for Greece: a five-year "time out" from the euro, or the transfer of €50bn (£36bn) of Greek assets to a fund that would pay down its debt. Greek officials sitting in on the talks denied that the proposals were on the table.
Greek government negotiators headed into the talks after both the parliament in Athens and international creditors gave its proposals enough backing to set up a weekend of crucial negotiations to stave off financial collapse.
In pictures: Greek referendum

Show all 28
EU officials said that if the Eurogroup meeting reached an agreement in Greece's favour, Sunday's summit of all 28 EU leaders would be cancelled.
Failure to agree is likely to see Greece, low on cash despite the fact its banks have been shut for two weeks and its citizens limited to daily cash withdrawals of €60, crash out of the euro finance system. Experts say the consequences of that for Greece and the rest of the world are unpredictable.
If approved, Greece would get a three-year loan package worth nearly €54bn, as well as some form of debt relief.
Early on Saturday the Greek parliament passed the bailout package with 251 votes in favour and 32 against. Afterwards Prime Minister Alexis Tsipras said his government had a "strong mandate to complete the negotiation" and achieve a positive outcome.
However, the Dutch finance minister, Jeroen Dijsselbloem, chairing the meeting, said: "There are many concerns both on the content of the proposals and the more difficult issue of trust," he said. "Can the Greek government do what they are promising?"
Even France, a mediator for Greece, acknowledged that the Eurogroup needed a lot of convincing. French finance minister Michel Sapin said Greece's European partners needed to hear the nitty-gritty: "How are you going to do it? At what moment are you doing to do it? At what tempo are you going to do it."
Further concessions will be difficult for the Greek government, which faces strong dissent from within its own ranks. Last Sunday's national referendum saw 61 per cent of Greeks vote against such reforms.
Meanwhile the ECB is set to make a profit of up to £16bn on its loans to Greece, according to a new analysis by the Jubilee Debt Campaign, which condemned the bank for "unjust trading" and accused it of acting "like a vulture fund".
Normally, the ECB charges just 0.05 per cent interest on loans. However Jubilee calculated the average yield on Greek debt was 10 per cent as the bank had bought the debt at less than the face value because of fears that Athens would default.
Tim Jones, an economist at Jubilee, which has successfully campaigned for debt relief, said: "The European Central Bank has acted exactly like a vulture fund, buying up debts cheaply during the crisis, refusing to take part in a necessary restructuring of the debt, and demanding to be repaid at a large profit."
Join our new commenting forum
Join thought-provoking conversations, follow other Independent readers and see their replies