Greeks baffled by the EU's peace prize
Greeks baffled by the EU's peace prize

Show all 4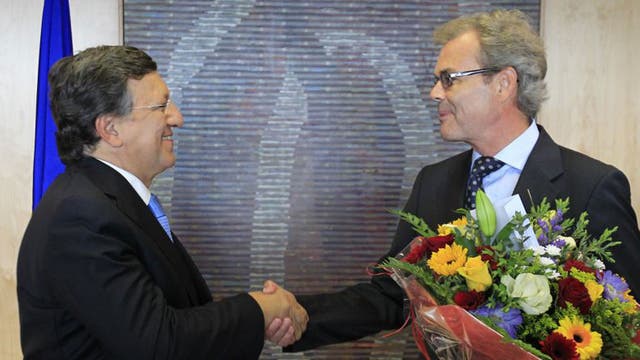 Greeks grappled today to understand why the Nobel committee awarded its annual peace prize to the institution that has been battering them with a barrage of austerity measures and pain.
For the past three years, the newly crowned European Union has been demanding a slew of painful cuts in exchange for two loan packages worth nearly €200bn (£160bn). To please its foreign creditors, Greece will have to yet again axe pensions in exchange for more aid.
"It's ridiculous to talk about peace in the EU when certain members [like Greece] are facing a severe type of financial war and indirect occupation," said 31-year-old Suzanna, an unemployed former bank trader. "It's a joke. People are trying to fight back for their rights here. What kind of peace are we talking about?"
The austerity measures have magnified Greece's recession – predicted to continue for a sixth continuous year – with a quarter of the population now officially jobless. Since the beginning of the crisis, unions have staged many protests against the EU's policies towards Athens. At least four people have died in the demonstrations.
Efi Kontou, 22, a chemical engineering student, thought the peace prize "ironic". Beyond the pain caused by the imposed austerity measures, Ms Kontou said the EU's handling of the financial crisis had also build animosity between its member countries. "Look at the hatred between Germans and Greeks," she said.
Join our new commenting forum
Join thought-provoking conversations, follow other Independent readers and see their replies