Greenpeace Arctic 30 activist Frank Hewetson reveals how he coped in a Russian prison
Just released on bail Frank Hewetson exclusively updates IoS readers on his Russian prison ordeal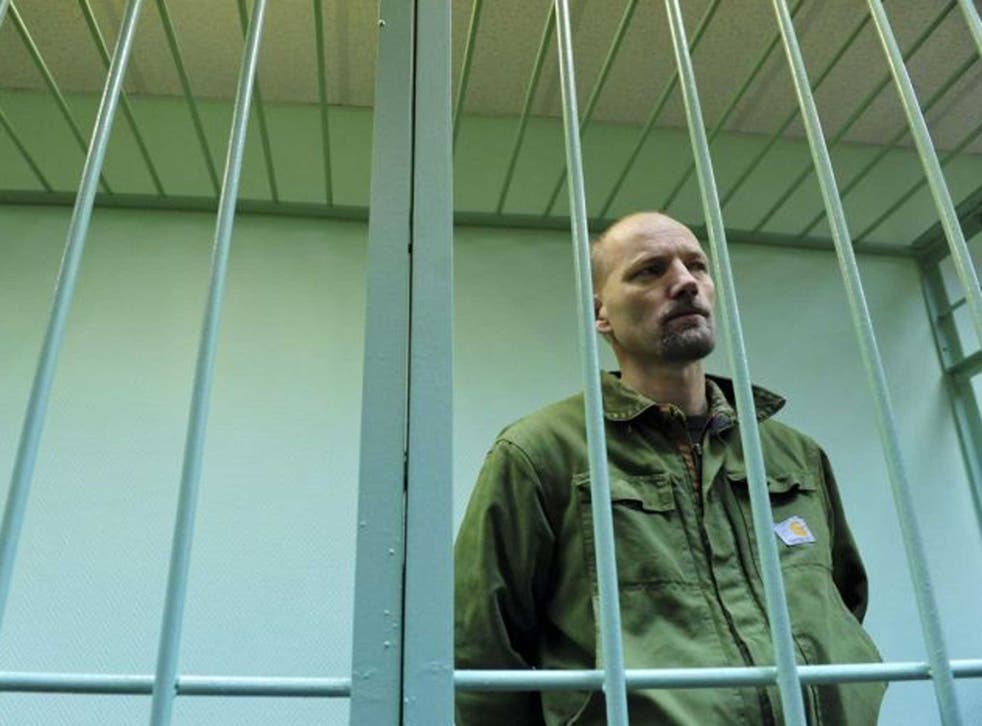 The theme tune from The Great Escape, whistled in a prison yard and repeated by another inmate, a favourite Terry Pratchett novel, and a Russian human rights worker nicknamed Mrs Tiggywinkle helped Greenpeace activist Frank Hewetson through his Russian prison experience.
Mr Hewetson described yesterday for the first time his experiences – by turns "hilarious" and "unfunny and threatening" – inside the Russian jail where local prisoners adopted the motto "Don't hope, don't fear, don't beg". Mr Hewetson, 48, who has worked for 20 years with the campaign group, was speaking after he and fellow protesters, arrested in international waters off northern Russia two months ago after staging a protest against oil exploration, were released on bail. Two of the so-called Arctic 30 remain behind bars but both are expected to be released tomorrow.
Charges of piracy have been dropped, but they face up to seven years in prison or five years with hard labour if found guilty of hooliganism.
Mr Hewetson, who lives in London with his partner, Nina Gold, and two children Nell, 16, and Joe, 13, said life in prison in the frozen northern city of Murmansk, where the group spent most of its time, was like a cross between BBC holiday camp sitcom Hi-de-Hi!, Mervyn Peake's bleak fantasy Gormenghast and a John le Carré novel.
"It was so hilarious. Some of the caps being worn by the guards looked like dinner plates on steroids. They were enormous," he said. Some guards' trousers were too short and their boots too big and floppy."
But other elements of prison life were not so comical. "It used to be a mental hospital. Parts of it were literally falling to pieces and dungeon-like, like some fantasy novel," he said. One floor was for prisoners with TB and he faces regular checks to see if he has contracted the disease.
Mr Hewetson said a letter sent to The Independent on Sunday editor and personal friend Lisa Markwell landed him in trouble after it was published. "The prison governor was extremely upset about that. He said, 'You don't like our food, you say this, you say that.' I had to say, 'Look mate, you can't believe everything you read in The Independent' to get myself out of it," he said.
Russian human rights activists were "absolutely solid", he said, delivering food parcels and cigarettes – the universal prison currency. One stalwart, nicknamed Mrs Tiggywinkle by the Arctic 30, even reprimanded the guards over a bench that the prisoners sat on to eat, because it was too small.
A researcher at an Australian Antarctic research station on Macquarie Island also wrote to him to say "keep your pecker up", which he found particularly touching.
His sense of humour kept him going; he spoke of having almost out-of-body experiences and looking down on ridiculous situations, however "demeaning or humiliating", and finding them "very funny".
"I had an exercise yard which was like a pig pen. I slipped on the ice and really whacked my hip. I suddenly looked down on myself and thought it's so wrong that my own exercise yard was a deathtrap. I laughed so hard," he said.
He spent an hour a day in the yard, running round in circles and "flapping my arms like a bird trying to take off". During this hour he was able to communicate with other Arctic 30 members. "Being able to shout over the wall and say, 'Just keep your spirits up [to each other]' – that was really important.
"Whistling The Great Escape and then hearing it back again from another British prisoner on the far side … I can't tell you how close to tears I nearly came. It was such a beautiful moment." For the other 23 hours a day, he was in a cell with two Russians in their twenties.
"They were both looking at 15 to 20 years [in prison]," he said. However, he "got on really well with them". One was touched when Mr Hewetson made him a birthday card.
The cellmates also played chess, and Mr Hewetson made himself a set of paper cards to play solitaire, despite warnings from his fellow prisoners that this could lead to a spell in "the cooler" – a bleak, particularly icy room. He said one Greenpeace activist spent 24 hours in that cell.
Books also helped to keep him going: Terry Pratchett's novel Going Postal was particularly "uplifting", but Cormac McCarthy's Blood Meridian was "definitely not". Mr Hewetson said he planned to give a 1954 copy of Thomas Hardy's Jude the Obscure to Jude Law in thanks for the actor's support.
Music was also important. Prison radio was mostly bad rap, but then came a track by The Who. "'Behind Blue Eyes' … that made me cry, actually," he said.
The prospect of missing Christmas and the birthdays of family members if the activists had not have been granted bail had been hard to take. "That was the darkest moment and one I felt extremely guilty over, not being there," he said.
"I'm missing them terribly. The anguish of being absent from family life, it's one thing that really hurts."
Mr Hewetson said he thought he would have found five years with hard labour "hard to cope with".
"I probably would survive it. I'd come out a different person."
Join our new commenting forum
Join thought-provoking conversations, follow other Independent readers and see their replies