Gunman who shot Russian ambassador to Turkey named by Interior Minister
Mevlut Mert Altintas was a policeman, Interior Minister says
Will Worley
Monday 19 December 2016 20:14 Comments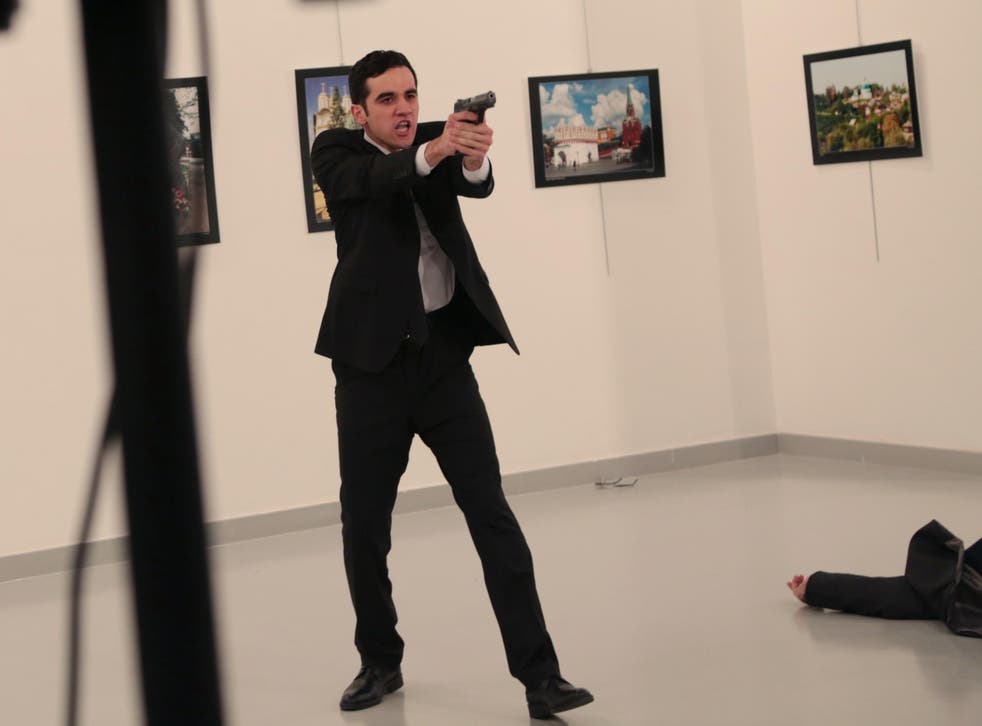 The gunman who shot dead the Russian ambassador to Turkey has been named as Mevlut Mert Altintas.
Interior Minister Suleyman Soylu said he was 22 years-old and worked for the police riot squad in Ankara for the past two-and-a-half years, PA reported.
Security sources told Reuters he was not on duty at the time.
Ambassador Andrey Karlov was speaking at an art exhibition in Ankara when the gunman opened fire.
The attacker had been stood alone, wearing a dark suit, behind Mr Karlov as he spoke.
Numerous shots were heard, before the attacker launched into a diatribe on the beleagured city of Aleppo in Syria.
"We die in Aleppo, you die here" and "don't forget Aleppo, Syria," were heard shouted by the gunman during the attack.
The city has been subject to an intense Russian bombardment in recent weeks.
Altintas was born in 1994, Mr Soylu said, and born in the town of Soke in the western province of Aydin.
He was shot by security forces after the assassination.
Russian ambassador to Turkey shot dead in Ankara

Show all 13
His motives have not yet been established and no group has yet come forward to claim responsibility.
There was speculation, particularly among government supporters, that Altintas was acting on behalf of the Gulen movement, who were blamed for the failed coup which occured in the summer.
However, others said his dialogue was more suited to jihadi groups.
Register for free to continue reading
Registration is a free and easy way to support our truly independent journalism
By registering, you will also enjoy limited access to Premium articles, exclusive newsletters, commenting, and virtual events with our leading journalists
Already have an account? sign in
Join our new commenting forum
Join thought-provoking conversations, follow other Independent readers and see their replies