Hasna Aitboulahcen: Tracking the final moments of Europe's first female suicide bomber
Europe's first woman suicide bomber may yet provide further clues which could lead to the capture or killing of more of her jihadist comrades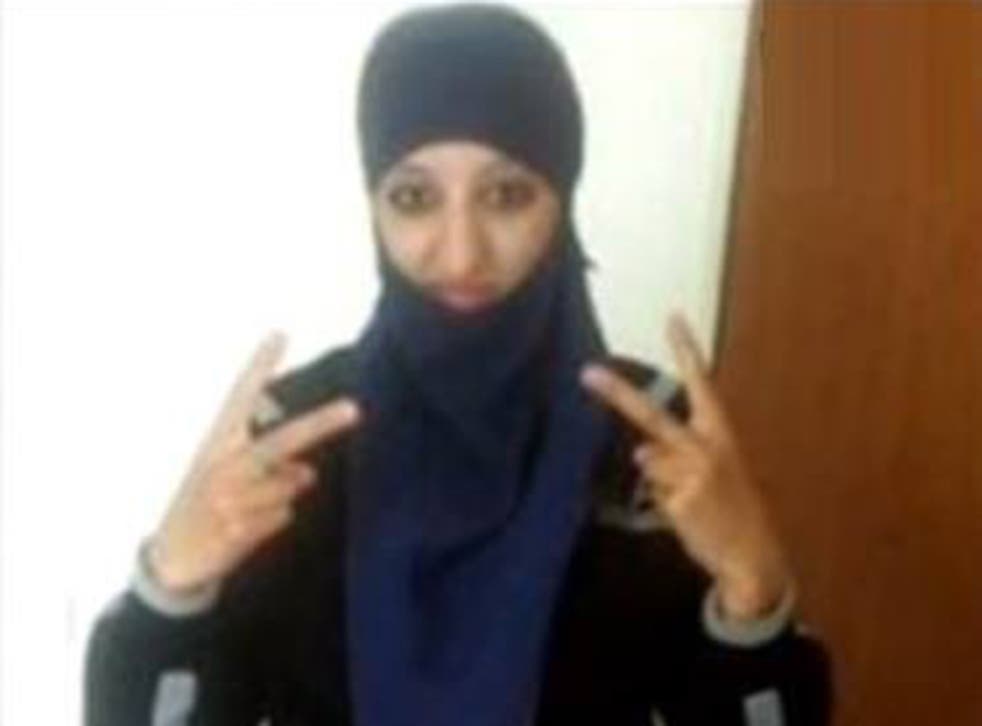 It was an inglorious end for Europe's first woman suicide bomber. She failed to hurt any of her enemies, instead killing just herself and injuring her cousin, Abdelhamid Abaaoud.
And it was through intercepting her telephone calls that the security agencies were able to track the Isis commander and six other terror suspects to their last hiding place.
The last moments of Hasna Ait Boulahcen were truly terrible. "Help me, help me, I am on fire," she screamed before the explosion. Her body parts were strewn across the road.
It was, according to her brother, Youssouf Ait Boulahcen, an end to a deeply troubled life. Boulahcen was not motivated in what she did by Islam; in reality she had no interest in religion, he said. "She was living in her own world. I never saw her open the Koran. She was permanently on her phone, looking at Facebook or WhatsApp. I told her to stop all this, but she would not listen. She ignored my numerous attempts to give her advice. She told me I was not her dad, or her husband."
What do we know about the Paris attackers?
Youssouf, however, acknowledged that he had not spoken to his sister for five years. It remains unclear at what point in her life she decided to follow extremist Islam. She had grown up liking Western music and she drank, smoked and went to parties. She wore normal clothes, showing a preference for jeans and Stetsons; the latter would be replaced by a hijab.
In pictures: Saint-Denis raid

Show all 33
It is not unusual for Muslims with modern lifestyles to turn towards the most austere and unbending form of their religion: Syria, Iraq and Somalia have a sizeable contingent of these people. Boulahcen, however, was also apparently into drugs, deep enough to bring her to the attention of the police on a number of occasions. It was the fact that she was already on their radar that helped the authorities when the investigation into her switched from narcotics to homicide.
Boulahcen had kept in touch with Abaaoud, related through her maternal side, for years. This continued after last Friday's massacre in Paris, and until the end. According to security sources, it was Boulahcen who helped to find the flat at No 8 Rue du Corbillon, which was to be the group's last refuge, through her phone calls.
Abaaoud was born in Belgium; Boulahcen in France in 1989, in Clichy-la-Garenne, a suburb close to Saint-Denis. Her parents, who had arrived from Morocco in 1973, separated when she was young and, for a while, she and her siblings stayed with foster families. Her mother lives in Aulnay-sous-Bois, near Paris. Her father lives in Creutzwald, in Lorraine; Hasna visited him from time to time.
Local people in Creutzwald who met her described her following a hedonistic lifestyle. According to reports, Amin Abou, 26, said: " She drank alcohol and smoked and went around with lots of boys... She had a bad reputation. She had lots of boyfriends, but nothing serious." Martin Jacques, 24, added: "She was normal, she wore Western clothes, she didn't go to Mosque or pray. She never spoke about news or Palestine or anything."
But it is believed that Boulahcen had not been to Creutzwald in over a year and her postings on the social media began to show growing interest in politics and violence. She put up Facebook posts – with spelling mistakes on Islamic sayings – declaring: "I'll soon go to Syria, Inch'Allah [sic], soon [I'll] leave for Turkey." She expressed her admiration for Hayat Boumeddiene, whose partner, Amedy Coulibally, killed a policewoman and four people in a shop at the time of the Charlie Hebdo massacre.
Boulahcen, according to her own account, went to the Paul Verlaine University in Metz and was then appointed the managing-director of a company, Beko Construction, registered with an office in Epinay-sur-Seine.
Local people where Boulahcen lived said she started to wear a hijab soon after the Charlie Hebdo murders. Hassane, aged 62, said: "When I heard what had happened, I felt sick... She was like all young girls – it was who she was hanging out with. We have been tainted by these people that know nothing about Islam, she fell under the influence of the wrong people."
Boulahcen was frantically trying to make calls on her mobile amid gunfire and grenades as the net closed in. Investigators are trying to establish who she was attempting to contact. She may yet provide further clues that could lead to more of her jihadist comrades.
Join our new commenting forum
Join thought-provoking conversations, follow other Independent readers and see their replies