Hollande strikes statesman like pose giving 'presidential speech'
In the first round of voting, Hollande topped the poll, followed by Sarkozy, then Le Pen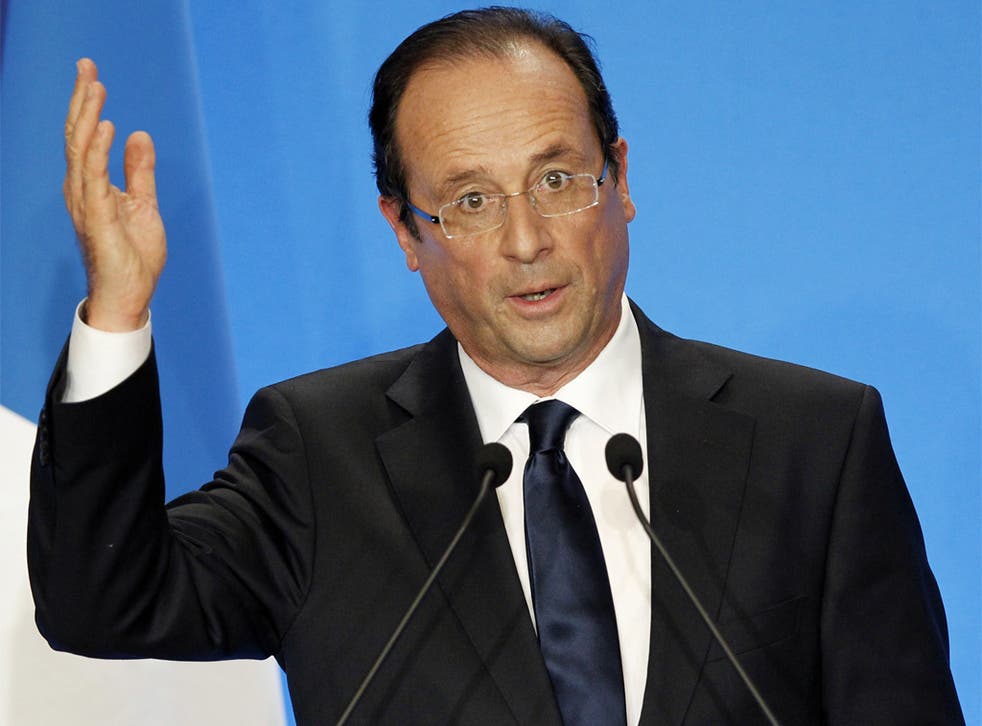 François Hollande, the favourite to be the next French President, jumped the gun yesterday, giving what seemed like his first presidential press conference.
In terms of tone, comments and statesmanlike pose, the Socialist front-runner appeared to be in no doubt who would win the second round of the presidential election.
He promised a "friendly but firm" meeting with the German chancellor Angela Merkel the day after the elections. He condemned what he described as President Nicolas Sarkozy's "headlong race" after the "ideas and the words" of the far right National Front (NF).
He warned he would refuse to ratify the European Union's austerity pact "in its present form". He also offered a possible solution to a likely confrontation over the pact next month between a Merkel-led Germany and a Hollande-led France. He suggested it might be possible to leave the treaty alone if everyone could agree another text based on his own "increasingly widely-held ideas" that the EU must create new policies to kick-start growth. He said he would send a four-point letter outlining these ideas to all EU leaders in the week after his election – "if I am elected".
In an apparent shift in policy, he said this package should include "euro bonds" issued by the European Central Bank but they should be used to finance European infrastructure schemes not to "buy up" sovereign debt.
A press conference by a presidential candidate between the two rounds of an election is unheard of in France. So, was this an act of hubris? Maybe. But the latest polls do put him eight to 10 points ahead in the second round on 6 May.
Promising to be a "normal president", Mr Holland was at pains not to seem arrogant. He promised to be a different kind of head of state to Mr Sarkozy: more accessible and more accountable. He said he would hold a press conference outside the gilded rooms of the Élysée Palace every six months He has also pledged to travel on presidential business in France by train, rather than in the luxurious presidential jet known as "Air Sarko One".
He managed to imply that he and Mr Sarkozy had already exchanged roles. He was the statesman, offering France "consistency", "calm", "unity" and "hope". Mr Sarkozy, meanwhile, was scrambling after far-right ideas in a desperate attempt to save his presidency.
Mr Hollande is not the only senior politician to condemn the President's turn towards the far right since the first round of voting on Sunday. The centrist leader, François Bayrou – whose 9 per cent of the first round vote is crucial to Mr Sarkozy's slender chances of re-election – made a scathing attack yesterday, accusing Mr Sarkozy of "humiliatingly slithering on his belly behind the ideas of the National Front".
In Sunday's first round of voting Mr Hollande topped the poll with 28.63 per cent. Mr Sarkozy came second with 27.06 per cent. The far right candidate, Marine Le Pen, scored 17.9 per cent.
In an attempt to save his presidency, Mr Sarkozy has flattered the NF electorate in recent days. He has spoken of the "Christian roots" of France coming under threat from immigration and Islam. In a TV interview, he suggested that the NF's xenophobic ideas were "consistent" with the French republican values of Liberty, Fraternity and Equality. But Mr Sarkozy insisted yesterday that he had meant only that NF voters had a right to express their views.
Join our new commenting forum
Join thought-provoking conversations, follow other Independent readers and see their replies