Hollande vows to fight California's ban on foie gras
French fear other states in US and EU will copy law brought in after animal rights campaign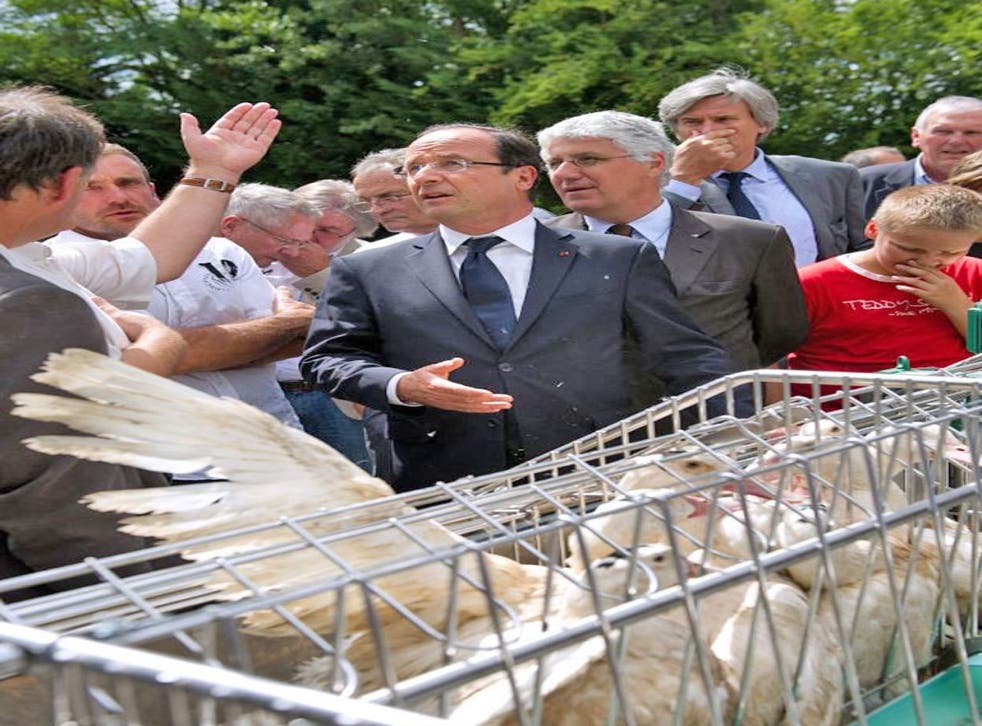 France will fight for the right to continue exporting foie gras, the delicacy produced by the force-feeding of geese and ducks, President François Hollande has pledged.
A law against foie gras sales took effect in California this month – the first ban of its kind in the world. France fears that similar legislation may spring up in other US states.
Only a small part of annual French production is exported, but President Hollande nonetheless found time in his schedule to visit a farm which makes foie gras at Monlezun, in Gers, south- west France, at the weekend.
"Foie gras is a great French product which honours the farmers who devote their lives to it," he said. "I will not allow any challenge to foie gras exports, from certain countries or from certain American states."
It is unclear what France can do about the Californian ban, which was passed into law following a campaign by animal rights activists, supported by Hollywood celebrities and pop stars, including Sir Paul McCartney. France fears, however, that the implementation of the Californian law could encourage copycat legislation in other US states – and maybe even within the European Union.
While admitting that he could not fight the US law directly, Mr Hollande said he would argue for France's right under free trade treaties to export a "good product" which respects "health norms" and "animal comfort". In the meantime, he said, he would bombard US political leaders with gifts of foie gras "for their own great enjoyment".
"We may sometimes not be able to afford to buy foie gras ourselves but I wouldn't want the Americans to be deprived of it," he joked.
France produces 80 per cent of the world's foie gras – 19,500 tonnes a year – which is created by force-feeding geese and ducks until their livers swell to 10 times their normal size. Almost all of the French foie gras is consumed in France. Just over 2 per cent is exported.
It is useful for Mr Hollande politically to cast himself as a defender of rural and ancient traditions. In truth, 80 per cent of French foie gras is produced in factory farms, rather than small family-run businesses like the one he visited on Saturday.
Some progress has been made towards animal welfare in recent years. The birds no longer have their feet nailed to the floor. They have more room in their cages and are force-fed for two weeks instead of three.
Join our new commenting forum
Join thought-provoking conversations, follow other Independent readers and see their replies