How one man's love affair is changing Czech politics
When Petr Necas promised to fight corruption he could not have imagined he would become a prime target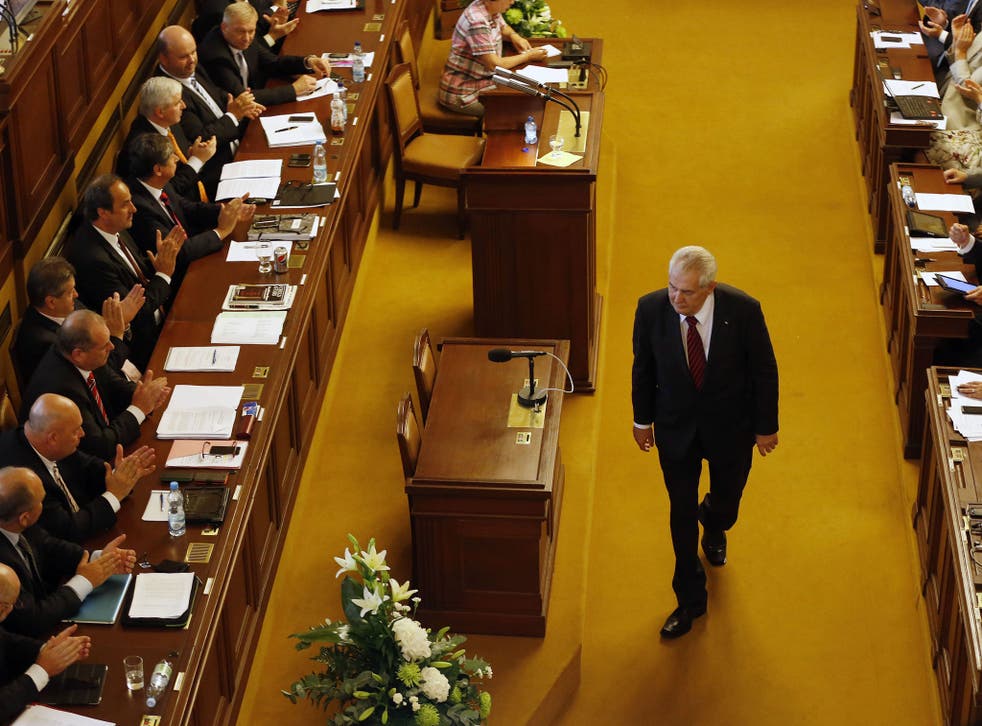 A sex scandal worthy of a novel brought down the government of Czech Prime Minister Petr Necas earlier this year, and with lawmakers rejecting its replacement in a vote of confidence this week, the country looks set for a prolonged political crisis.
When Mr Necas took office as the head of a right-wing coalition in 2010, he vowed to root out corruption at the highest levels. And he really meant it. Three years later, the same anti-corruption agencies that he had empowered and freed from political interference ended up exposing the extramarital affair he was having with his chief-of-staff, Jana Nagyova, and charging her with bribery and abuse of office.
Ms Nagyova has denied any wrong-doing but the revelations were shocking: police wiretaps showed that she had been using the military intelligence service to spy on Mr Necas's wife, Radka Necasova. Her lawyers claim that she was spying on Mrs Necasova to protect her from approaches being made by Jehovah's Witnesses.
Prosecutors have said there may be even more serious charges in store for her. Police seized more than £5m in cash and gold in a series of dawn raids at government offices and private homes at the time of her arrest. They have not indicated what connection, if any, she has to the money, but the wiretaps reportedly reveal conversations with a powerful group of lobbyists known as "The Godfathers", who are thought to have considerable influence over the awarding of government contracts.
Ms Nagyova has already been charged with bribing three politicians who opposed Mr Necas's tax policies, offering them lucrative jobs at state-run companies if they agreed to resign from parliament.
Many have wondered how the bookish, mild-mannered prime minister could have fallen under the sway of a woman almost universally portrayed as vain, possessive and ruthlessly power-hungry. Tales of her diva-like behaviour have spread through the press – when officers raided her home they found receipts for Louis Vuitton handbags totalling more than €120,000 (£100,000).
"Ms Nagyova was unsophisticated but she had a great instinct for power," said Martin Weiss, a columnist for the Lidovky Noviny newspaper. "She was [Mr Necas's] eyes and ears in parliament and brokered the agreements that kept the party in power. Mr Necas is a rather stiff, nearly autistic guy – he totally lacked these abilities."
Nonetheless, Mr Necas should have known better. He had watched his predecessor, Mirek Topolanek, similarly stripped of his dignity after he was photographed naked and in a state of arousal, next to an unidentified woman on a sun-lounger, while holidaying at the villa of the former Italian prime minister Silvio Berlusconi in 2008.
"[Necas] went crazy with this lady," one Czech diplomat said. "This was a very Catholic guy from a small rural town who had married his childhood sweetheart and had four kids. Then he gets to his forties and discovers there is something called sex. It messed with his brain."
For one man, this sordid episode was a gift from the gods. After Mr Necas resigned in June, the power to appoint a new government fell to President Miloš Zeman, who stacked it with supporters, including his close ally Jirí Rusnok as prime minister. Mr Rusnok quickly set about purging the civil service, firing up to 80 officials and replacing them with Zeman loyalists. But the president's plans hit a brick wall this week when parliament rejected the government, setting the stage for fresh elections, perhaps as soon as October.
"Zeman called it a 'government of experts' but it is surprising that most of the experts were in his own party," Mr Weiss said. "He hoped to move the country towards the French system with a powerful president."
Fond of a drink and renowned for holding long grudges against political opponents, Mr Zeman has proved a highly divisive figure in Czech politics since he was elected in January. Ondrej Jonas, a Prague-based investment banker, said: "Most educated Czechs cringe when you talk about Zeman – he is a fat, vulgar nationalist who says things that are deeply embarrassing. But he understands power and, as the Czech saying goes, he 'knows the pub' – he knows how to talk to regular people, especially in rural areas, who have had a rough time economically over the past five years."
In a country with the highest per capita intake of beer in the world, Mr Zeman has never felt the need to downplay his fondness for a tipple. One of his favourite quips is that Adolf Hitler was teetotal and lost the Second World War while Winston Churchill drank and won. Last Friday, his newly appointed health minister, Martin Holcat, went on national radio to announce the devastating news that Mr Zeman would have to cut back on booze and cigarettes after being diagnosed with diabetes.
"We talked about one decilitre (100ml, a small glass) of wine per day," Mr Holcat told Czech radio. "This is certainly very unpleasant. It surely did not please the president but, as I know him, he will be able to do this."
Even if Mr Zeman has lost the battle over the new government, analysts say he may content himself with taking revenge against former colleagues in the Social Democrat party, who are currently leading in the polls.
Mr Zeman has never forgiven certain members for scuttling his first bid at the presidency in 2003, when he was leader of the party. This week, he made pointed remarks that he would choose "a representative" of the winning party (rather than its leader) to be prime minister after the elections. The Social Democrat leader, Bohuslav Sabotka, is said to be a key name on the president's "list of traitors".
For all the uncertainty and disgust, many hope the current crisis will reinvigorate Czech politics, which has become increasingly dominated by cronyism and shady backroom deals. Radim Bureš, the head of the Czech office of Transparency International, said: "We have seen more and more organised crime involving groups of politicians and businessmen taking advantage of EU funds in areas like healthcare, defence, construction. Seventy percent of business entrepreneurs say they can't get public procurement contracts without some kind of bribe."
The roots of the Czech Republic's problems lie in the 1990s, when a new elite quickly established itself after the fall of Communism and has remained largely unchanged since. "The political system was designed from above – it did not grow up from the streets," said Jan Hartl, a political pollster with 40 years' experience. "There is lack of civil society and political parties have hardly any members. The new elites quickly realised that the real game was played behind closed doors in coalition deals. The population became largely irrelevant to politics."
The hope is that more highly visible anti-corruption cases will force politicians to become more transparent, although there was widespread disappointment in July when the Supreme Court ruled that the three politicians who took bribes from Ms Nagyova were protected by parliamentary immunity.
Mr Bureš said: "The irony is that Mr Necas, who took so much action on corruption, is the only big name to fall so far. The political class is closing in on itself like a hedgehog. But if the people from prosecutors office can withstand the pressure, it could start to change politics in this country and show the politicians they are not untouchable."
Join our new commenting forum
Join thought-provoking conversations, follow other Independent readers and see their replies