Russian T-72 tank in eastern Ukraine 'shows Russia is supplying arms to rebels', says strategy experts
Pro-Russian rebels have reportedly seized south-eastern town of Novoazovsk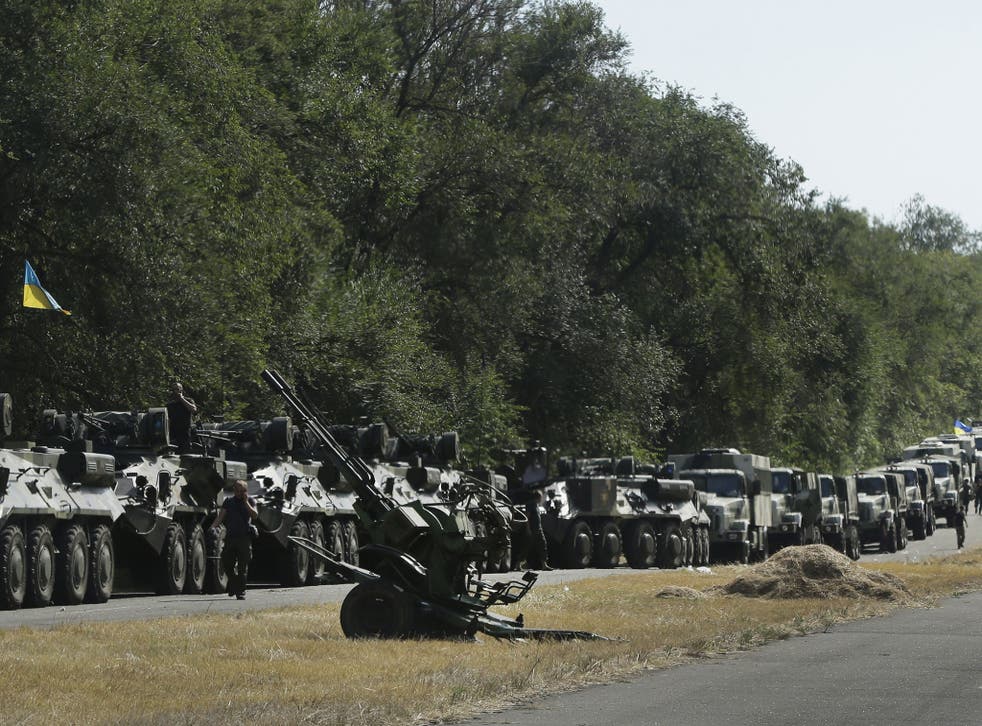 Experts at the International Institute for Strategic Studies (IISS) say they have identified a Russian tank among a separatist column in eastern Ukraine, which they claim "strongly supports" concerns Russia is supplying arms to seperatists.
Joseph Dempsey, an IISS analyst, studied video footage taken in Sverdlovsk, Luhansk, reportedly showing a convoy of military vehicles with flags associated with the separatist movement visible on them in August.
Mr Dempsey told the BBC the convoy includes at least three T-72B1 Main Battle Tanks (MBTs) and more modern T-72 variant.
He said the T-72 variant, which is distinguished by the Kontakt-5 Explosive Reactive Armour (ERA) arrangement, is operated by the Russian army – but is not known to have been "exported or operated" outside of Russia.
The IISS says its alleged presence in Ukraine "strongly supports" claims Russia is supplying arms to separatist forces, an accusation Moscow has strongly denied.
Meanwhile, the mayor of Novoazovsk said heavily armed pro-Russian separatists have seized the south-eastern resort town of 40,000 on the Azov Sea and are heading to Mariupol.
Novoazovsk lies along the road linking Russia to the Ukrainian port of Mariupol and on to Crimea, the Black Sea peninsula annexed by Russia in March.
In pictures: The Ukraine crisis

Show all 66
There are concerns separatists could be seeking to create a land link between Russia and Crimea, which also would give them complete control over the entire Azov Sea.
Oleg Sidorkin, the mayor of Novoazovsk, said the rebel forces had entered the town from positions near Ukraine's southernmost border with Russia.
A pro-government militia fighter told Reuters military equipment is now in Novoazovsk, which came across the border two days ago from Russia. "The equipment is carrying the flags of the DNR (Donetsk People's Republic) rebels but they are regular Russian forces," he said.
A spokesman for the rebels told the Interfax news agency Novoazovsk is now under their control.
It comes as the German Chancellor Angela Merkel phoned the Russian President Vladimir Putin to demand an explanation on claims Russian troops have launched an incursion into Ukrainian territory.
Ukrainian military spokesman Andriy Lysenko said a group of Russian soldiers had crossed the border in armoured infantry carriers and a truck and entered the town of Amvrosiyivka, not far from where Ukraine detained 10 Russian soldiers on Monday.
"The latest reports of the presence of Russian soldiers on Ukrainian territory must be explained," said Ms Merkel's spokesman Steffen Seibert. "She emphasised Russia's major responsibility for de-escalation and watching over its own frontiers."
Washington has accused Russia of leading a fresh military campaign in Ukraine which is helping rebel forces expand their fight and sending in tanks, rocket launchers and armoured vehicles.
State Department spokeswoman Jen Psaki said: "These incursions indicate a Russian-directed counter-offensive is likely under way in Donetsk and Luhansk."
Russian forces are being dispatched 30 miles inside Ukraine, she said. Ms Psaki also voiced concern about overnight deliveries of materiel in south-east Ukraine near Novoazovsk and said Russia was being dishonest about its actions, even to its own people.
However, Denis Pushilin, a rebel leader in Donetsk denied claims of Russia's involvement. "If Russia entered into the war the counter-offensive would already be in Kiev. For now, we do without outside help," he said.
Join our new commenting forum
Join thought-provoking conversations, follow other Independent readers and see their replies