Ikea faces boycott after it removes lesbian couple from Russian magazine to comply with Putin laws
The furniture giant's in-house magazine dropped an interview with a Dorset-based couple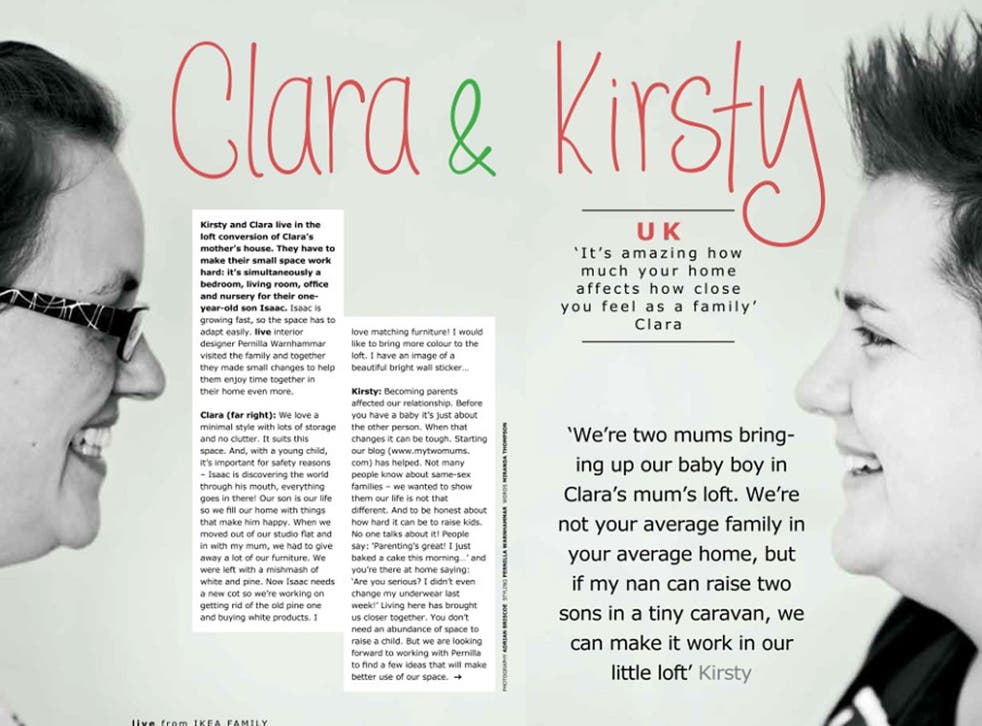 Ikea is facing a boycott threat after removing a British lesbian couple from the Russian edition of its monthly magazine to avoid falling foul of the country's gay "propaganda" laws.
The December edition of the furniture giant's magazine, which is distributed across the world, features an interview with Clara and Kirsty, a Dorset-based lesbian couple, talking about their family life and their Ikea-filled interiors.
However the lengthy feature has been spiked from the Russian edition of "Ikea Family Live" in case it failed to comply with Russian's controversial new law banning "homosexual propaganda". It has been replaced with an article about a single Chinese designer named Chao.
Russia is Ikea's fifth best-selling country, representing six per cent of overall sales. Hugely popular with middle-class Russians, the company operates 14 stores and boasts 11,000 employees in the country.
The interview in the magazine, distributed across Europe to customers enrolled in the firm's Ikea Family loyalty scheme, featured Kirsty saying: "We're two mums bringing up our baby boy in Clara's loft. We're not your average family in your average home, but if my nan can raise two sons in a tiny caravan, we can make it work in our little loft."
An Ikea spokeswoman confirmed that the Russian law, which bans the dissemination of "homosexual propaganda among minors", was the cause.
"That's the reason why Russia has another article," she said. "We have two guiding principles in the communication we distribute from Ikea. The first is home interior design. The second is following the law."
The Ikea spokesman said that the decision was taken in an effort to "remain neutral". She added: "We think our operations in Russia can, in the long run have a positive effect on society."
Ikea was accused of cowardice by gay rights activists in Sweden, the retailer's founding country. Ulrika Westerlund, chair of the Swedish Federation for lesbian, Gay, Bisexual and Transgender Rights said: "I find it disappointing that Ikea has simply laid down flat. No one is really sure what 'propaganda' is and if Ikea had left the article in, that could have served as a test case."
In1994, Ikea became the first company in the world to feature a gay couple in a mainstream television commercial. But the company, once a symbol of progressive Scandinavian values, has recently appeared to subjugate its social conscience to protect commercial operations.
Last September, Ikea deleted a photo from its Russian corporate web page showing four young people in balaclavas. The photo could have been seen as a gesture of support for the jailed members of Russian punk group Pussy Riot.
The following month Ikea angered equal rights campaigners when it digitally removed women from versions of its catalogue distributed in the Saudi Arabian market, due to "cultural sensitivities". Ikea apologised when critics said the decision clashed with the Swedish brand's purported commitment to equality.
Russian campaigners say the country's anti-gay laws have contributed to a climate of increased homophobia, despite President Vladimir Putin claiming that they should not be used to persecute homosexuals.
The lesbian exclusion prompted a backlash by Ikea's international customers, who threatened to boycott the brand. A Tweeter called Maria wrote: "Yo #ikea, don't make me boycott you bc you bow to Russia's homophobic politics."
Join our new commenting forum
Join thought-provoking conversations, follow other Independent readers and see their replies