IMF managing director Christine Lagarde in court over money to disgraced tycoon Bernard Tapie in 2008
Former finance minister allegedly bought Tapie's support for Nicolas Sarkozy's 2007 presidential bid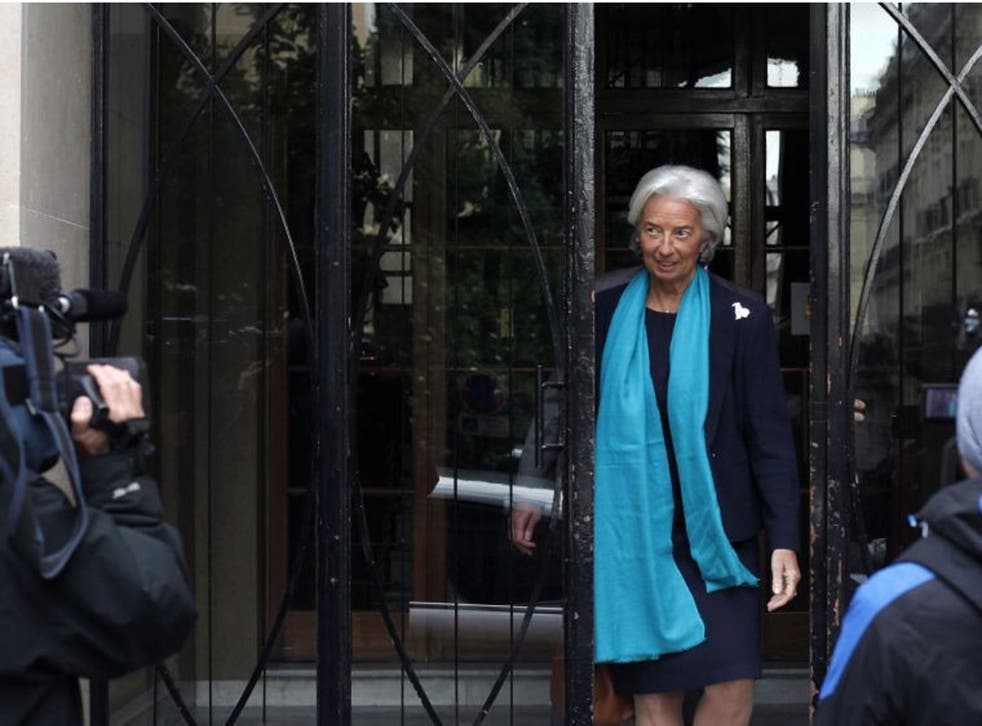 The IMF chief Christine Lagarde may be formally accused of fraud tomorrow at the end of a two day grilling by a special court in France.
Ms Lagarde, 57, spent most of today answering questions in a private hearing about her role in a €403m compensation award to the disgraced tycoon, Bernard Tapie, while she was French finance minister in 2008.
The elegant, and much admired, Ms Lagarde is accused not of enriching herself, but of engineering a sweetheart settlement to Mr Tapie to pay him off for switching sides to support the former President Nicolas Sarkozy in the 2007 presidential election.
If, as expected, she is "mis en examen", or placed under formal investigation for "embezzlement" by the special court tomorrow, the International Monetary Fund (IMF) will face a tricky decision on whether or not to ask her to stand down.
An IMF spokesman in Washington indicated that the organisation had no plans, at this stage, to force the resignation of a second senior French politician in two years. Lagarde's predecessor, Dominique Strauss-Kahn, resigned in May 2011 after he was accused of the attempted rape of a hotel chamber maid in New York.
Ms Lagarde is understood to have vehemently contested the allegations against her today and insisted that she acted in the best interests of the French taxpayer. She is said by friends to be "angry" and "bemused" that she should face such allegations in France when she is supposed to be devoting all her energies to resolving the international economic crisis.
Although the case against her is far from watertight, sources suggest that the Cour de Justice de la République – a special court which tries alleged wrongdoing in office by ministers or ex-ministers – has enough prima facie evidence to order a formal and prolonged investigation. A report by the court's chief prosecutor, leaked earlier this week, said Ms Lagarde had taken "a series of decisions systematically damaging to the interests of the State".
Ms Lagarde was given the whole of today and part of tomorrow to contest the allegations in a closed hearing. The likelihood is, however, that she will be placed under formal investigation today – one step short of an actual charge – for "fraud" and "embezzlement of state funds".
Mr Tapie was jailed in 1997 for offences including fixing matches for the football club he owned, Olympique Marseilles. He is a tycoon turned left-wing politician, who switched his allegiance to the centre-right candidate, Nicolas Sarkozy, in the 2007 presidential election.
In 1993, he began an interminable legal action against the French state, complaining that he had been defrauded by a state-owned bank, Crédit Lyonnais (now defunct) when it sold the sports company Adidas on his behalf .
Mr Tapie won a series of legal judgements but no agreement could be reached on compensation. In 2008, soon after she was appointed finance minister, Ms Lagarde appointed a four-man panel to short-circuit the legal arguments which proposed a €403m settlement.
Ms Lagarde says that the idea of an independent panel came not from her, but the bank's state liquidator. In any case, she argues, it made sense to end an interminable wrangle which was also costing the state a great deal of money.
Join our new commenting forum
Join thought-provoking conversations, follow other Independent readers and see their replies