International creditors predict Greece will return to growth in 2014
EU, ECB and IMF say the next slice of financial support will be released soon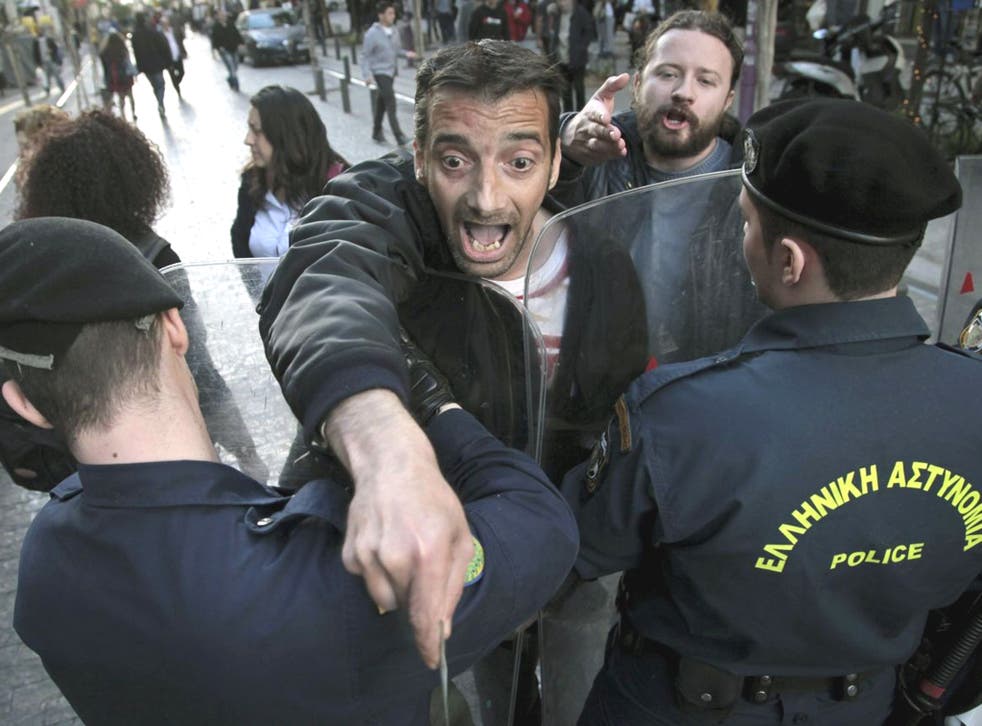 Greece cleared a key hurdle in its drive to receive its next batch of bailout loans after international debt inspectors said they had reached an agreement over the country's economic reforms, including the firing of thousands of civil servants.
The review by delegates from the International Monetary Fund, European Commission and European Central Bank, known collectively as the troika, is part of a regular process under which Greece receives installments of its multi-billion euro bailout if it meets certain conditions. Greece has been dependent on the rescue loans since 2010.
In total, Greece has been granted €270 billion in bailouts, which it receives gradually. In return, successive governments pledged to overhaul the Greek economy and have imposed stringent spending cuts and tax hikes.
The reforms have been painful. The country is mired in a deep recession, currently in its sixth year, and unemployment has spiraled to around 27 percent.
In a joint statement, the three institutions said recent steps taken by Greece indicate targets for March "are likely to be met in the near future" and that the country's debt sustainability "remains on track."
As a result, the 17-nation eurozone could soon agree to disburse €8.8 billion (£7.5 billion ) pending from last month. The eurozone and IMF board are expected to approve the review in May.
However, the troika said the government must still be vigilant and "respond promptly to any slippages that may emerge."
Almost every troika review since the start of the bailout has been delayed due to targets being missed or disagreements with the government. Apart from the initial installments, no rescue loans have been disbursed on time.
"Greece has indeed come a very long way," said the IMF's troika representative Poul Thomsen, speaking during a conference on the economy in central Athens. "The fiscal adjustment in Greece has been exceptional by any standard."
If the country continues implementing its pledged reforms, it will be able to achieve its overall budget targets without imposing any further austerity measures, Thomsen said.
The institutions still predict Greece will return to growth gradually in 2014, and say this is being helped by improved wage flexibility helping to restore competitiveness.
The review also covered the dismissal of civil servants, with firings "targeted at disciplinary cases and cases of demonstrated incapacity, absenteeism, and poor performance, or that result from closure or mergers of government entities."
Finance Minister Yannis Stournaras, speaking at the same economy conference in Athens, said "several thousand" underperforming public sector workers would be dismissed, and new, capable employees would replace them.
Reports have indicated that about 4,000 civil servants are to be fired by the end of this year, and 11,000 by the end of 2014.
Until now, civil servants were constitutionally guaranteed jobs for life under a law dating from the early 20th century to protect public sector workers from unfair dismissal due to political affiliations. But the law was widely abused, with accusations rife that politicians across the spectrum stacked the civil service with employees as favors in return for votes.
The result was a massively bloated, inefficient and corrupt civil service, the size of which the state was unaware until it started a public sector census at the start of the bailout, and discovered it had about 700,000 civil servants in this country of less than 11 million people.
"It's still a taboo to dismiss people from the public sector. There have been no forced dismissals of employees whose positions are eliminated or who for some reason do not perform," Thomsen said. "So this dramatic rebalancing of the economy ... has caused a sharp increase on unemployment in the private sector while public sector employees have been protected. This is another source of the sense of lack of fairness in the process."
Stournaras said Greece's main target now was to achieve a primary surplus of the budget — a surplus without taking into account interest payments on existing loans — this year.
Once this is achieved, Athens could request activation of something Greece's eurozone partners agreed on late last year — a further reduction in the country's private debt. In March 2012, Greece forced private investors to write off more than half the value of the government bonds they held.
Following the bond writedown, officially known as the Private Sector Involvement, Greece's debt is now mainly in public hands. A further debt reduction could come from easing the terms of the country's bailout.
"In my opinion, the major target now is to achieve a primary budgetary surplus this year so that we can ... ask for a drastic reduction in the public debt," Stournaras said. "That will create a very positive boost in developments and would speed up our exit from the crisis."
AP
Join our new commenting forum
Join thought-provoking conversations, follow other Independent readers and see their replies