Irish coastguard helicopter goes missing with four crew members on board
One crew member pulled from sea in critical condition as hopes fade for missing three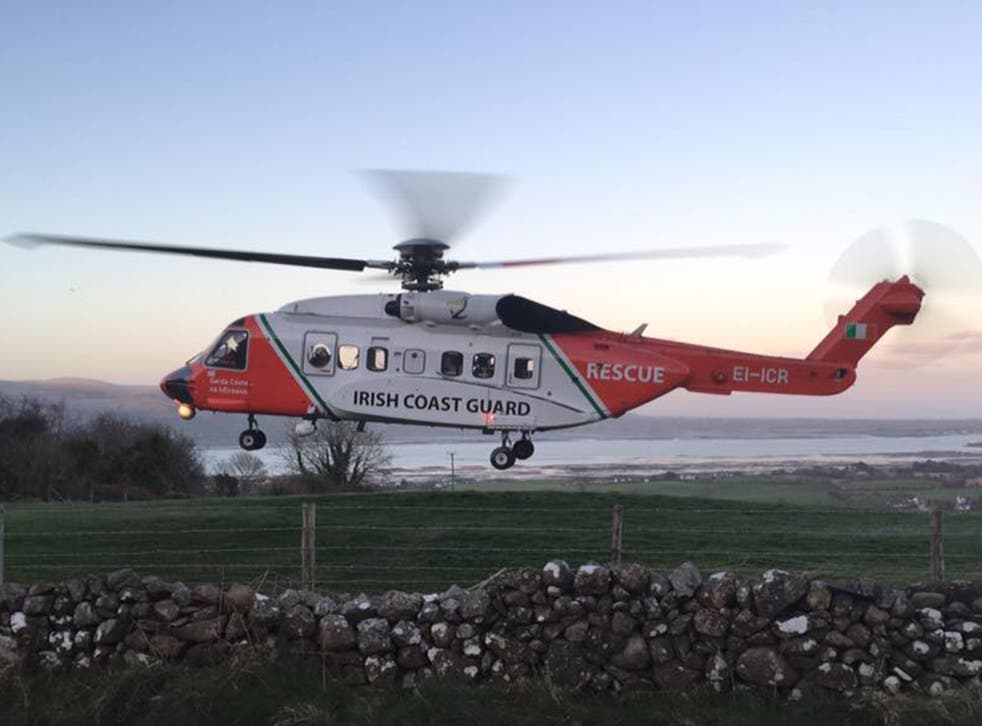 A major search is underway for an Irish coastguard helicopter that went down off the west coast of Ireland, as fears mount for three missing crew members.
It had been providing safety and communications support for another helicopter involved in an overnight rescue operation when contact was lost at around 1am.
One of the four crew members on board was located and pulled from the water at around 7am and was taken to hospital in a critical condition.
Eugene Clonan, acting director of the Irish coastguard, said colleagues "don't hold out much hope" for the rescued person.
"And indeed, at this particular point in time, hopes are fading of finding the remainder of the crew," he added.
Mr Clonan said it was a "dark day" for Ireland's emergency services, adding: "Our thoughts and prayers are with the families at this time."
Debris has been discovered on the surface of the water around one and half miles south-east of Blacksod Lighthouse, which is around six miles off the coast.
The helicopter had flown directly to the scene from Dublin, travelled around 10 miles out to sea, then turned back towards land to refuel.
There was no indication that anything was wrong moments before it vanished, with the crew's final transmission at around 12.45am: "Shortly landing at Blacksod."
When the helicopter failed to arrive, a mayday signal went out and the search began.
Coastguard helicopters from Sligo and Shannon, lifeboats, local fishing vessels and Air Corps maritime patrol aircraft are involved in ongoing missions off the coast of County Mayo.
A spokesperson for the Irish coastguard said the missing helicopter had been providing cover in the evacuation of a crewman on a UK-registered fishing vessel who required urgent medical attention, approximately 150 miles west of Eagle Island.
"Owing to the distance involved, safety and communication support, known as Top Cover, was provided by the second Coast Guard helicopter, the Dublin based R116," he said.
World news in pictures

Show all 50
"The search operation is being coordinated by the Coast Guard Rescue Coordination Centre in Malin Head.
"Both helicopters refuelled at Blacksod prior to transiting to the scene."
Declan Geoghegan, the Irish coastguard's operations manager, said it was unclear what caused the helicopter to go down and an air accident investigation would establish the cause..
"We'll continue to search for the missing crew members until such time as we have recovered them and the flight recorder," he told BBC Radio Foyle.
Shane Ross, the Irish transport minister, expressed his "deep concern" over the Dublin-based helicopter's disappearance.
"As the search for the Dublin-based helicopter R116 is currently under way I would like to express my sincere support and sympathies for all those involved, particularly those family members who are awaiting news of their loved ones," he said.
"This is an extremely difficult time for all concerned."
No storms or extreme weather conditions were reported in the area at the time of the aircraft's disappearance, although visibility was described as low.
Additional reporting by PA
Join our new commenting forum
Join thought-provoking conversations, follow other Independent readers and see their replies