Isis behind attack on Istanbul Ataturk airport says Turkish Prime Minister
At least 41 people were killed and 239 wounded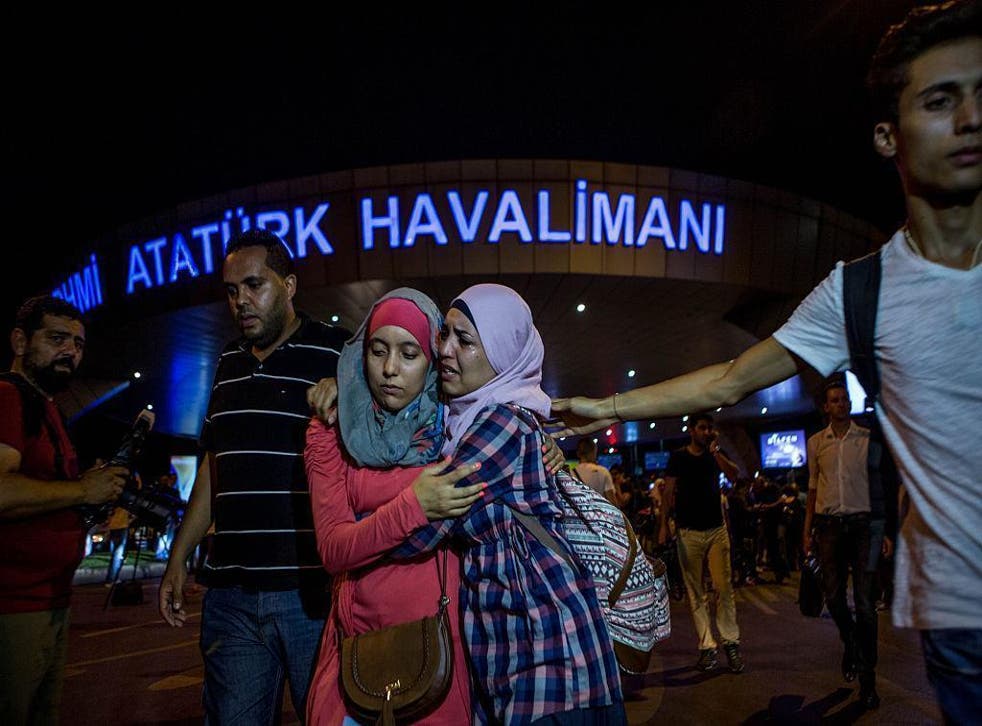 Turkish officials say initial investigations point to Isis being behind a triple suicide bombing and gun attack on Istanbul's Ataturk international airport which killed at least 41 people.
Another 239 people were injured, many seriously, after three gunmen armed with AK-47s opened fire on passengers. Officials say the death toll could rise to 50.
CCTV footage shared on social media showed two of the detonations, at least one of which came after police officers fired on and wounded an attacker. The third gunman was reported to have blown himself up in the car park outside.
Video shows moment Istanbul airport bomber brought down by police
Prime Minister Binali Yildirim said so far all indications pointed to the Isis group being behind the attack. He said the attackers arrived at the airport in a taxi, and they were able to launch the attack without going through security checks.
Some of the victims include foreigners, he said. Asked about Turkish media reports of a fourth gunman who escaped, he said they had no evidence of that but were not ruling anything out at this stage.
"This (attack) has shown once again that terrorism is a global threat," he said. "This is a heinous planned attack that targeted innocent people."
"The findings of our security forces point at the Daesh organisation as the perpetrators of this terror attack," Mr Yildirim told reporters at the airport, using another name for Isis.
Attack at Ataturk International airport in Istanbul

Show all 20
"Even though the indications suggest Daesh, our investigations are continuing.
"What is noteworthy is that this attack came at a time when our country is putting up a merciless fight against separatist terrorism and recording significant success," Mr Yildirim said.
Some flights have now resumed at the airport, including the lifting of a blanket ban on all flights to and from the US. The Turkish news agency Dogan reported that the Albanian Prime Minister, Edi Rama, was landing at the airport for an official visit when the attack took place. He was taken away to an official residence.
Details are still emerging about the nationalities of those killed and injured. Saudi Arabia's Embassy in Turkey says at least seven Saudis were injured and all are in a stable condition.
Secretary-General Ban Ki-moon has condemned the "terrorist attack" at Istanbu's Ataturkl airport and is calling for the perpetrators to be identified and brought to justice.
The Belgian prime minister, Charles Michel, has also condemned the bombing. He wrote on Twitter: "Our thoughts are with the victims of the attacks at Istanbul's airport. We condemn these atrocious acts of violence."
And the attack was commented on by both the candidates in the US presidential race, Hillary Clinton and Donald Trump.
The Turkish President, Recep Tayyip Erdogan, also condemned the attacks and urged Western countries to take a stronger stance against terrorism.
"The bombs that went off in Istanbul today could have gone off in any city in the world, in any airport," he said. "I want everyone to understand that, to the terrorists, there is no difference between Istanbul and London, Ankara and Berlin, Izmir and Chicago.
"Unless we come together as all countries and as all people, and fight against the terrorists together, all possibilities that we can't even dare think of right now will come true."
Join our new commenting forum
Join thought-provoking conversations, follow other Independent readers and see their replies