German police arrest three Syrian men 'sent to Europe by Isis to carry out terror attacks' as part of Paris attacks network
Investigators say 17-year-old suspect had been trained with weapons and explosives in Raqqa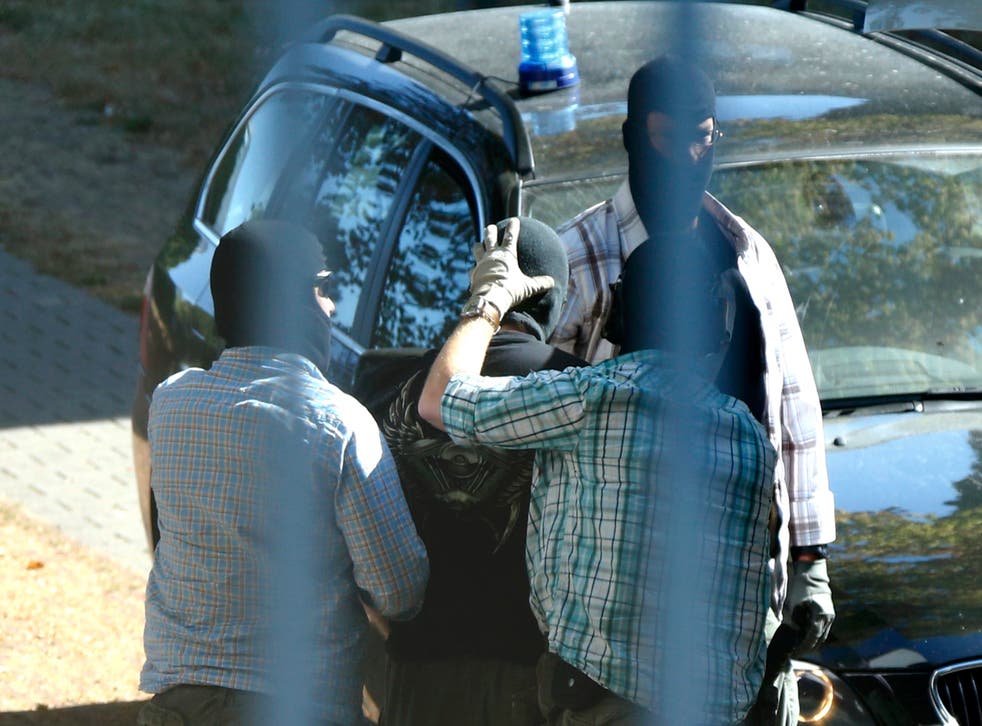 German police have arrested three Syrian men suspected of being deployed by Isis to carry out new terror attacks in Europe.
Prosecutors said the three suspects were dispatched to Germany last year "either to carry out a mission that they had been informed about or to wait for further instructions".
They were named as Mahir al-H, 17, Ibrahim M, 18, and Mohamed A, 18, with their surnames redacted according to German privacy laws.
"Concrete missions or orders have not yet been found in the course of investigations carried out so far," a spokesperson for the federal prosecutor said.
Thomas de Maiziere, the German interior minister, said the men could be part of a "sleeper cell" linked to the terrorists who carried out the Paris attacks that killed 130 people in November.
"Everything points to the same smuggling organisation as with the Paris attackers having brought these three who were arrested to Germany," he added.
"And everything points to the travel documents having come from the same workshop."
The arrests were made during a series of dawn raids involving 200 officers, with police searching refugee centres in Großhansdorf, Ahrensburg and Reinfeld in the state of Schleswig-Holstein.
Terrorism in 2016: Terror attacks in Europe claimed by Isis

Show all 9
Investigators said the 17-year-old suspect had been trained to use guns and handle explosives in Isis' de-facto capital of Raqqa before crossing into Europe on the refugee route from Turkey to Greece.
The trio, carrying false passports, left Syria in October 2015 – around the same time as at least two of the Paris suicide bombers who crossed to the island of Leros.
They reached Germany in November and have received four-figure payments in US dollars from Isis, as well as mobile phones with pre-installed communication apps.
More than a million refugees and asylum seekers arrived in Germany last year, when Chancellor Angela Merkel opened the border to all Syrians fleeing the country's civil war.
Germany has been targeted in a spate of recent attacks, including three carried out by asylum seekers, of which two were claimed by Isis.
Timeline: Germany rocked by week of deadly violence
Several terror suspects posing as Syrian refugees have been arrested in German counter-terror operations so far this year, although no convictions have been announced.
Harry Sarfo, a former Isis recruit, told The Independent he was approached by commanders looking for militants to carry out attacks in the UK and Germany while living in Raqqa last year.
He said he declined and later fled the group, but there are fears it has continued to exploit the refugee route to send back trained jihadists.
Europol estimates that up to 5,000 Europeans may have undergone training at terror camps abroad and the agency's director has warned the continent faces its "biggest terror threat in more than a decade" from returning fighters.
Germany's Federal Criminal Police Office has received 400 tip-offs over migrants alleged to have extremist links but found only 60 with sufficient evidence to begin investigations.
Join our new commenting forum
Join thought-provoking conversations, follow other Independent readers and see their replies