Islamic State: Recep Tayyip Erdogan happy to meet John Kerry but Turkey will not attack Isis
Despite its Nato membership, Turkey said it would not allow its air bases to be used for strikes on Isis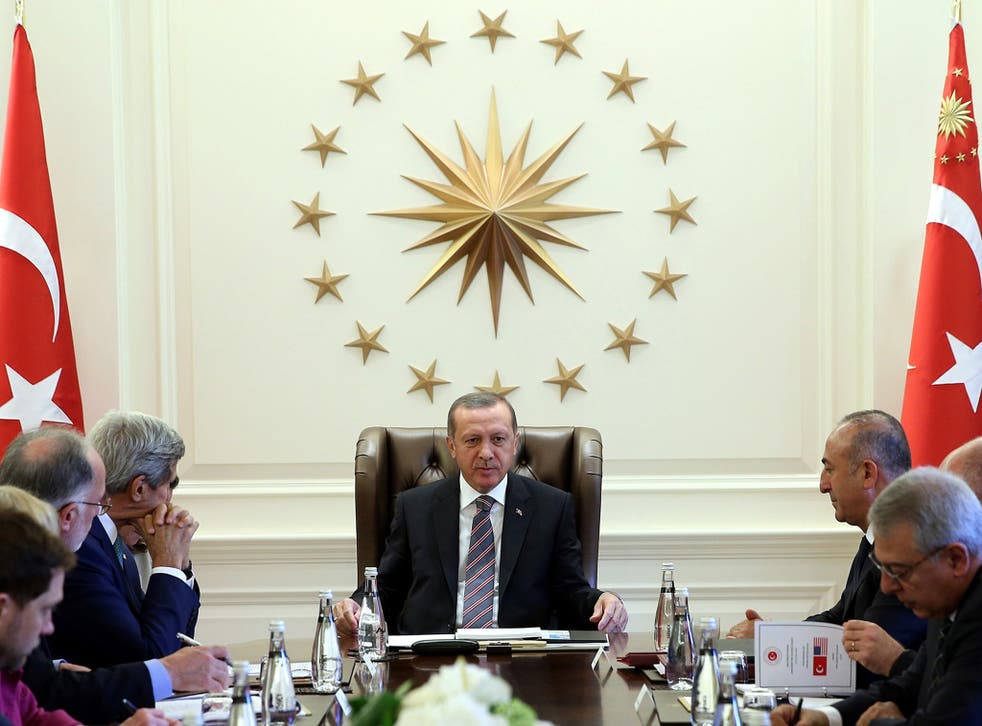 Under the covered alleys and old spice bazaars, business continues as normal in Turkey's southern city of Gaziantep, just 40 miles from the Syrian border.
Old men hammer out copper plates and jugs as Turks, Syrian refugees and the occasional Western tourist stops to inspect their wares. Most don't spare too much attention for the high-powered diplomatic meeting happening in Ankara as US Secretary of State John Kerry meets with Turkey's President Recep Tayyip Erdogan to cajole him into joining a coalition of states to fight the barbaric Isis on their border.
Turkey, Nato's key ally in the region, has refrained from signing the Jeddah Communiqué, which saw 10 Arab states agree to unite in the battle against Isis, including all the Gulf Cooperation Council (GCC) states, plus Egypt, Iraq, Jordan, Lebanon, and the US.
Gaziantep's businessmen do not want to get entangled in a fight they don't see as theirs. "I'm worried about my children's future – what happens if Isis comes and bombs here?" asks shopkeeper Memet Fateh, 43, a father of four.
In pictures: The rise of Isis

Show all 74
Gaziantep has been hit hard by Turkey's open-door policy with Syria; 1.35 million refugees have settled in southern towns and cities. Now the Islamic State shares a border with Turkey and the presence of foreign jihadis has become part and parcel with border life.
Despite its Nato membership, Turkey said it would not allow its air bases to be used for strikes on Isis, and would only allow the US to use them for "humanitarian logistics".
Mr Kerry is, however, expected to discuss bilateral and regional issues, including how to promote security and stability in Syria and Iraq with President Erdogan, Prime Minister Davutoglu and Turkey's new Foreign Minister Mevlut Cavusoglu.
Addressing reporters on Thursday in Washington, US Department of State spokeswoman Marie Harf rebuffed Turkey's absence from the Jeddah Communiqué: "We'll continue to consult closely with them [Turkey]. Each country will decide on their own what they would like to sign on to and what they would like to do, but I want to underscore they're our very close counterterrorism partner."
Turkey has long been under fire for turning a blind eye to hundreds of foreign fighters using the country as a "jihadi express" to Syria, as well as providing hospital treatment for wounded Islamist fighters. Just last week, 19 foreign jihadis were arrested as they strayed near the border and also on arrival at Gaziantep airport on suspicion of travelling to Syria to join Isis.
An unknown number of Turkish jihadis are fighting with Isis in Syria, but it has been estimated to be in the thousands.
While Isis is officially listed as a terrorist organisation in Turkey, President Erdogan has been reluctant to label them as such. Isis continues to hold 49 Turkish diplomatic staff hostage in Mosul. The consulate was stormed by militants in June when Isis advanced into Iraq from Syria.
Register for free to continue reading
Registration is a free and easy way to support our truly independent journalism
By registering, you will also enjoy limited access to Premium articles, exclusive newsletters, commenting, and virtual events with our leading journalists
Already have an account? sign in
Register for free to continue reading
Registration is a free and easy way to support our truly independent journalism
By registering, you will also enjoy limited access to Premium articles, exclusive newsletters, commenting, and virtual events with our leading journalists
Already have an account? sign in
Join our new commenting forum
Join thought-provoking conversations, follow other Independent readers and see their replies