Italian police seize Mafia boss's assets worth millions of euros: Is this the end of the line for Matteo Messina Denaro?
He's been on the run for more than 20 years. But, as police seize millions of euros worth of his assets, it looks like time is finally running out for vicious Cosa Nostra leader Matteo Messina Denaro. Michael Day reports from Rome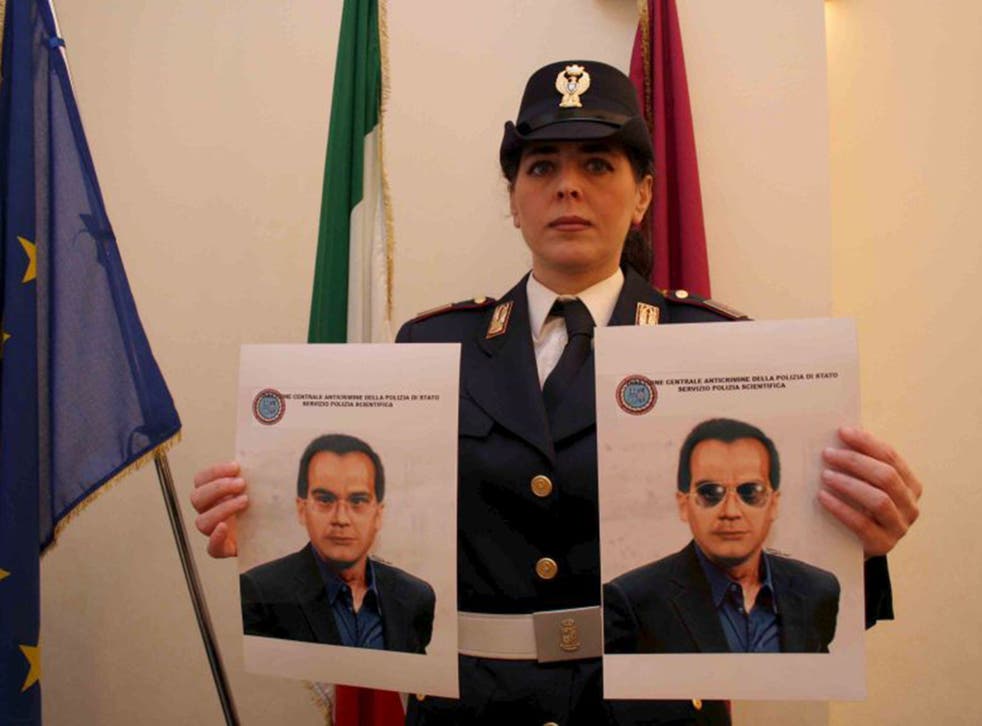 The noose tightens around the last great Cosa Nostra kingpin to evade justice. Yesterday, after investigators seized prized olive groves in Sicily worth €20m (£15.9m), it was hoped the "Boss of Bosses" could finally be brought to book.
Matteo Messina Denaro has been on the run for more than 20 years and was convicted in his absence for the 1993 bomb attacks that killed 10 people in Rome, Florence and Milan.
But after leading the raid on the Fountain of Gold olive business in Trapani, Palermo's financial police said they were getting closer to the last big fish of Cosa Nostra still on the run. "Seizing assets remains the main way to fight the Mafia," said provincial commander Giancarlo Trotta. "We do this by using all the expertise we've gained in recent years."
Wire taps obtained by prosecutors suggest the profits from this olive oil producer have been used to directly fund Messina Denaro while he hides out from the authorities – probably using some of the money to buy the complicity of malleable public officials.
Sicilian photojournalist Letizia Battaglia's images of southern Italy's Mafia wars

Show all 9
Nominally, the olive business is owned by two brothers from the village of Campobello di Mazara. But investigators were able to establish its links to one of Messina Denaro's right-hand men, the jailed mobster Françesco Luppino, the Italian press reported.
Messina Denaro, 52, the nearest thing the Sicily Mafia has left to a Boss of Bosses, has defied the best efforts of police and magistrates to hunt him down. But experts say he is watching closely as investigators inch ever closer and dismantle his financial empire. Many believe he is he is holed up in Western Sicily, quite possibly in his home town of Castelvetrano,
In April last year a court in Trapani ordered record assets of €1.3bn to be seized from Sicily's "king of wind (power)" Vito Nicastri. But it was Matteo Messina Denaro, who loomed large behind the vast wealth, including 43 companies and 98 properties, say police and magistrates.
In 2010 it emerged the Cosa Nostra was attempting to cream off millions of euros from both the Italian government and the European Union, by snatching the generous grants on offer for investment in wind power – and move into respectable green business.
Over the past decade, thanks to generous subsidies, wind farms in Italy have proliferated at a rate of 20 per cent per year, and the Sicilian Mafia soon plugged into this new source of income.
Italian investigators say that Nicastri had built up the huge alternative energy business on the behest of the Cosa Nostra boss Messina Denaro.
In addition to halting the giant eco-scam, Italian prosecutors said the seizure in 2013 of 66 bank accounts, as well as property and businesses, was another body blow to Cosa Nostra's leadership, which was already reeling from dozens of high-profile arrests in the past 10 years. The assets grab was part of investigators' "scorched earth" policy, which was aimed at draining Messina Denaro's resources and exposing him. Assets linked to the Sicilian Mafia's most-wanted fugitive have also been seized in Lazio Calabria and Lombardy.
Messina Denaro, nicknamed "Diabolik" after a cult Italian comic strip criminal, earned a reputation for brutality by murdering a rival Trapani boss and strangling his girlfriend who was three months pregnant.
He was born in to a high-ranking Cosa Nostra family and began using fire arms at the age of 14. Four years later he committed his first murder. He is believed to have told a friend: "With the people I've killed, you could fill a graveyard." He is also reputed to be a lover of fast cars and beautiful women, and in his younger years a fan of Versace clothes and Rolex watches.
He became the No 1 boss following the capture of Palermo mobster Salvatore Lo Piccolo in November 2007.
Investigators believe, however, that following the backlash prompted by the Mafia's bombing campaign in the early 1990s, and due to internal divisions between clans in Palermo and those in the West of Sicily, Messina Denaro has probably never had the reach and authority of his predecessor and mentor Totó Riina.
And like so many Mafia bosses, his most-wanted status has severely limited his ability to spend his ill-gotten gains and indulge his passions. In March this year, the Italian authorities launched a new photokit image of Messina Denaro assuming him to be heavier set than before and now with a receding hairline, to step up the pressure.
The magistrates themselves have been accused of errors, however, which it is alleged, have helped Messina Denaro evade capture.
In June 2013, the judiciary's CSM self-governing body slated Palermo's chief prosecutor Francesco Messineo for not allowing the circulation of information within the prosecutor's office and said this "lack of coordination was behind the failure to capture the fugitive".
But December last year police in Sicily made a series of key arrests, including the mobster's sister. Patrizia Messina Denaro was led away after investigators claimed wire taps showed she had been in contact with her fugitive brother, and played a key role in transmitting his directives to other mobsters.
This led Giuseppe D'Agata, the head of the Palermo outpost of the Italian interior ministry-run anti-Mafia task force, the DIA, to say: "Soon, Messina Denaro will have nothing left around him."
Il Sole 24 Ore newspaper predicted yesterday that for the last great Cosa Nostra boss: "The end of the line is now imminent".
Organised crime, 21st Century-style
In 2014, the Italian mob is bigger than ever. But business models are changing and emerging crime syndicates and new alliances are redrawing the map of organised crime.
1) Cosa Nostra (Sicily)
The Cosa Nostra, is the original and best-known Italian crime syndicate, with origins in the 19th century. But in the 1990s its assassination of the popular anti-Mafia judges Falcone and Borsellino caused a backlash that weakened it and saw it concede ground to rival groups in Calabria and Naples. As a result Matteo Messina Denaro has never wielded the power of predecessors such as Totó Riina or Bernardo Provenzano.
2) 'Ndrangheta (Calabria)
The Calabrian outfit is thought to have been formed by Sicilians displaced from their nearby island home in the 19th century. Largely on the back of the cocaine trade it's believed to have passed Cosa Nostra as the biggest grossing crime group in Italy.
3) Camorra (Naples)
It is often seen as the most anarchic and unstructured of the Mafia groups. It makes billions from cigarette and drug smuggling as well as counterfeiting and illegal waste dumping.
4) Sacra Corona Unita (Puglia)
Though the smallest and least known of Italy's four main Mafia groups, Puglia's Sacra Corona Unita still has a multi-billion pound turnover. Having emerged in only 1981, it has quickly learnt the tactics of the other crime syndicates.
5) Mafia Capitale (Rome)
But the big four are being joined by powerful new crime syndicates, police and prosecutors warn, and all are looking to big business rather than violence to make money.
Recently, evidence has emerged of a major new Mafia-type organisation in the Rome seaside suburb of Ostia. While in the city itself, Rome's chief prosecutor this month ordered 37 arrests in a bid to decapitate what he called the Mafia Capitale, a group of Roman gangsters, businessmen, public officials and politicians, that has been skimming hundreds of millions of euros off public services, from contracts for refuse disposal to immigration holding centres.
Significantly, after years in which factions of the established Mafia groups have fought Roman turf wars, Mafia Capitale appears to have cooperated with 'Ndrangheta, and the group's leader, an ex-member of a far-right terror group was in the past linked to the city's own Magliana gang of hoodlums – made famous by the TV drama Romanzo Criminale.
But in addition to new and shifting national alliances, Mafia groups are becoming more international in outlook. 'Ndrangheta, however, has taken this approach to new levels with its domination of Europe's cocaine trade. This year, a report written by 20 anti-Mafia experts, including senior prosecutors, said that lax EC regulations against money laundering meant that Mafia groups were benefiting from globalisation while "in contrast, EU states are suffering the consequences".
Join our new commenting forum
Join thought-provoking conversations, follow other Independent readers and see their replies