Italians hail capture of notorious mafia boss as 'the end of an epoch'
Michele Zagaria, head of the Camorra's brutal Casalesi clan, arrested after 16 years on the run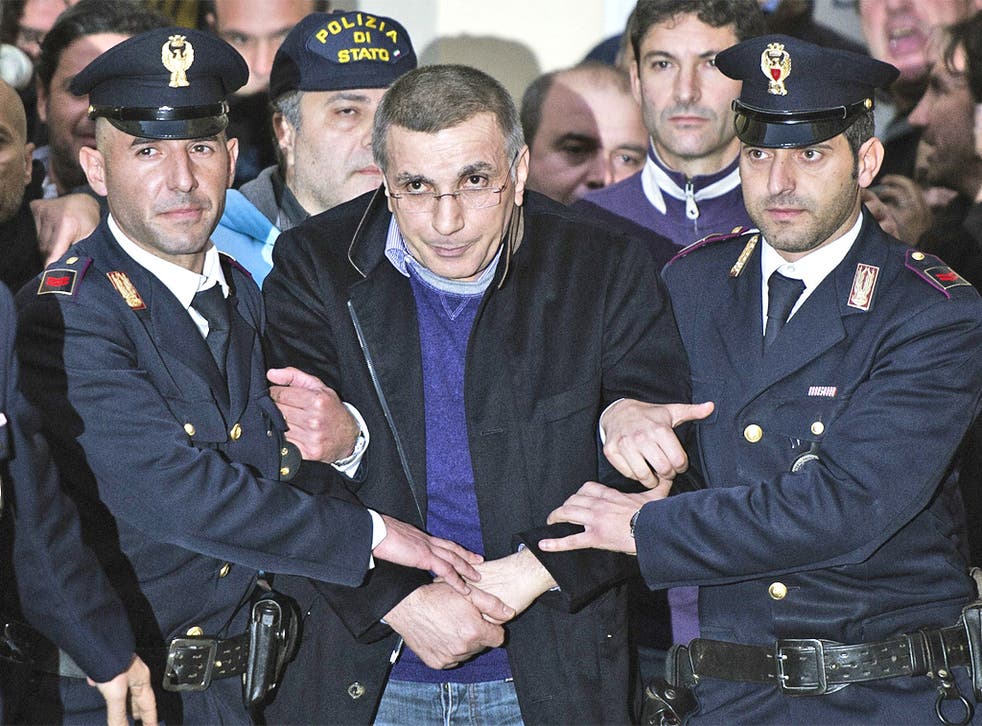 Italian police dragged Italy's most notorious mafia fugitive from a hole in the ground yesterday, thus ending the reign of the man whose blood-thirsty clan inspired the hit film Gomorrah.
Michele Zagaria, head of the Camorra's brutal Casalesi clan, was hiding in an underground bunker beneath his home north of Naples. As authorities dug him out, officers completely surrounded the small town of Casapesenna to prevent his escape.
"The state has won," the 53 year-old Zagaria was said to have told police sarcastically as they handcuffed him. He had been on the run since 1995 and was sentenced in absentia to life for murder and other mafia crimes in 2008.
The 50 or so police at the scene of the arrest began cheering: "Hurray for the police. Hurray for legality."
Zagaria's Casalesi clan inspired Roberto Saviano's best-selling book Gomorrah: Italy's Other Mafia, which was made into a prize-winning film. As a result of the exposé, Mr Saviano lives under 24-hour police protection.
Upon hearing yesterday's news Mr Saviano tweeted: "Zagaria taken like a rat underground. Excellent work guys!"
Raffaele Cantone, a former Naples magistrate who has also lived under armed protection since 2003 when it was discovered Zagaria had ordered his assassination, compared the arrest to that of the Sicilian Mafia's "boss of bosses" Bernardo Provenzano in 2006.
"With Zagaria's arrest, the Casalesi clan as we've known it ceases to exist, and we'll have to see what form it will take now," he said. "It's the end of an epoch."
Italy's Interior Minister, Annamaria Cancellieri, hailed the arrest as "a huge success by the state, not only against the Casalesi clan but against the entire Camorra organisation".
Zagaria, who was nicknamed Capastorta or "twisted head" in reference to his asymmetrical features, had ruled the clan with Antonio Iovine, who was captured last year.
Zagaria had remained the last senior fugitive lieutenant of the convicted Camorra boss Francesco "Sandokan" Schiavone. His nickname came from the hero of a series of Italian pirate adventure books, indicating the ambivalent attitude shown by locals towards the Camorra. Schiavone is said to still control the Casalesi clan from behind bars.
Casalesi mobsters are thought to run a lucrative illegal waste disposal business – an activity that exacerbated the crisis that has seen thousands of tonnes of stinking rubbish accumulate on Naples' streets. The clan, which is notorious for internecine violence, also makes hundreds of millions of euros from extortion rackets, drug trafficking, smuggling of illegal migrants and arms.
Zagaria's capture followed news on Tuesday that Carabinieri had seized 57 people in Naples and the surrounding area in a major operation against other members of the Casalesi clan and its associates.
Join our new commenting forum
Join thought-provoking conversations, follow other Independent readers and see their replies