Italy boat wreck: Hundreds of migrants feared dead after ship sinks off Lampedusa coast
Migrants were crammed into small vessel that caught fire close to the coast of Italy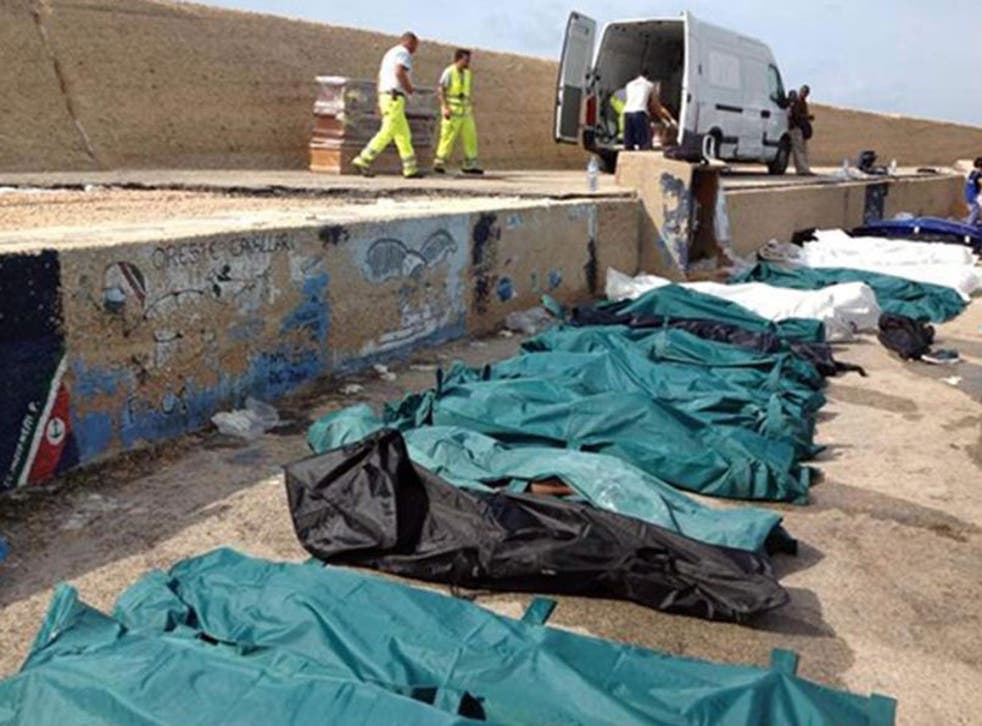 The forgotten tragedy of African migrants who pay with their lives for the desire to reach Europe became a human drama the world could no longer ignore, as hundreds perished in a matter of hours off the Italian coast.
More than 300 men, women and children were feared drowned when their boat caught fire and sunk within sight of the Italian island of Lampedusa early on Thursday. The Mediterranean "was like a morgue", according to witnesses at the scene.
Today officials said 155 people were rescued, but with an estimated 250 people still missing the death toll of 111 is expected to rise. Four babies and one pregnant woman were among the dead.
"We need only coffins, certainly not ambulances," Pietro Bartolo, chief of health services on the island, told Radio 24. Lampedusa's Mayor Giusi Nicolini, said, in tears: "It's an immense tragedy. It's horrific. Enough. What do we still have to wait for before we act now?" She said the survivors were in state of shock. "They have been in the water since the early hours of the morning."
The desperate passengers, most of whom were from the Horn of Africa, were forced to jump into the sea when the vessel caught fire less than a mile from the shore of the tiny Italian island between Sicily and Tunisia.
The passengers said they were from Eritrea and Somalia and local police were quoted as saying they believed the boat had left from Libyan shores.
The tragedy at Lampedusa is the worst in a decade-long catalogue of horrors that has seen thousands of migrants perish while attempting to reach Europe.
"I've just seen 93 dead bodies – a blood-curdling scene that I never imagined I'd see," said Italy's interior minister, Angelino Alfano, who has flown to the island. "It's a scene that offends the West and offends Europe. We have to act. Europe must, must, must act to take charge of this situation in which women and children have died."
Mr Alfano told reporters that the 20-metre boat began taking on water after its motor went out. The passengers didn't have any mobile phones to call for help so set a small fire to try to attract the attention of passing ships.
But fuel had mixed with the water flooding the ship, and the vessel caught light. Passengers fled to one side of the boat, causing it to flip. Up to 500 people on board were flung or forced to jump into the sea.
Only three of the estimated 100 women on the ship have been rescued, and no children had been saved, Simona Moscarelli, a legal expert for the International Organisation for Migration in Rome, told the Associated Press news agency.
"Most of [the migrants] can't swim. Only the strongest survived," she said, basing her comments on her group's early interviews with survivors.
A local doctor said a three-year-old boy and a two-year-old girl were among the victims.
"We left two days ago from the Libyan port of Misrata. We were 500 on that boat, we could hardly move," one survivor told ANSA news agency. "Three fishing boats spotted us but did not rescue us," he said.
Minister Alfano denied this accusation. "They didn't see them. If they had, they would have intervened," he said. "The Italians have good hearts. We have rescued 16,000 ship-wrecked migrants."
As hopes faded of finding more survivors, the coast guard, border patrol, fire brigade and navy were joined by fishing trawlers and pleasure boats. One fisherman described how, with three colleagues, he managed to save 18 migrants. "We were returning from a fishing trip," said Francesco Colapinto, 24.
"And with the binoculars we saw the boat in flames and we headed straight for it. We dragged 18 survivors from the water and two dead. Then we saw lots of other motor boats coming." Prosecutors have opened an inquiry for multiple murder, and one for facilitating illegal immigration. A young Tunisian man, believed to be one of the crew members and a suspected trafficker, has been detained.
At this time of year, when the Mediterranean is fairly calm, boats carrying migrants from Africa and the Middle East land on Italian shores almost every day. Though many vessels are not sea-worthy, migrants still attempt the journey in search of a new life, and there are plenty of traffickers to take their money.
Fortress Europe, an Italian observatory that tracks migrant deaths, says about 6,450 people died in the Canal of Sicily alone between 1994 and 2012. Many more have perished seeking to reach Malta and other Mediterranean countries. There has been an increase in deadly incidents off the coast of Italy in recent weeks amid an upsurge in arrivals, mainly from Egypt, Eritrea, Somalia and Syria. According to the UN refugee agency, 8,400 migrants landed in Italy and Malta in the first six months of the year, almost double the 4,500 who arrived during the first half of 2012.
Pope Francis, who visited Lampedusa in July, sent his condolences after the tragedy. "It shameful, shameful," he said.
European Commissioner for Home Affairs, Cecilia Malmström called on Europe to "step up its effort to prevent these tragedies and show solidarity both with migrants and with countries experiencing increasing migratory flows". She said: "We have to become better at identifying and rescuing vessels at risk. We also need to intensify our efforts to fight criminal networks exploiting human despair."
However, Italian Foreign Minister Emma Bonino said there is "no miraculous solution to the migrant exodus issue". She said: "If there were, we would have found it and put it into action."
Join our new commenting forum
Join thought-provoking conversations, follow other Independent readers and see their replies