Italy migrant boats: Palestinian boy tells harrowing story of journey from Gaza to Europe
Yusuf, 17, was kidnapped, beaten, imprisoned and starved by traffickers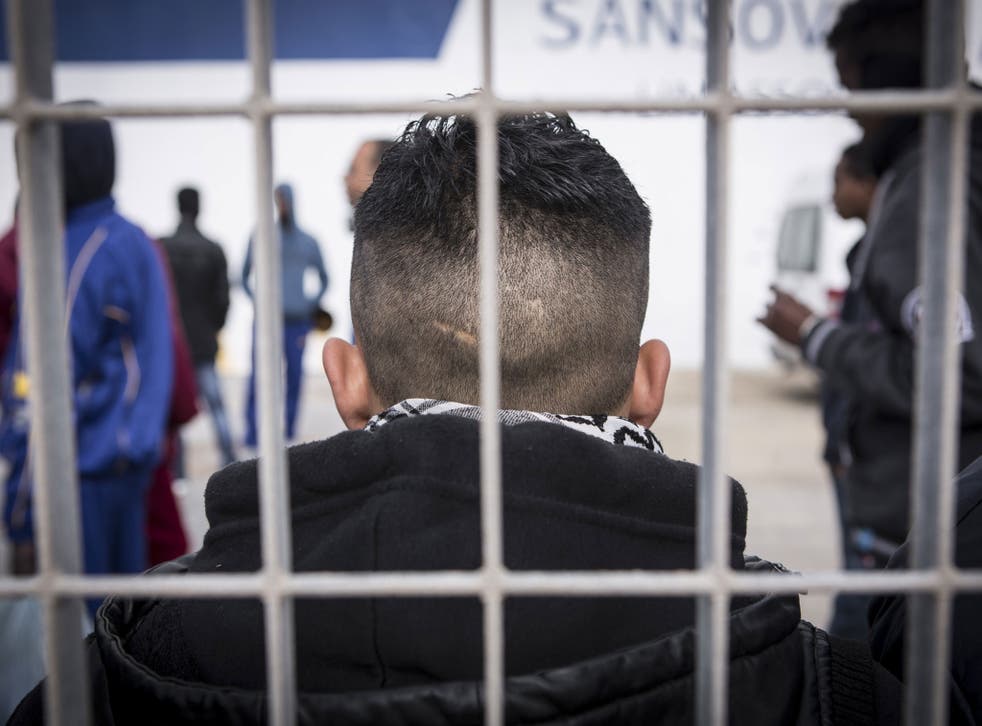 A Palestinian boy who fled Gaza has told his harrowing story of being kidnapped, beaten, imprisoned and starved in his battle to reach Europe for a better life.
Yusuf, not his real name, is one of more than 8,000 migrants have made the treacherous crossing to Italy in boats run by ruthless traffickers since the start of this year alone.
Save the Children cared for the 17-year-old when he arrived in the port of Lampedusa last month. Despite the horrors of his long journey from Gaza, Yusuf said he knew he was lucky to have made it.
Almost 1,000 migrants had to be rescued by Italian authorities during a 24-hour-period last week, when at least 10 people died after their boat capsized.
Many cross deserts and war zones while at the mercy of smugglers who often kidnap migrants and demand huge ransoms from their families to free them.
Children have recounted sexual abuse, torture and the horror of fellow migrants dying either at the hands of captors, drowning at sea or being thrown overboard.
Yusuf fled Gaza with a childhood friend after last year's war and the teenagers were kidnapped in Lebanon before eventually making it to Libya and paying smugglers for their passage across the Mediterranean.
"I left Gaza because of the war," he told Save the Children staff. "You cannot walk 200 metres without knowing if a bomb will go off.
"All around me was war and death, I wanted to change my life, I wanted to find a new life."
Unable to attend school for several years, Yusuf said he only knows how to write his own name.
He left his mother, ill father and two-year-old sister after his brother died in the summer's Israel-Gaza war and his cousin was killed by a sniper.
He and his friend met relatives in a refugee camp after crossing the Lebanon border but were kidnapped by men who ransomed them for $1,000 (£670).
"They threatened to kill us if we didn't give them the money," Yusuf said.
"They took videos of us being beaten and sent this to my family. They put us in sacks and tied us up to our chins. I saw someone who had his nails ripped from their fingers."
Their relatives eventually raised the money and the boys were freed to track down traffickers and start the journey from Khartoum, Sudan, to Libya with migrants from several countries.
Save the Children says that most unaccompanied children currently arriving in Italy are from Eritrea and Somalia, while others are from sub-Saharan and West Africa. Most of the families landing are Syrians.
The ruthlessness of the human smugglers was quickly exposed as Yusuf and his friend were crammed with 30 people into an open-air truck and told that anyone who fell out as it hurtled through the desert at 100mph would be left there to die.
Yusuf said: "Three Palestinians fell off and the truck did not stop or go back to get them…some people died during this trip from hunger and thirst. In Libya all of our belongings, like our clothes and shoes, were stolen. "
The migrants were given water mixed with petrol to drink and only allowed to share a small plate of food between 10 people once a day.
When they eventually got to Libya, traffickers demanded another $1,000 (£670) to take Yusuf and his friend to Italy on a boat carrying around 250 people.
Migrants had to buy their own lifejackets or would not get one, Yusuf said, and Africans were held on the lower level of the boat.
"The traffickers had guns and if you talked they said they would throw you overboard or shoot you," he added.
"Sometimes the water came into the boat and we got it out with our hands. We were afraid we would drown."
The captain called the Italian coast guard to be rescued after almost 13 hours on board – a notorious tactic among traffickers to unload their human cargo at sea so they cannot be arrested at port and are free to return to may more money.
In total, the nightmare journey cost Yusuf $4,000 (£2,600), paid for by his mother selling her family gold.
He said he wants to reach his cousins in Germany and one day be able to bring his whole family over.
"I feel safe here. I don't hear the sound of shouting, of guns." Yusuf said. "I want everyone to know my story, to tell the world so this doesn't happen again. I just want to be human."
Other migrant boat children tell their stories
Ali, 16, Somalia
Arrived in Italy from Libya via Kenya, Uganda, Sudan and South Sudan
"Call me Ali, that is the name of my friend who drowned on the boat coming to Italy…I decided to leave Kenya because either I did or I would have no future…the Libyans who got me to Italy are not human. They speak with the gun not with words. The first boat left but the weather was bad and the boat returned to Libya. On the second boat they pushed eight Nigerians into the sea. And they pushed my friend into the sea. They all drowned. My friend was 16 years old like me. There were 400 people on the boat. The first boat was plastic and the second boat was made of wood. I was downstairs, there were no windows down there. They didn't give us water otherwise we would have to go to the toilet. There is no toilet on the boat. If you were sick or went up a level to get air the traffickers would shoot you. I was scared of drowning, I cannot swim. I want to go to Switzerland, to Geneva to work with the UN. I don't want to stay in Italy. First I have to study - I like chemistry, I must go to school - I need an education."
Ibrahim, 17, from Somalia
Arrived in Italy from Libya via Ethiopia and Sudan
"My boat had about 150 people on it. The Somalis were put on the bottom level and other nationalities could go on the top level. The motor stopped. The boat was broken and sinking. Water was coming in. I could see the Tunisian boat ahead of us. The captain told us that if we didn't pay him he wouldn't help us. I only had $15 and I gave it to him. Everyone on the boat gave him money. The water was coming in and the boat was sinking. Everyone was crying. We got onto this second boat. I saw the Italians finally in their big ship and I got onto the Italian rescue boat…my family is in Sweden and I want to go to them in Sweden. I don't know what I want to become when I grow up. In Europe I don't know what possibilities there are. I love languages."
Feben, 16, from Eritrea
Arrived in Italy with her sister from Libya via Ethiopia and Sudan
"We have travelled for five months to reach Europe…the worst part of the entire journey was the boat. It was a question of life or death. The men were below, but the women are above on the deck in the cold. We were waiting every day to die. We were praying, confessing, it's all you can do. We want to go to live with our brother but we don't know what to do or how to get there. We don't know what UK is like but we know it's very hard to get to. Our parents are still in Eritrea with our sister and brother. We don't know whether they plan to leave. We don't know what they think, but we are really sure that no-one wants to stay in Eritrea. No-one wants to leave their countries. We would not wish it on anyone. Eritrea is a country open to Somalis and Ethiopians, refugees and people that come to work. Now I am one of them. We feel shame to have left our country because we have lost all dignity. I want to study. I want to learn to be a lawyer for human rights."
Hayat, 18 months old, nationality unknown
Survived sinking of boat that killed more than 100 migrants
On 26 August 2014 the Italian Navy arrived at the port of Augusta in Sicily, having responded to an SOS call from a fishing boat which had capsized. The boat was being used by traffickers to smuggle migrants to Italy, but sank on route in the perilous waters. When the Italian Navy arrived, hundreds of men, women and children were attempting to swim for safety. That day, 364 migrants were rescued by the Mare Nostrum Operation run by the Italian Navy but more than 100 people drowned. When the survivors of the shipwreck disembarked in Sicily, crowds gathered at the port noticed a tall man carrying a tiny baby, just 18 months old. The man was Hamiad, a doctor who had fled Syria after years of fearing for his life at home. He had saved the baby's life by holding her afloat as he treaded water in the middle of the sea, hoping that the rescue boat might arrive before he became exhausted. As a doctor, he knew too well the danger of hypothermia, which has claimed many lives on this journey intended to end in freedom. The baby lost all her relatives; her mother, father and 10 year old brother died in that day's disaster. Doctor Hamiad called the baby Hayat, meaning 'life' in Arabic. Save the Children and the International Organisation for Migration traced her grandfather who took her back to Sudan in November last year.
All interviews and translations by Save the Children
To find out more about the charity's work helping migrant children, visit its website here
Join our new commenting forum
Join thought-provoking conversations, follow other Independent readers and see their replies